Even when my Tessitura Convention adventure isn't conveniently located in Orlando, there's always a highlight for me to look forward to: the convention 5K. It's wildly informal and the course doesn't always match the promised distance, but it's also free, so who am I to complain?
Okay, actually, I did have one complaint this time around. Well, not so much a complaint as a questioning of judgment. This year the 5K took place at 7:30am. In Orlando. In AUGUST.
Indeed, I ran into a runner guy I know who works for the convention host, and he was also like, uh, isn't this a recipe for large-scale heat stroke? But apparently 7:30am is a late enough time to attract the fun run/walk crowd. Fair enough, I guess, but again: Florida. AUGUST.
Whatever. I live in a Puerto Rico; I can take it! (These are frequently famous last words, but this time [SPOILER] I really could take it.) So I showed up to the staging area around around 7am and prepared to melt slowly in the sun, popsicle-style.
I discovered at race start that how much melting I did was entirely up to me. The race organizer informed us that we would be running three loops of the same course in order to reach the 5K distance. He encourage the group to drop out at an earlier loop if it felt like too much.
As has historically been the case, there were no time chips or official time records, so if you wanted a shot at first place you had to line up at the very very front. I harbored no such delusions of grandeur (ESPECIALLY in Orlando in August), and placed myself toward the front-middle of the pack. At the word go, we were off!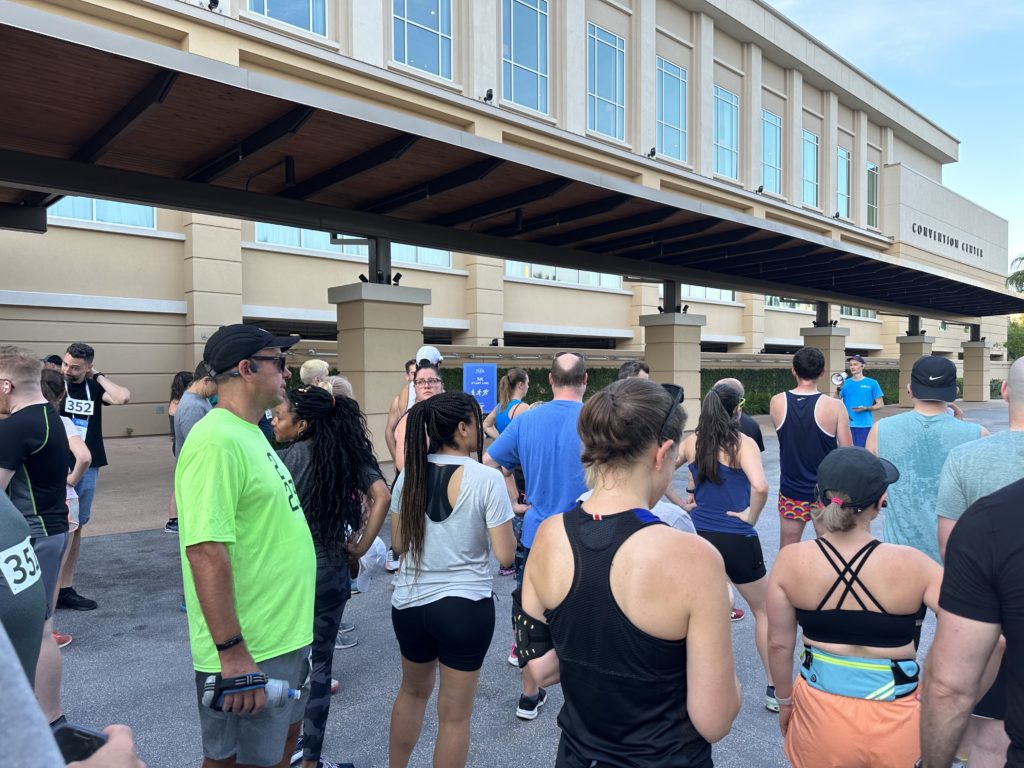 Off to where, you ask? Oh, a parking lot. And then more parking lot. And then, wait for it, more parking lot! Repeat back the way you came, and then do it two more times.
Oh my gosh, worst race recap ever?! I don't know; that's what it was. A bunch of parking lot, three times. But hey, it was flat all the way through! That's something. No dinosaurs this year, but we did enjoy some Flamingo Men. Almost as good, I guess.
Recognizing the heat constraints and in no particular hurry, I kept a slow and steady pace all the way round. Oddly enough, there were no water stops anywhere on the course. (In Florida? In August????) I was sufficiently hydrated for three miles, so that wasn't really a problem, but still – a curious choice under the circumstances. Maybe they were low on staff volunteers.
So yeah! Three miles, parking lot, Florida, no water, no problem. I completed the full three loops and powered over the finish line to minimal fanfare. There are almost never medals, nor were no post-race snacks this year, but we did get full bottles of water and sports drinks. I grabbed one of each and moseyed on back to my hotel room.
The Tessitura 5K is never a particularly serious or lavish event, but as a free conference 5K, ya gotta love it. I adore adding to my race count with minimal effort and even less monetary expenditure! I plan to do it indefinitely. But, uh, maybe a water stop next time, okay guys?
Don't forget, you can follow FRoA on Twitter @fairestrunofall and on Instagram @fairestrunofall. If you have any questions or thoughts, leave a comment or email fairestrunofall@gmail.com. See ya real soon!