My last Walt Disney World trip was small but mighty. I may not have had a lot of hours to spare, but I had to sneak in some snacks and drinks! As you know, one simply cannot dine at Disney without reviewing the experience, and as I don't want to lose my blogger card, I must oblige. Read on for my opinions on, oh, lots of stuff, as we explore the current WDW snack and drink scene.
THE PERFECT PORTABLE SNACK: CHEESEBURGER PODS FROM SANTU'LI CANTEEN
Picture it: you're in Disney's Animal Kingdom. You're in Pandora, and you're hungry. Also you want to sneak in one my ride before the park closes, and also that park closes in 12 minutes. What do you do?
I'll tell you what you do: you slam that mobile order button, gather up your newly acquired cheeseburger pods from Santu'li Canteen in a napkin, and power walk your new snack over to the Flight of Passage line with mere minutes to spare. Record! World record!
These are pretty much the same as last time: like somebody ground up the contents of a McDonald's hamburger and shoved them into a steamed bun. (Trust me, this is not the last steamed snack you'll hear about in this post.) It's a little meaty, a little relishy; could use a bit more cheese. Ooh, they should add cheese sauce on the side for dipping! Would've ruined the portability aspect that was so clutch in this instance, but isn't that a good idea?
THE LATEST FROM GIDEON'S BAKEHOUSE
At this point I think Pat would divorce me if I came home from Orlando without Gideon's cookies. And can you blame him? I wouldn't. I frequently suck; Gideon's NEVER does.
This month's specialty cookies continue that grand tradition of not sucking, but I must admit they did not number among my favorites. I assumed the peanut butter cold brew specialty cookie for August would be a slam dunk – it's covered in REESES PIECES, for God's sake! And yet to me the coffee was a little too assertive in the dough portion of the treat; I would've preferred a more assertive flavor. If you're up on coffee and down on peanut butter, you might enjoy this more than you think.
I also got the Key Lime chocolate chip cookie that was part of the Flavors from Florida menu, and while this was good it was not quite the revelatory experience I was anticipating. I don't know; maybe the added lime is just too forward for someone whose favorite flavor is ultimately the original chocolate chip. Maybe you simply cannot mess with perfection.
Happily the last specialty item I tried was a slam dunk: the orange mocha nitro cold brew! Lime + chocolate may not be my bag, but oh boy am I on board with some orange + mocha. If you, too, harbor a fondness for those funny chocolate balls that break open into orange slices, you would probably like this just as much as I did. The orange to chocolate ratio is absolutely flawless. Assuming it comes back for Flavors from Florida next year, you've got to give it a go!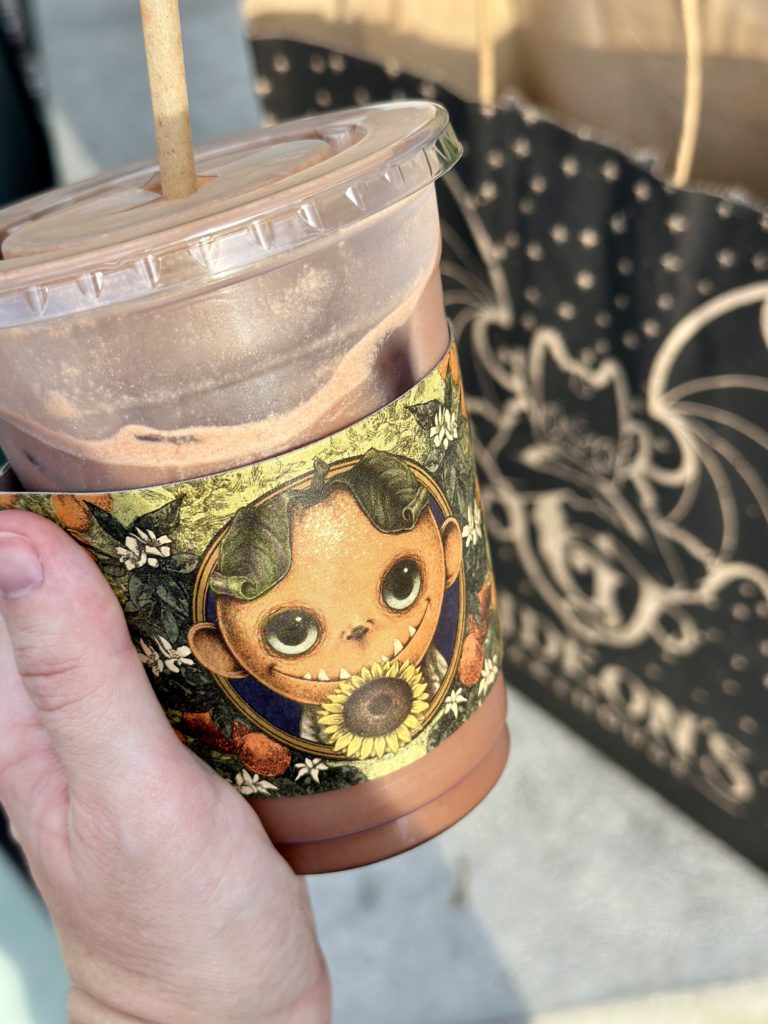 DRINKS & SNACKS AT JOCK LINDSEY'S HANGAR BAR
If you ever find yourself stuck in the John Carpenter universe and see me walk into Jock Lindsey's and NOT order an Anything Goes cocktail first thing, that's how you'll know I'm The Thing. This spicy, fruity concoction has never been topped by anything else I've tried with Jock's name on it. (If you're not familiar, the official menu describes it as follows: Tito's Handmade Vodka, Ancho Reyes Chile Liqueur, Lime Juice, Passion Fruit Juice, and Pineapple Juice.)
Still, a combination of bloggability and curiosity frequently compels my to try something else the second time around. I thought I was being smart by asking the bartender what similar drinks I might best enjoy, but as it turns out, the Cool-Headed Monkey was not it.
Per the menu: Starr African Rum, Van Der Hum Tangerine Liqueur, fresh Lime Juice, Watermelon, and Pineapple Juice. I adore watermelon, so why not? The why not for me was in the cooling foam on top, which had a sort of tingly, almost minty effect that just did not mix for my tastebuds. Perhaps numbing foams are not my thing? (See: my Space 220 Lounge entry below.)
Oh, yes, and I also got food! I ordered the Medjoul dates and manchego: Frisée, Crispy Prosciutto, Red Onion, and Balsamic Glaze. (The bartender said this was a limited engagement item and about to disappear, but I still see it on the menu so I dunno.)
I enjoyed this, of course, because it's salty prosciutto and sweet dates and tangy cheese and sour balsamic – what could go wrong? However, were I in charge, I would make the following tweaks: to start, heftier dates. I think these were a bit too hollowed out, and the best dates are still a bit sticky. Additionally, more prosciutto to add some extra umami flavor. Then I think you'd really have something! I recommend having it with an Anything Goes.
LIKEWISE FROM THE BASKET AT WINE BAR GEORGE
The table service restaurant scene is one of the big draws of Disney Springs, but sometimes you just need something to go. I ended my Disney Springs evening with a stop at The Basket, which is the Wine Bar George to-go window.
Everybody loves a good handpie, and I selected one containing chicken and apples because savory + apples = yes. (Try it in a grilled cheese!) I liked the texture of the contents against the flaky pastry, and in particular liked the sea salt sprinkled on top. But I really should have had them heat it up – I think that would've made for a much more assertive flavor.
Wine Bar George is somewhat famous for its alcoholic frozen concoctions, and I also gave the Freaujolais a shot. This drink includes Beaujolais wine, vodka, and raspberry, and while the flavors were good in exactly the way you would expect, I found the disappointing. It had the grainy consistency of a cheap snow cone. I sucked up all the liquid and wound up with a solid half cup of ice. You were right, sorority girls: it really should be frose all day.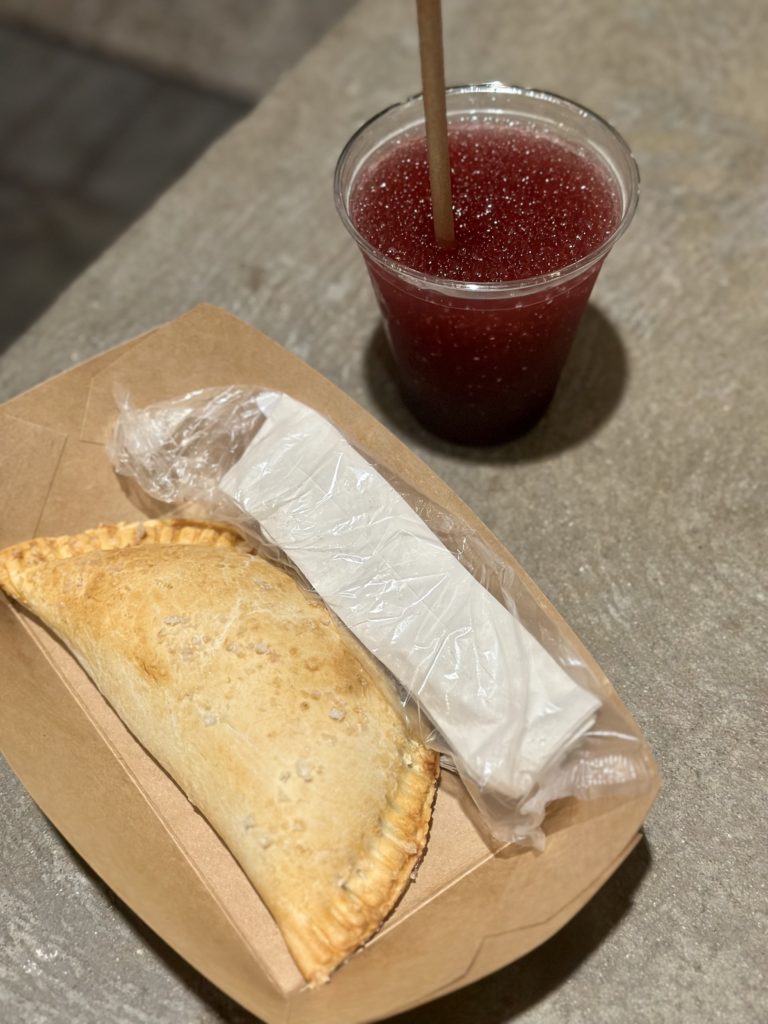 MY HOT TAKE ON THE BATUU DINING SCENE
Okay, don't be mad, but Pat says that Oga's Cantina is all flash, no substance: while the atmosphere is amazing, the cocktails are all just plain too sweet. And, uh… I think he might be right?
I said don't be mad! There's some good stuff at Oga's! I like the Outer Rim and Jet Juice especially! But they are also, y'know, pretty sweet. The beer is of course wine and the wine is wine and the liquor is liquor, but it's not as themed, so not as fun. They don't need to take any existing drinks away, just slap a few more items on the menu with less sugar. A suggestion only!
Also, in case you were wondering: the Ronto Wrap is the same as from Ronto Roasters when you get it from Docking Bay 7 (they switch off after Ronto Roasters closes in the late afternoon). The only bummer is they only offer the regular wrap, not the plant-based version which I personally prefer. Can't win 'em all I suppose.
P.S. They should put another DJ Rex on the other side of the bar. Being on the no-DJ-Rex side isn't nearly as fun. 🙁
SPACE 220 LOUNGE, TAKE TWO
Oh, Galaxy Spritz, how best could I mourn thee? By snagging another Space 220 Lounge reservation and trying your replacement, of course!
Here's how the menu describes the current Galaxy Spritz: Lagoon Bay Aperitif, Lychee Liqueur, Lemon Juice, Prosecco. This was… fine. I always dig on bubbles. But it didn't have the flavor punch OR wow factor of the presentation that the cotton candy version provided. I want it back. Bring it back!!!
I also tried the M4RG4R1TA: Espolon Blanco Tequila, Watermelon Lime Sour, Salted Lime Foam. Is this this a tequila-subbed Cool Headed Monkey by any other name? Because it didn't quite do it for me for many of the same reasons, although my love for tequila does boost things a bit. Seth tried to tell me to get the Shuttle Crew; it sounded a little too sweet but maybe he was on to something. This is Oga's Cantina all over again!
Whatever; we're all in it for the SPACE anyway.
A SNACK OR THREE FROM THE FOOD & WINE FESTIVAL
Alas, I only managed to sneak three items from this year's Food & Wine Festival. I initially planned on spending an additional evening in Epcot on my mini-trip, but sleep is kinda my new hobby? So I did that instead. That's okay; I'll get another crack at the festival in November. In the meantime, here's what I did get!
The cheddar cheese soup from the Canada booth is a perennial favorite, which is impressive when you consider this is Florida in summer. Still, it's nice to be able to try this smooth, rich soup without a pricey Le Cellier reservation. The texture is smooth and – stick with me – almost school glue-y, but in a good way? My only complaint was the pretzel bread, which wasn't soft enough for my tastes. Good for dipping, mind you.
The teriyaki chicken steamed bun from Japan is also a frequent festival flyer, and I wouldn't be horrifically surprised if you told me it begins its life in the freezer aisle. Luckily what counts most to me is the quality of the steam, and this time around Epcot delivered: the doughy outside was perfectly soft with just the right amount of chew. The inside is maybe a bit sweet on my personal tongue, but that's teriyaki for you.
Longtime readers know I'm a sucker for anything on OR in a steamed bun – I'm not picky! I made my third festival selection the duck bao bun, and once again I was thrilled to find the steamed shell absolutely lovely in texture and chew. And once again I think the duck sauce is a little too sweet, but who cares? STEAMED BUN!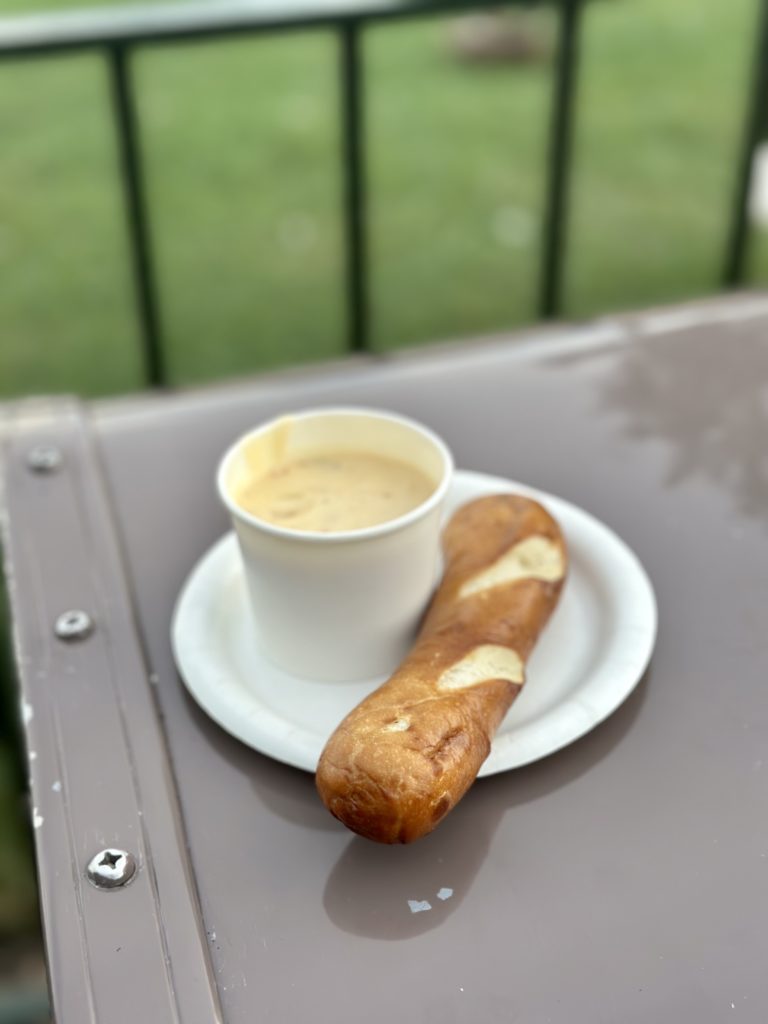 LET'S GET PLANT-BASED AT FRIAR'S NOOK
Okay, so what I actually wanted was a Nutella and fruit waffle from Sleepy Hollow, but the line was long and in the sun and the app wasn't accepting mobile order. Pivot, pivot.
Thus I pivoted over to Friar's Nook, because I'd heard the plant-based bratwurst there is actually pretty good. I hate burying the lede: it is! Yeah, no, it's not, like, life-changing, but it's not a good snappy casing and a solid, meaty flavor with a bit of spice. I do wish it fit the fun a little better, but who's gonna be mad about more pretzel bun? Not me!
The tots that come on the side are a pleasant diversion from the usual fries, although I do wish they added a little salt. (There might be some on the condiment table? But I was too scared to get up and lose my table.) Also, don't sleep on the sauerkraut! It's surprisingly light and crisp with just the right amount of vinegar flavor. In the otherwise kinda sad Magic Kingdom dining scene, I would get this again.
FROZEN BANANA FROM DAK ICE CREAM CART: SNACK OF CHAMPIONS
IN CONCLUSION
Okay, my Food & Wine Festival coverage was a disappointment to me too; thank God I'll have another stab at it during my Wine & Dine Half trip. Other than that, I think that was pretty solid for one gal and not much time. Next time I hit up the World, it'll be three gals and way more time. Just think of how many snacks we can cover. I for one am already looking forward to it!
Don't forget, you can follow FRoA on Twitter @fairestrunofall and on Instagram @fairestrunofall. If you have any questions or thoughts, leave a comment or email fairestrunofall@gmail.com. See ya real soon!