Oh, right, I kinda-sorta went to Walt Disney World earlier this month, didn't I? Normally I would do what I always do – publish a lavish multi-post trip report series using every word in the English dictionary at least twice.
However, since this trip was technically a work trip, the Disney parks time was kinda shoved into odd corners a few hours at a time. Rather than attempt to stretch that into my usual trip report, I thought I'd do ya a single summary post. Lest you be left to wonder, fear not: I'll be back to my usual ADHD-info-dumping approach to recaps for the next trip.
In the meantime, what did I do when I managed to sneak off to Disney? Well…
SUNDAY: DISNEY'S ANIMAL KINGDOM
With nothing on my to-do list on Sunday save fly into Orlando and check in to the conference hotel, I was able to spend my largest chunk of parks time that afternoon, and I selected Disney's Animal Kingdom as my focal point.
I activated my new Annual Pass and took some PhotoPass pictures at the entrance, then headed over to Festival of the Lion King to take in the real show (thank God), although I noticed a lot of the COVID-induced changes are still in place – some of the choreography where dancers formerly linked arms or did lifts is still missing. Waaaay better than the abomination that was A Celebration Of though!
Next up I made the horrific decision to ride Kilimanjaro Safaris at 5:30pm. (My notes say "not an auspicious o'clock.") Do not do this in August. Actually, don't go to WDW in August at all if you can help it, but above all do not ride the safari in the late afternoon because you will get BAKED by the sun and there will be zero lions. I did have the honor of being on safari guide Grant's first ever safari, though!
Everest had been down for since I'd arrived, but upon exiting Kilimanjaro I found it was back up and running. So I headed over for a jaunt through single rider, where I wound up seated in the front car with a very enthusiastic family who now find themselves, willing or no, in my stable of Fleeting Disney Friends. You may find them in the queue; you may find them in your ride vehicle; you may find them sharing your table in a crowded restaurant; but you always find them. 🙂
It was getting on toward evening, so I power-walked over to Pandora to Execute The Plan: I speedran mobile order at Santuli Canteen for some cheeseburger pods before ducking into the Flight of Passage queue two minutes before park close. Tadow! I wound up skipping a decent amount of line as a solo party, but before that I made more Fleeting Disney Friends in the form of a mom and, like, the best little girl ever; she formally introduced herself and shook my hand and everything. Wherever you are, know you are one of my Best Fleeting Disney Friends, little girl!
And that was game on day one. Don't worry, the rest of the entries will be much shorter. Probably. I mean, you know me…
Side note: I feel like I don't say this enough, but solo Disney trips are pretty awesome if you haven't tried it. Nothing like gallivanting about with no agenda, accomplishing next to nothing aside from soaking in the ambiance and feeling great about it. If you've ever asked yourself, can you have fun at Disney alone? Know the answer is a resounding Meg Ryan-style YES YES YES.
MONDAY: DISNEY SPRINGS
I might write a blog post about this, but – is Disney Springs Disney's secret fifth gate?! Seriously, I've been having such a good time there. I mean, yeah, I know technically it's nothing more than a themed shopping district, but boy did they design it right.
The perennial question: do I shop first, drink first, little of column A, little of column B…? This is in fact a trick question. The answer is you go to Gideon's Bakehouse. It was a virtual-queue-free day, and I waited a mere ten minutes for my iced coffee and cookies.
Anyway, once you've got your Gideon's sorted, what's step one at Disney Springs? The answer is drink to start, duh. What, are you trying to make sober, conscientious purchasing decision at Disney? Get outta here.
Thus I made my first stop Jock Lindsey's Hangar Bar, where I chatted with a bartender who grew up a town or so over from me because it's a small world after all. Then I tripped my way over to Sephora to pick up a toner that they refuse to ship to PR for no clear reason, plus a lip oil for no reason at all. I also ducked in and out of some of the Disney shops over at the Marketplace, because you can't come to Disney Springs and not check in on the Dress Shop dress, understand? Hear it, learn it, live it.
I was torn on my final act, so I DM'd my girl Erika for the tiebreaker – get another drink, or go to Uniqlo? She voted drink, and I made my next Fleeting Disney Friend in the CM working The Basket; I wound up getting my hand pie for free. I'm telling you, when you fly solo you make FDFs everywhere you go. Uniqlo next time!
TUESDAY: DISNEY'S HOLLYWOOD STUDIOS
I scooted straight from park entrance to my Oga's Cantina reservation, but I was placed on the opposite side of the bar from DJ Rex, boo. I had a good run afterward, though! I took some PhotoPass pictures with the Tower of Terror, slammed through the single rider line for Rock 'n Roller Coaster while Steven Tyler is still there, and then shimmied into the Tower of Terror line a mere handful of minutes before park close. Zero wait, straight into the library. Efficiency!
WEDNESDAY: EPCOT
Once again – directly from the park entrance to a restaurant ADR! I miraculously snagged a Space 220 Lounge reservation, and enjoyed some time on the ol' space tether while sporadically chatting with my buddy Seth. Then it was off to the Food & Wine Festival booths to counterbalance those cocktails. Come to think of it, I believe the only ride I got on with Living with the Land, but if you're only going to ride one thing at Epcot (and you don't have a Guardians virtual queue spot), isn't that the best choice? No line and front seat FTW.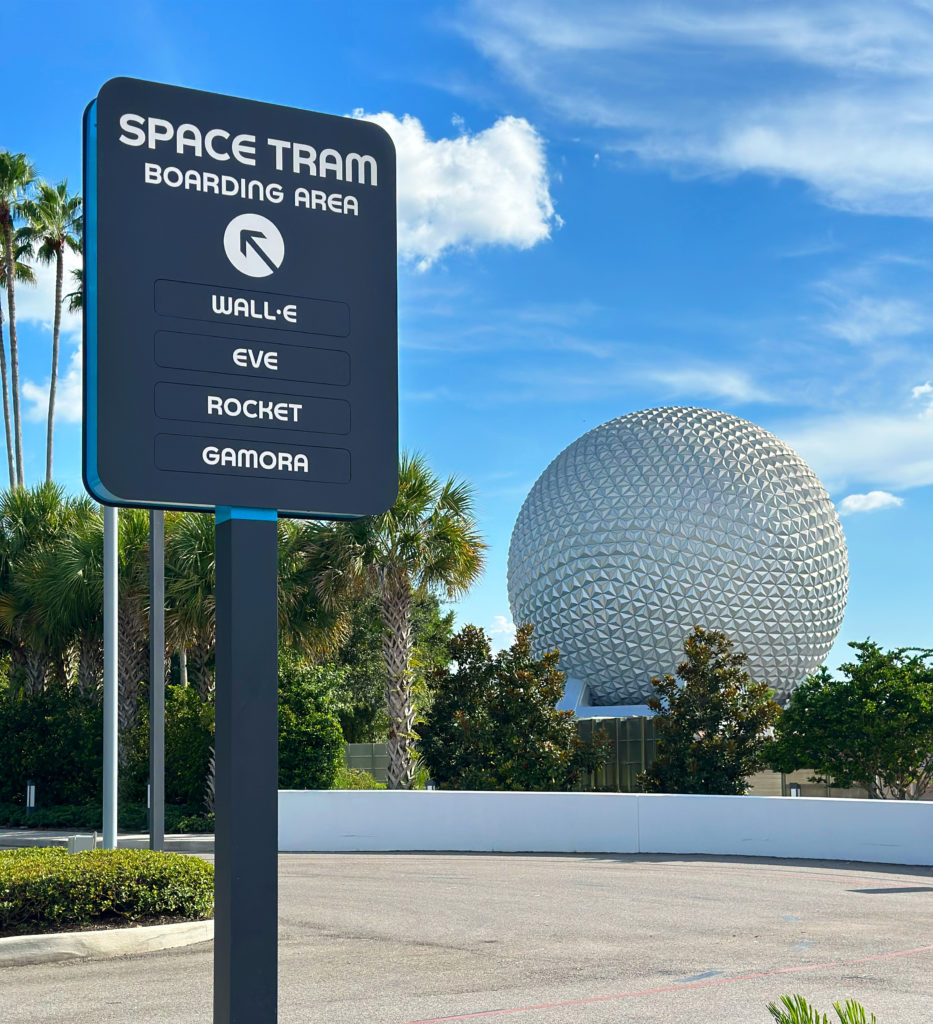 THURSDAY: MAGIC KINGDOM
I did three things in the Magic Kingdom: get lunch, take some painfully average PhotoPass shots, and ride Tron. Just barely ride Tron, I should say, as my virtual queue group number was about as high as it could be and still allow enough time to get to the airport for my flight home. But I did it! It was… well, it was pretty fun, and I hear the launch is even more fun at night. I just wish the story were stronger, you know? Red team hardly registers. Maybe I'll notice more next time I get digitized.
IN CONCLUSION
And that's that on that! I do have a couple corollary posts coming, including a recap of my conference 5K and some reviews of the snacks and drinks I managed to try. Possibly a review of my off-site hotel, too, if I find the right angle.
After that, it's onward and upward to Wine & Dine Weekend. Anything else in the above overview you'd like a deeper dive into? Let me know. See ya around the World!
Don't forget, you can follow FRoA on Twitter @fairestrunofall and on Instagram @fairestrunofall. If you have any questions or thoughts, leave a comment or email fairestrunofall@gmail.com. See ya real soon!