I could start this post by simply launching into the story of how I was once targeted by Disney scammers, but I'm an ADHD kid – I bury the lede by nature.
So first I have to tell you how we got here: Pat and I have been receiving a fair number of phishing text messages lately, plus I've gotten some phishing emails at work, and also we're from the DC area so that led to us discussing how known real world villain Dan Snyder initially made his money which was by scam phone calls, and THAT reminded me of the time I received a scam call at Walt Disney World. And now here we are!
If you read my holiday 2017 WDW trip report way back in the day (aka 2017), you may already remember this story. Just to be safe, though, as we barrel back into the busy Christmas season I thought it might not be the worst idea to highlight it again.
MY RUN-IN WITH A WALT DISNEY WORLD PHONE SCAMMER
The setting: Disney's Pop Century Resort. The time: roundabouts 10:30pm (so pretty late by family vacation standards). I was getting ready for bed when all the sudden the hotel room phone rings. Now, under normal circumstances I am DEEPLY SUSPICIOUS whenever ANY phone rings (why do people persist in trying to talk to me, I ask you???), but at a hotel, and especially at Disney, I tend to pick up. It just feels to me like such a specific place and way to try and find me that maybe it's important?
So yes, I picked up the phone. The woman on the other end claimed to be a representative of Pop Century, and this was supported by the fact that she knew my name. Weirdly, though, she kept referring to me as Mrs. German, which is not what it says on my Disney account because I am not my mother. Oh, well, she's making assumptions; not so strange at a family vacation destination, perhaps.
Anyway, she said she'd been trying to get in touch with me for hours, which seemed odd as my cell phone number is also on my account, but it's late and I'm a little foggy and she does know my name. Up to this point I roll with it.
"There's been a problem with the database, and I need to confirm some information" was her next play. My hackles started to rise a bit – really, Disney? At 10:30pm? – but when she asked me to confirm my name, I did so. After all, she'd already shown she knew it, no?
But THEN she self-destructed: she asked me to confirm my credit card information. Yes, it was 10:30pm, and yes, I was foggy, but I wasn't THAT foggy. I was instead immediately very suspicious. I told her I wasn't comfortable giving the number over the phone, and could I instead come to the front desk in the morning and do it then?
Luckily the lady didn't argue, instead agreeing and hastily hanging up the phone. I was already 99% sure that I had just weathered an attempted scam.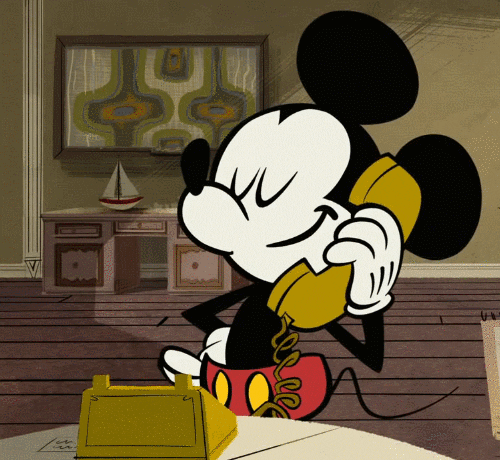 And then I was 100% sure, because the next morning I did stop by the front desk to let them know what had happened. They said everything about my account was completely fine and that no official Disney representative would ever make late night phone calls asking for credit card information, OBVIOUSLY.
BE ON YOUR GUARD
So I dodged a bullet there! It still sucks, though, because – and this is why I bring the story up again – I can totally see how an otherwise intelligent individual could potentially fall for it.
Like I said, this call came in after 10pm. Let's say for the sake of argument I'm not a childless Disney adult but instead a parent of multiple small children attempting to get some sleep after a long, exhausting, and confusing Disney day. It's late, I'm incredibly tired, I don't know how Disney usually operates, and the person on the phone already knows my name – why wouldn't I trust them? Why wouldn't I trust someone calling from Disney?
That's the one thing I can't quite figure, though – how did the scammer know my name? My memory could be faulty, but by my recollection she had my name from the start; I didn't give it to her. Hotel room reservation names aren't a matter of public record, are they? There's no way I was personally targeted; I'm not that special. They must've been doing this to blocks of room phone numbers, so they must've been able to match names to hotel rooms. An inside job? Hackers?
An eternal mystery, I suppose. Just keep your guard up. Phone scammers could come for you at any time – yes, even at Walt Disney World!
Don't forget, you can follow FRoA on Twitter @fairestrunofall and on Instagram @fairestrunofall. If you have any questions or thoughts, leave a comment or email fairestrunofall@gmail.com. See ya real soon!