Hey guys! How's your training going? Nothing much to report on my end. I pulled a speed run out on Friday with the help of J. Roddy Walston & The Business, so there's a music recommendation for you. I've also been doing some outdoor runs in the morning and am continuing to experiment with switching permanently to my Nikes. I'm pondering going for a longer run on the Fourth of July assuming my gym's open… that's about it.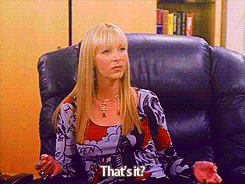 I feel like these week in review posts have gotten more boring since Moon departed for the far climes of Boston. Hopefully she'll settle into her new life soon and come back to us, but in the meantime, bear with me! And if there's anything in particular you'd like me to discuss here, definitely let me know.
If not, the roundup is here to show you all the blogs you could abandon this one for. I'm very altruistic.
– Fairytales & Fitness contemplates when to put "just" in front of your running mileage.
– The Runner's Guide to WDW details the perks attached to a runDisney race retreat.
– EPBOT got to poke around in a Disney prop shop!
– Mouse on the Mind scouts more great WDW real estate for rent. (And if it were real I'd be first in line for this one!)
– Flowers Croon puts together an adorable Disney travel bag.
– Disney In Your Day rejects the shame attached to going back to WDW. (Strengthen your Disney backbone here, too.)
– Disney Nerds has your back if you're headed off to Disneyland Paris…
– …and The Disney Tourist Blog was there for Shanghai Disneyland's grand opening!
Don't forget, you can follow us on Twitter @fairestrunofall. To see how our training is going, check out Jenn's dailymile here and Moon's dailymile here. If you have any questions for us, leave a comment or email us at fairestrunofall@gmail.com. See ya real soon!