JENN: Okay, here's my first report for the week: the running skirt I bought last week was a bust. I tried it on and it fit really comfortably, which should've been the first red flag. Since the undershorts weren't gripping my thighs with deathly force, they naturally rode up as soon as I started to run.
MOON: I figured they would probably ride up too much for running.
JENN: It's not a total loss, since it was only fourteen bucks and it's always useful to have a skirt with undershorts for picnics and other sitting-down endeavors, but as a running accoutrement: no good. Ah well. Back to the drawing board!
MOON: How was training this week?
JENN: Right! The actual running thing! It was decent. I got some long-ish runs in with okay times. I'm a little concerned that my right knee has started bugging me when it always used to be my left, so I'm giving myself an extra day off and just walking tomorrow. Hopefully that'll take care of things.
MOON: A break will probably do you some good. I hope your knee feels better soon!
JENN: How about you?
MOON: So, this week I have been mostly in Delaware at the beach. I have done all of my running outside and I must say that it has been the best running week I've had since I moved to Baltimore (and had to do a lot of running inside).
JENN: Yay!
MOON: I'm convinced it is the R&R, but my speed and distance improved. I coerced [our friend and Moon's roommate] Andrew into taking a walk that was over 3 miles (he will be ready for 5k in no time!).
And here is the best part: Yesterday I went for a swift 5 mile run. It was around 2:30PM and rather hot. The sun was out full force with no shade, but this was all part of the plan… because when I finished my route, I ran into the ocean!
JENN: Niiiiiice!
MOON: The water has been quite cold all week and I haven't really been in much, so I figured the only way for me to get in was to just go for it.. and to do that I needed to be really hot, so there you go. I recommend this to all runners; it was pretty glorious.
JENN: I think runDisney should arrange for a GIANT swimming pool at the end of the course. And then the finish line is six inches in front of the edge. Maybe they can alter the course so that it ends in Typhoon Lagoon's wave pool.
Preferred race end (parfait optional).
MOON: Hahaha, I second!
JENN: What songs accompanied you on this glorious run?
MOON: I am still listening to Wild Beasts; nothing new there! What about you?
JENN: Plumbing the depths of my Flogging Molly collection. "Factory Girls" is pretty good.
MOON: I haven't listened to them for years. I should get that album out.
JENN: "Another Bag of Bricks" is my favorite. I break it out whenever I need a speed boost!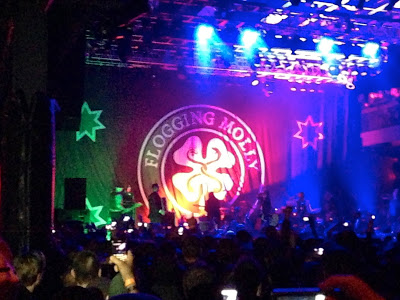 They opened with "Another Bag of Bricks"! IT WAS AWESOME.
By the bye, if anyone has any running song suggestions, we'd certainly be happy to hear 'em. Always good to have new material in rotation.
And now for a humble collection of noteworthy blog posts:
– Katherine of Food Fitness Fantasy discusses our home away from home, Pop Century. Ask for a room in the '60s building!
– Did you know that Disney Legend Bob Gurr blogs for MiceChat?! I didn't! Did you know that the '50s rocked? I did!
– Sarah of Gluten-Free & Dairy Free at WDW is starting her own runDisney journey! Go encourage her!
– MousePlanet has another great runDisney article, this one about running on a budget. Never hurts to have more advice on the fiscal front, no?
– Sarah of RAD Living talks hydration. Especially important with the temperatures we've been experiencing of late.
– Learn about the eight different types of runs with Carrots 'n Cake.
That does it for today – see you back here tomorrow for more of the usual awesomeness! (Really, this is the week we'll be awesome. I can feel it.)
Don't forget, you can follow FRoA on Twitter @fairestrunofall and on Instagram @fairestrunofall. If you have any questions or thoughts, leave a comment or email fairestrunofall@gmail.com. See ya real soon!