JENN: Wanna do our weekly?
MOON: Sure!
JENN: Then let's hit it! How'd your training go this week?
MOON: Rather well, actually. I jogged indoors, outdoors, got through a minor ankle issue, and tried an intense elliptical workout.
JENN: Ankle okay now?
MOON: It's getting there. I honestly don't know what I did to offend it. How was your week? I know you were in San Francisco and weren't feeling so well…
JENN: I had a pretty off week. I got my mileage in, but I never really found a groove. I was tired every time. I'm kinda bummed about it – the gym had glass windows looking out thirty-five stories above San Francisco, and as much as I wasn't thrilled by the city it was a great view. I just couldn't quite find my footing, as it were.
Maybe the explanation is as simply as a three hour time zone shift. Although I hope not, because if that's the case, there goes my performance in the Tinker Bell Half…
MOON: Well, we will be excited and the course will be great, so don't worry about that!
JENN: And the weather is bound to be beautiful! And we'll have a whole day beforehand to rest.
MOON: You know, I'm sure it was just jet lag, stress from having to do work stuff along with fitting in your runs. and "airport sickness." It's a lot to pack into five days.
JENN: Airports always get me!
MOON: Me too!
JENN: I wasn't really sick, but I feel like any time I spend a lot of time in airports I come out with just the slightest edge of what may or not be a cold. And I credit my escape from a full-blown cold to orange juice.
MOON: Mmmhmm.
Well, I'm glad you're back! I've missed you. 

JENN: Awww, I missed you too! I got a running skirt on sale for $14 at Target today. We should go for a run so I can try it out! It's got light green accents, so it would be perfect for the Tinker Bell Half.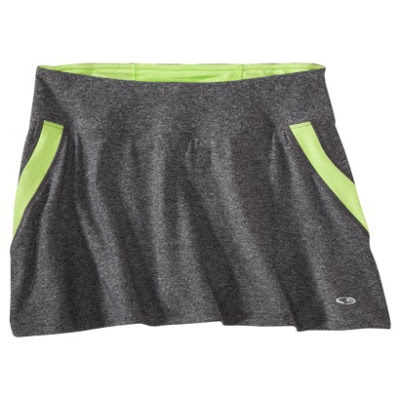 Jenn's new skirt (credit Target.com)
MOON: Cute! That sounds good to me.
JENN: We'll need to talk Tink outfits at some point in the future!
MOON: Haha, okay!
I'll be running mostly outside this week because I'm at the shore except for Monday and Tuesday. I'm hoping to improve my time AND distance this week. The route I have here is on a highway, basically. It's really hot, humid, and boring. If I can make it through this I can do anything.
JENN: You should definitely take some pictures if you go for a picturesque run. Any good songs on your playlist?
MOON: It's the same band as last week, but I especially liked "We Still Got the Taste of Dancing on Our Tongues" by Wild Beasts. Some pretty impressive falsetto. You?
JENN: I've been enjoying Johnny Cash's "I've Been Everywhere." Seems a very running sort of song. I'm not usually a country kind of girl, but Johnny Cash isn't country, nor is he anything else. He is simply Johnny Cash. And Johnny Cash is a great musical genre.
MOON: I think JC would be great for long runs.
JENN: He's got a steady beat.
I also had a Moon sort of moment yesterday. See, Moon is always ferreting out exciting new music before anyone else.
One of the songs I was going to mention today is "Beast" by Nico Vega. The lyric "We're not going down like this" really works for me sometimes when I need a push. I THOUGHT I had discovered it through the trailer to BioShock: Infinite.
Then yesterday the old iPod I keep in my car was dead, so I turned on the radio. What comes on but "Beast." And I was all, BUT THAT'S MINE! Very hipsterish of me, I'm sure. 😉
MOON: Haha, letting your inner hipster out.
JENN: I remember when you were all upset that the radio found Finger Eleven.
MOON: Oh MAN, that was like… high school!
JENN: And then you started listening to Anberlin, so WE started listening to Anerblin, and then the radio started playing Anberlin something like three YEARS later, and we all responded with a collective "…?"
MOON: I'd like to think my taste has become a bit more refined. 😉 By the way, if anyone is interested in playlists, shoot me an email. Let me know what kind of music you like and I'll try to put something together for you!
JENN: Me! I want one!
But hey, sometimes the best running songs aren't even GOOD, technically – they just keep you moving. That's why I let Ke$ha songs pop up now again. There. Now I'm officially the most embarrassing!
Although in my defense, the Ke$ha thing is Star Trek's fault, so I came to it in the nerdiest way possible.
And now that I've thoroughly discredited myself, here are some running/Disney blog posts from around these fanciful internets!
– Our friend Andrew sent us a great The Oatmeal comic about running. We'll make you run a 5K with us yet, Andrew!
– Moon will have a post tomorrow about diet and nutrition, but in the meantime, if you're Paleo, Eat Sleep Run Disney has some great recipes for you. I must try the mug cake!
– Over at Running at Disney, Sarah talks about her must-dos as a Disneyland newbie. We'll be looking at Sleeping Beauty Castle for the first time ourselves in January for the Tinkerbell Half, so this is inspiration for us!
– MousePlanet has a great series of articles on runDisney; the most recent discusses racing tips. It kinda freaks me out a little that I've been reading MousePlanet since 2005…
– Organic running apparel company Raw Threads is holding a contest with the prize of a $200 gift card. I have one of their shirts and I love it!
I was a bit remiss in my blog reading last week, being at a conference and all. If you ever feel like you've found/written something awesome we simply must see, feel free to drop us a line or leave a comment!
Don't forget, you can follow FRoA on Twitter @fairestrunofall and on Instagram @fairestrunofall. If you have any questions or thoughts, leave a comment or email fairestrunofall@gmail.com. See ya real soon!