Whew. Long day. Long weekend! I started last week by running outside for the first time in forever and ended it with the Electric Run 5K (more on that tomorrow). Teaser: I think it went pretty well!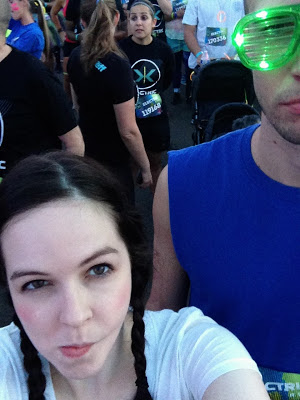 TEASER TEASER TEASER TEASER WOOOOO
I will tell you this about the Electric Run: I did it sans iPod because I was promised music throughout the course. This was not 100% delivered (I said more on that tomorrow) but I actually turned on some speed, probably thanks to my running companion Scott (I SAID MORE ON THAT TOMORROW). It did lead me to think that I should ask our readership – do we have a readership? Anyway, I'm asking you – how do you keep yourself rolling without music?
Naturally, though, I prefer to run with music when I can. This week I went for a little Radiohead, with an emphasis on "Black Star" and "Electioneering." Fitter, happier, more productive!
What next? Oh, right, links:
– SO MANY DISNEYLAND HALF POSTS I CAN'T EVEN. Expo! Meetup! Kids' races! 5K! 10K! Half! Dumbo! Live, Run, Grow! AllEars! Just Me and My Running Shoes! Half Crazy Mama! We Run Disney! Disney Every Day! Eat, Sleep, runDisney! Running at Disney! The runDisney blog! If I've missed a good one, please let me know – I probably missed it in the shuffle. Or it's possible I haven't even gotten to it yet; I STILL haven't slogged all the way through last week's Feedly!
– Need to cleanse the palate? Here's a race that wasn't at Disneyland from Running for the Prize.
– Feet Dominating Pavement shows you how to get better race photos of yourself.
– Royal Runner talks costuming.
– The Runner's Guide to WDW points out the importance of social media when running Disney.
– After all that, I'd say we deserve a cookie. Over at A Pinch of Pixie Dust, Miss Emma is decorating her own at Boma!
For those of you who are following the saga of Moon's mother, she is, to my knowledge, still in the hospital, but I haven't heard anything new regarding the state of her health. I have gotten a few emails and texts from Moon about other subjects, and she seems to be in an okay mood, so it seems things are at least holding steady. I have forwarded all well-wishing comments along and I know she appreciates them. Here's hoping things improve and she can come back to us! 🙂
Don't forget, you can follow FRoA on Twitter @fairestrunofall and on Instagram @fairestrunofall. If you have any questions or thoughts, leave a comment or email fairestrunofall@gmail.com. See ya real soon!