Who for such dainties would not stoop? … Wait, was the Mock Turtle even in the Disney version of Alice in Wonderland? He was, right? Yes? No? I can't remember. Fail. But whatever; today I'm talking soup.
It is simple. It is so simple, you don't make it so much as assemble it. It makes a great work lunch and is infinitely customizable. The ingredients could be described as "things you like." And while it is as delicious as you want it to be, it is also as healthy as you want it to be! I'll walk you through it.
Here are my ingredients:
A quick trip to Target and you, too, can have an awesome shark lunch pouch.
A can of tomato soup

Enough spinach for a decently-sized salad

White beans

Egg whites
And here is what I do:
I mix the egg white with a little salt and nuke it in the microwave; then I chop it up and place it in a bowl.

I top the egg whites with all the spinach. I mean ALL the spinach, because I love spinach so much I consider it a go-to pizza topping.

I add a spoonful or two of beans.

I top the whole thing with the can of tomato soup plus a can full of water per the instructions, then mix and microwave for about four minutes.
This is what I get: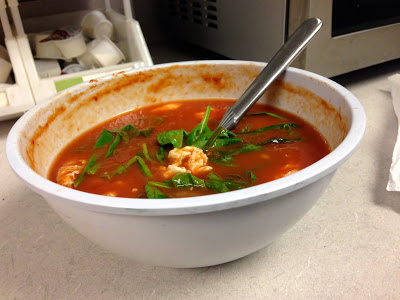 The soup cooks down the spinach and heats the beans and all three additions add a faint infusion of their essence to the tomato base. It is tasty and filling and contains all sorts of nutritious ingredients, no?
But let's say you don't like tomato soup and you're allergic to eggs. No reason why you couldn't sub butternut squash soup and sliced chicken sausage. Beef broth with sliced carrots and those mini potatoes for something heartier. If you really hate yourself,  you could add celery, but I still don't understand how people manage to eat celery unless you slap a boatload of peanut butter on top, at which point why bother eating celery? Truly this culinary mystery weighs heavily upon me. (Don't even get me started on the potential evils of mayonnaise.)
Anyway. I'm always on the hunt for healthy lunches that I can enjoy eating without buying a ton of ingredients I won't be able to use before they go bad. Anyone have any suggestions? Like my plussed soup idea? What combination would you go for?
Don't forget, you can follow FRoA on Twitter @fairestrunofall and on Instagram @fairestrunofall. If you have any questions or thoughts, leave a comment or email fairestrunofall@gmail.com. See ya real soon!