Another just-Jenn WIR, guys. I'm so sorry about teasing you with last week's return of the dynamic duo, but SOMEBODY is on a road trip with her boyfriend. (The somebody in question is Moon.) She tells me she went for a run in Tennessee and will do a post on it, so we will forgive her her absence. 😉
As for my running last week… ehhhh. Well. It's better than last year. Last year I didn't run at ALL in the week between Christmas and New Year's. This year I am at least getting miles in. But they suck. They are slow and lackluster and subpar and generally displeasing all around.
I don't know what it is about the between-holidays period that destroys my running ability. One could argue that it's holiday food, but if that IS the case, it's the case in reverse… I actually react to eating sweets by consuming LESS food. That is, I eat cake INSTEAD of regular meals, not in addition to, because that way the calorie counts work out all right. Often I actually end up feeling like I've lost weight, if you can believe it. But of course this is not the right way to go about fueling up for exercise. Good ol' nutritional catch-22s.
Anyway. I AM running, as I said, so that's good, especially since the Tinker Bell Half is less than a month away. I'm just not feeling super inspired at the moment. Don't worry – I'm sure it'll all come back to me next week.
Or anyway it better. I want to be worthy of that corral B placement!
Um… no blog post roundup this week, guys. I haven't actually been reading many blog posts. Backlog next week! In the meantime, if there's a post you want to be sure I see, feel free to send me the link.
In the meantime – how does your running fare during the holidays? Does my reverse food weirdness make any sense to you or am I clearly insane?
P.S. It was my birthday the day after Christmas. Just sayin.' 🙂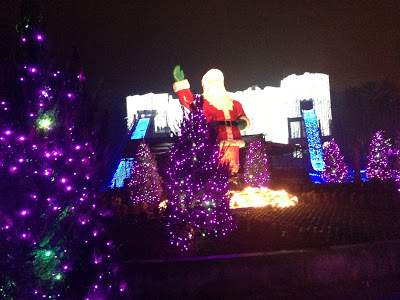 From Busch Gardens Williamsburg's Christmas Town last year.
Because I didn't have anything more relevant.
Don't forget, you can follow FRoA on Twitter @fairestrunofall and on Instagram @fairestrunofall. If you have any questions or thoughts, leave a comment or email fairestrunofall@gmail.com. See ya real soon!