JENN: Okay, I know this isn't REALLY relevant, but I want to start off this post by showing everyone the AMAZING thing Pat bought for my cats.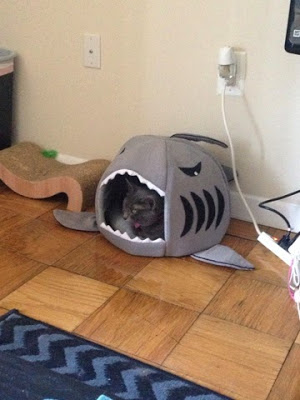 Yes? Fantastic? Unbeatable? Basically the best thing ever? Good. We can talk about running now. Moon, take it away!
MOON: This is relevant! About a month ago my old roommate informs me over dinner, "Did you know that long-distance running is supposedly worse for you than not exercising at all?" We frequently joke with each other over our extremely dichotomous lifestyles. WELL. A recently study has proved that these results cannot be verified! (Hooray for us runners!)
JENN: Ha! This totally justifies my multi-long-runs-per-week lifestyle!
MOON: Apparently, the study in question only sampled 36 strenuous runners (two of the runners died) out of 1,000 runners over 12 years against 4,000 healthy people who do not jog at all. So, you do the math.
JENN: That's… a trifle uneven.
MOON: And ANYWAY. Even if "strenuous running" means you live just as long as a non-runner, I would still run. I'd rather spend time running than sitting about the house.
JENN: Amen. Although… lately I've been pondering cutting back a bit. MAYBE. I don't know. But I wonder if maybe making almost every single run 7-11 miles on average isn't the best strategy? Maybe? Possibly? I did a couple four mile speed work runs last month and it seemed like maybe a good idea…
MOON: Haha, well, my opinion on the matter is…. don't have a strenuous run EVERY time you run.
JENN: I just feel so conflicted when I'm not burning a LOT of miles and calories!
MOON: What makes your body feel good? I like two strenuous runs with an easy speed run in between.
JENN: My body usual does okay… it's just that I'm not getting faster or better AND sometimes my mental state is more NOOOOOOOOO THIS IS GOING TO TAKE SO LOOOOOONG than anything else.
MOON: Take a break! Do some speed. You have to make a new baseline to get faster in my experience
JENN: Well, my annual ballet performance is the beginning of May, so I'll be doing another Severe Cutbacks week. I'm not as miserable as last year so I AM going to run, but it'll only be one run on that Tuesday and then nothing for a week. Hopefully that recharges me!
You know what else recharges me? The roundup.
– Pink Elephant on Parade ponders the psychology behind running.
– It's a Marathon AND a Sprint considers DLF, DNF, and DNS.
– Through Heather's Looking Glass has an inspiring look at the tail end of a marathon.
– Living a Disney Life eats Disney cheese.
– it's a small blog has a nifty look at a 1979 WDW ticket book.
– The Disney Tourist Blog features Disneyland's GOATS! (WDW's next, I hope?)
Don't forget, you can follow FRoA on Twitter @fairestrunofall and on Instagram @fairestrunofall. If you have any questions or thoughts, leave a comment or email fairestrunofall@gmail.com. See ya real soon!