JENN: How was running last week?
MOON: Much improved and very much welcome. 🙂 How about yours?
JENN: It was 50% on the boardwalk in Ocean City, MD!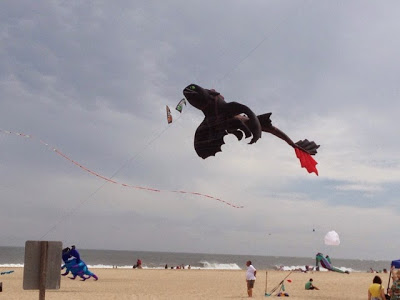 No Toothless this time, though, sadly.
I got in two runs while I was there (more on this later in the week) and while they were hot I REALLY APPRECIATE the proliferation of water fountains.
MOON: Yay!
JENN: I was pretty much using them as motivation. "Run to the next one!" And then I ran at home and I was like "THIS ISN'T THE BEACH WHAT" and I was sad.
MOON: You could always close your eyes and imagine you're running at the beach. Then again, be careful on the treadmill.
JENN: Haha, yeah, closed eyes and darkness don't really work out super well on the treadmill.
I'll very likely go back to OC in September so there's that to look forward to. Oh, and I'll run when I'm in the Outer Banks in a couple weeks! Although just on roads, so whatevs. Never mind.
MOON: That's nice! Man, you've got beach time all lined up!
JENN: I do! How's your beach time been?
MOON: I was there for a day and a half and I found that I really needed some down time. I also forgot my running shoes. But remembered all my other gear. Oh well. Anyway, some good time was spent with friends. 🙂
JENN: Ah, well. Next time! Friends are, like, ALMOST as good as running, right?
MOON: Hahaha, it's close. 😛
JENN: Now here's a roundup that's almost as good as running. (Small this week since I was on vacation last week and ignored pretty much everyone like a jerk.)
– Darlin' Rae takes it easy.
– The Runner's Guide to WDW eases the pace of a runDisney weekend.
– Mouse on the Mind dreams up a genius idea for a Disney diner.
– ZannaLand gives Disneyland some birthday love.
– easyWDW offers a complete rundown of Food & Wine Festival items new and old.
Don't forget, you can follow FRoA on Twitter @fairestrunofall and on Instagram @fairestrunofall. If you have any questions or thoughts, leave a comment or email fairestrunofall@gmail.com. See ya real soon!