Girls, we've got it rough. We know this. Our pockets are useless.
Hey, baggy cargo pants can be a cute look. But it's not how we want to live our lives, and it's definitely not always how we want to swan around an (often sweltering) amusement park. It's cool, though; that's why God invented the purse, right?
Unfortunately, some theme parks have declared war on bags. Busch Gardens Williamsburg won't let you take them through the line – and its lockers aren't free. Universal Studios will let you stow stuff in a locker, but it's only free for a limited time; woe betide those who would wait in a lengthy line. I've had a similar experience in Six Flags Great Adventure. Universal, however, takes it one step further: for a couple of their big ticket coasters, there's a metal detector stationed halfway through the line. Even those with zippered pockets can't bring their phone through.
With the metal detector situation I can't help you. But if it's just the bag you'd love to ditch, ladies, I have good news! They can take our purses, but they will NEVER TAKE OUR BOOBS.
Behold: the Sports Bra Storage method of theme park travel.
It's easy! All you need is a ziplock bag, four safety pins, and a substantial sports bra. Alternatively you can use a small cosmetic bag or similar, but there tends to be extra bulk there.
Steps:
Flip your sports bra inside out.

Align the sandwich bag so that the opening lines up with or just below the top of your sports bra.

Smooth out the bag against the fabric and safety pin the bag to the bra at the top and bottom corners. Be careful not to catch the bra's back in the pins. If the bag extends beyond the bra, do NOT fold it; instead, pin it just above the bra's bottom, at the sides of the bag.

Flip the bra back to right side-in. Put on your bra and smooth out the bag underneath. You are now free to insert your phone, ID, credit cards, and your average ticket media in the plastic bag. Seal it up et voila!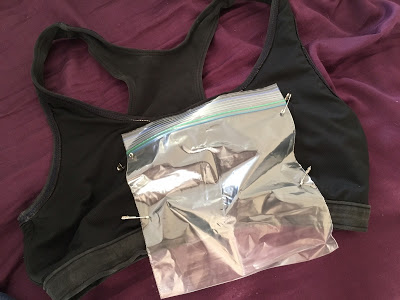 Wear a loose tank and unless you're REALLY jamming it in there, no one will be able to tell you're storing your stuff in your bra. No bag check and no lockers for you! I've never once had an issue with everything staying secure, but for extra safety you can always throw a hoodie zipped up all the way over your ensemble; this would catch an unlikely escaped item.
There are, of course, a few disadvantages to this method. It does limit what you can take into the parks. And if you have a phone so giant it won't fit into a small bag, well, you'll have to look into other alternatives. And there are lots! But this is my preferred method in the face of bag moratoriums and I thought I'd share it. Let me know if you try it out!
How do you prefer to store your stuff when riding?

Don't forget, you can follow FRoA on Twitter @fairestrunofall and on Instagram @fairestrunofall. If you have any questions or thoughts, leave a comment or email fairestrunofall@gmail.com. See ya real soon!