It's trip report time again! I love trip reports! I'm recapping my April 2017 trip to WDW for the Dark Side Half. You can see all the posts in this report here. Onward!
Strap in, because I wrote the notes for this trip report day while running on about two hours sleep after having been awake for about 20 hours. Also I was watching Mulan, which is a known stimulant for the sleep-deprived. With that disclaimer in place: onward!
I made it back from the Dark Side Half before the clock hit 8:15am, which pleased me – so much time before our first FastPass! I woke Pat, then hopped in the shower, which actually kind sorta produced some hot water (something that Riverside showers don't always do, for the record).
Pat has been studying for his architecture exams, so he studied a bit while I dressed, etc. Then we were off to the bus stop for the Magic Kingdom and another Splash Mountain FP. They even managed not to lose our photo this time!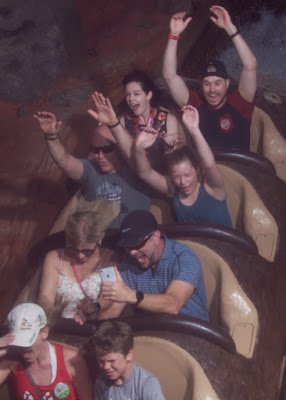 So naturally my face looks wonky, but whatevs.
This particular ride even featured live animals: right by the final drop, before the last show scene with the Zip-A-Dee Lady paddleboat, there was a family of ducks. Concerned for the baby birds, we informed a CM on the way out, who assured us they were keeping an eye on it.
Our next FastPass was for Space Mountain, and after a moment's consideration I decided to lead us through Adventureland and around the hub to get there. Lucky I did, because Pat was jonesing for a snack and the waffle fries at the Golden Oak Outpost caught his eye. These were surprisingly good! Could've used some Old Bay, but they were pleasantly crispy with that rich, almost-too-greasy-but-not-quite taste. Twice fried, maybe? Pro: there was honey mustard and the condiment station. Con: it sucked.
After our snack we proceeded to Space Mountain for FastPass slot; we wound up on the left again, but in the front this time. I think the very front position can be fun, but if you're not seated there, the back car is way better.
We took a spin on my beloved Peoplemover before backtracking to Big Thunder Mountain for our final Magic Kingdom FastPass. This may be the least thrilling thrill ride in all of Disney, but Pat and I both found it more enjoyable than we remembered, probably because the themeing is so solid. There isn't enough ride time in Rainbow Ridge! (Also, it continues to baffle me that there's no photo here when the Mine Train and freaking Frozen Ever After have one.)
FastPasses being used up for the moment, we decided to take a break and head to Disney Springs. I asked a Cast Member about the direct bus service I'd heard about, but he told me it doesn't start until 4pm; instead we walked over to the Contemporary bus stop and grabbed a Disney Springs bus just as it was arriving. Score!
We debarked at what I believe was the old Pleasure Island stop, but to be honest I was completely disoriented – Disney Springs is a utterly different animal from the Downtown Disney I was used to even a year and a half ago.
Our first act was to bar hop a little – more on that coming in a later post, of course. Then we poked around in a couple stores. Pat picked up a scarf for his mom's birthday at Raglan Road, and I stopped in the Lego store and got my dad the Guggenheim set for his birthday/Father's Day. We took a spin each around The Art of Disney and the new retro dress shop, although the latter wasn't as tempting as I expected it to be. All the same, Annual Pass discounts FTW!!!
Now for the saddest part of my story: the Mr. Toad cap that wasn't. Having passed on the purchase in January, I was quite determined to get the Twenty-eight & Main Mr. Toad cap that was available until very recently. It was AWOL in the Emporium at MK, so I searched in World of Disney – no dice. A CM sent me to the dedicated store in the Marketplace Co-op, but no go. Alas, it was not to be. 🙁
Farewell, sweet Toad hat… we'll always have January…
It was getting on in the afternoon, so we availed ourselves of one of the perks of staying at Riverside: the internal boat system. We hopped the boat to the Marketplace dock (because it seemed easier than trying to find the other one in time), then took another boat from there back to POR. They told us repeatedly this boat was for Riverside only, although I know POFQ is also serviced. Do they always have separate boats, or…?
We dropped off our Disney Springs purchases and chilled in the room a bit before turning right around and catching a bus to Epcot. Although really I should've taken the time to take a nap; the lack of sleep was starting to catch up with me. But my motto has always been that sleep is for people who aren't WDW – even though sometimes it probably shouldn't be…
I had picked up a Mission: Space FP on the bus, so we did that first. Truth be told, we didn't really need it – lines were pretty short. But Pat loves the ride, and why take chances? Orange Team all the way!
BEST. POET. EVER.
After that good FPs were few and far between, but some short lines were available. We knocked out Spaceship Earth and then hightailed it over to the World Showcase, where I did the unthinkable: I didn't get ANYTHING from ANY of the Flower & Garden Festival Food Booths.
I know. I KNOW. I was so excited to do this for the first time. I even made a post about it. But I was exhausted, and no food of any kind was appealing to me. I eventually wound up getting one of those giant soft pretzels from Germany that I'd always wanted to try, but it was kind of stale.
See, here's the thing: I have traversed WDW while loopy-tired in the past. But as a rule I've done it by myself, but no companion to give me feedback on how weird I'm being. According to Pat, I got all quiet and trailed after him like a zombie, and we repeatedly had this same exchange: "Are you okay?" "I'm happy…" And I was. Extremely happy. Through an extremely sleep filter.
Pat doesn't care much about nighttime shows, so we skipped IllumiNations in favor of a ride on Soarin' (lowest waits I've ever seen – thanks, third theater!). This went over well, but we noticed something weird: the curved screen makes a lot of the buildings look crazy bendy, especially the Taj Mahal and the Eiffel Tower. Maybe it's only if you're in a glider to the left or right? All the same, you wouldn't think the Imagineers would stand for that.
By this point Extra Magic Hours had kicked in, and despite Pat's gentle suggestions that we go back to the room and go to sleep I insisted we use them. We walked back to the World Showcase and Italy where Pat got some gelato and I had a close encounter with a cockroach on a bench, so that was fun. After that, a quick spin on El Rio del Tiempo with the Three Caballeros.
At this point Frozen Ever After was listing a 45 minute wait, yet the entire standby queue inside the building; I strongly suspected a wait more akin to 25 minutes. But Pat couldn't care less about Frozen and I didn't want to risk dragging him through that. Not to mention I was SO DANG TIRED. I had to admit defeat.
We picked up a bus to Riverside and I managed to type up these notes and eat a few snacks from my race box before conking out completely. Best sleep I'd had in weeks. When I awoke: the Studios and DAK!
Don't forget, you can follow FRoA on Twitter @fairestrunofall and on Instagram @fairestrunofall. If you have any questions or thoughts, leave a comment or email fairestrunofall@gmail.com. See ya real soon!