And now for another story about how booking a WDW resort room can be unnecessarily confusing. But we persevere.
A WDW RESORT DISCOUNT CODE (BUT NOT FOR ME)
A couple weeks ago I scored the big one: an email from Disney containing a unique offer code that would net me a discount on Walt Disney World resort rooms. Sweet! Having been in talks with my mom to take a trip in early December, I immediately clicked on through, only to have the site tell me that the last name I entered (which, to be clear, is the only one I have) didn't match the code.
Hmmm. That's odd. So I called the Disney phone line and had them try. The polite Cast Member promptly informed me that the promo, which had been sent to my email address which is attached to my My Disney Experience account, was meant for… Elizabeth.
Clearly this was a goof on Disney's part, but I can trace the error. Elizabeth took a trip down to WDW with me in early 2012, as the second guest on a resort reservation I made under my account. For some reason I started getting occasional emails to my inbox with her name on it later that year – clearly Disney had conflated her info with mine.
By 2013 I had gotten enough misdirected mail to warrant a phone call, and it was promised that my account would then be mine and mine alone. Since then I assumed the matter put to metaphorical bed, but apparently that wasn't quite the case.
The CM informed me that, regardless of how the error occurred, the system would not allow him to process the code without Elizabeth appearing on the reservation. As nice as that would be, she is rather tragically not coming – so I asked to be booted higher up to get it fixed. Another day, another phone call, and another CM later, and I was on the phone with guest services.
This CM told me that the code was definitely supposed to be for Elizabeth, but since it was sent to directly to my email address, they would honor it this one time – but they could not guarantee it wouldn't happen again. Sigh.
I gave them Elizabeth's actual email address that's attached to her MDE account and the CM told me that might help. We shall see. If they can't tell the difference between two completely separate, unrelated people with separate names, addresses, and emails, though…
LIMITED OPTIONS
Anyway. As aforementioned, I was getting the discount anyway – which, incidentally, I think is the obvious and correct customer service move, very in keeping with the Disney difference, no? Next, to make my room selection – with dates, may I add, that were more than six months out. I mention this because the CM found:
NO value resort availability except for a family suite at All-Star Music, which two people certainly don't need at prices higher than a moderate

NO moderate resort availability with the SOLE exception of Pirate Rooms at Caribbean Beach, which, bleh

NO regular, not-a-suite availability at Animal Kingdom Lodge and nothing at all Wilderness Lodge, the most reasonably priced deluxe resorts

Unknown how much other deluxe resort availability there was, but I was not prepared to throw down with their prices
Well, hell.
It slowly dawned on me and a quick Google search confirmed it: our dates coincide with that big cheerleading competition at ESPN Wide World of Sports. The added crowds don't worry me – they'll largely by busy with the competition, I'd imagine – but this kind of sell out… Yikes. But I couldn't change my dates – a week earlier is Thanksgiving week which, no, and a week later my annual pass expires. And my mom is dead set on going during the holiday period. My hands were tied.
OH, FINE: A WDW RESORT PIRATE'S LIFE FOR ME
I wound up accepting the only room I could, really: that pirate room at CBR. This may well be the last room I would ever choose myself. I'm kinda off moderates in the first place; after staying at POR a couple times, I'm not convinced it's worth the extra money. And CBR is currently under refurbishment. I understand a lot of it is scheduled to be done "late 2017," but who knows what that means?
On top of that, I certainly don't need to be shelling out extra for a room dressed up like a pirate ship, which while nifty, isn't really my mom's bag. Well, I'm not so much bothered that it's not her bag as I'm not thrilled to plunk down extra money for something that's not her bag. Especially when said rooms are reportedly as far from resort amenities as you can possibly get and the bus system is supposedly many-stationed and long of route. Boo. Boo!
It'll have to do. I mean, it'll be fine – it's WDW! The pirate ship beds look kinda cool. My mom and I are good strong walkers and I understand CBR has a very nice trail for morning runs as well. Some of the promised new shops and restaurants might even be open by the time we get there. I'd just rather be at Pop, that's all.
All the same: I'm going to Walt Disney World! Yay! Activate planning mode… NOW.
Anyone stayed at Caribbean Beach Resort? In the pirate-themed rooms even? Psyche me up!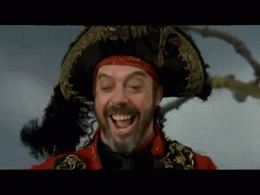 For example, is Tim Curry there?
Don't forget, you can follow FRoA on Twitter @fairestrunofall and on Instagram @fairestrunofall. If you have any questions or thoughts, leave a comment or email fairestrunofall@gmail.com. See ya real soon!