I am always impressed by the industrious bloggers who are constantly coming up with their own unique recipes. Even the smoothies are themed – strawberry cheesecake smoothies! Pumpkin pie smoothies! THE ULTIMATE GREEN SMOOTHIE RAAAAAAAAR!!!
Me, I was just trying to put together a high-protein smoothie to drink after my morning runs that kept me full until lunch and tasted okay.
By some miracle, I did that. But then I got greedy. I thought, how come I can't put together a fancy-pants smoothie with a legit flavor profile? Why can't I theme it to Disney???
And so I did. Fire up your blender, because today we're making…
THE WDW CHOCOLATE-COVERED BANANA-ON-A-STICK SMOOTHIE
Uh, is it technically called something specific? I know it has a wrapper but I'm usually too busy ripping it off to read it. You know what I'm talking about, though. One of these: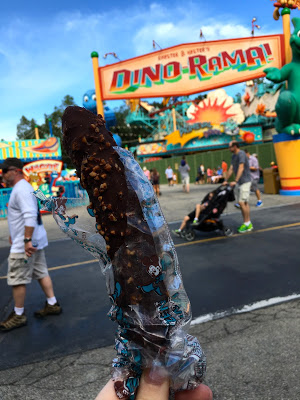 *insert inappropriate giggling here*
NOW LET'S SMOOTHIE-FY IT.
You will need:
1 banana, sliced thin and frozen

1 cup chocolate Greek yogurt (I used Oikos)

4 heaping tablespoons chocolate PB2, TruNut, or other powdered peanut butter product, preferably chocolate flavor (or you can also use a scoop of straight peanut butter)

1/2 cup milk or plain-flavored milk substitute

OPTIONAL: Handful of spinach; you won't taste it, it's just for some extra nutrition

OPTIONAL: Crushed peanuts for garnish
Directions: Put it all in the blender and have it do its thing until smooth. C'mon, guys. It's a smoothie. Get it together.
Variations: I'm all about variations because I like to be able to farm what I already have without necessarily taking a trip to the store, especially in cases like this where you're just trying to throw together something quick. Taste and texture will vary, but what can ya do. That is the philosophy of the cheater's recipe! With that in mind, here are some flex ingredients:
You can take out the yogurt and add a serving of chocolate protein powder and double the milk. I thought this was okay but the consistency isn't as nice. Also, protein powder is very hit-or-miss with me as far as hunger goes. Also also, every chocolate protein powder I've ever tried has been weak sauce, but maybe that's to counterbalance the equally inevitably aggressive vanilla flavors?

Vanilla or plain yogurt and some cocoa powder could also work but I haven't tried it.

Or chocolate almond or soy milk could mix well too.

Peanut butter allergy sufferers may substitute the nut butter of their choice.
Anyway, if you make it as I did, you're looking at a minimum of 22 grams of protein – 15 grams from the yogurt and 8+ grams from the PB2 or whatever. And that's not even taking the milk into account. Not too shabby.
And if you close your eyes and pretend you're eating it while chilling on Main Street, USA? Less shabby still.
What's your favorite smoothie recipe? Bonus points if it's WDW-related! (Or Arrested Development related, I guess…)
Don't forget, you can follow FRoA on Twitter @fairestrunofall and on Instagram @fairestrunofall. If you have any questions or thoughts, leave a comment or email fairestrunofall@gmail.com. See ya real soon!