Becky from Disney In Your Day challenged me to figure out which five characters I would invite to a Disney Christmas dinner party, so I'm going to start with that because it's more interesting and festive than anything else I have to say at this time, trust me.
This is an unexpectedly difficult question and I had to do some pondering before I came up with an answer. So rather than do the responsible blogger thing and craft something thoughtful, I decided to cheat. My answers are: Dug from Up, Figaro from Pinocchio, Max from Tangled, Khan from Mulan, and that cute barking stool from Beauty and the Beast. Lots of animal snuggles and Dug could translate!
There! Merry Christmas. Now for the workout log:
Sunday | rest day
This was kinda-sorta an unscheduled rest day. I had tentatively planned to run anywhere from 5 to 7 miles, but it was cold and there was residual snow on the ground and I had a 15 miler coming up later in the week so I elected to skip it. #noregrets
Monday | ran 5.31 miles outside in 55 minutes
Tuesday | walked 2.08 miles outside a 35 minutes; 60 minute ballet class
Wednesday | ran 15.38 miles on the treadmill in 2:35
Also known as my long run before the WDW Marathon. Should I run longer? Probably, sure, yeah. Will I? Naaaah. Call me crazy but I think 15 is fine – I'm still mildly in IT Band injury recovery and the WDW Marathon is not that demanding. No PRs here! I did the same last year and had a great race, so we'll see what happens.
Thursday | walked 2.24 miles outside in 40 minutes; 60 minute ballet class
SO. COLD. WINTER. BLOWS.
Friday | ran 5.36 miles outside in 55 minutes
Saturday | rest day
A very Christmas-y day! We watched three Christmas movies and wrapped presents and it was awesome.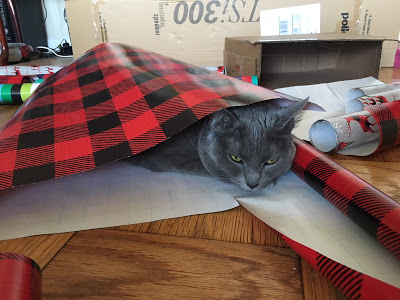 Ruffian was a huge help.
Annnnnnd the roundup: 
– Through Heather's Looking Glass offers tips for runners just starting out.
– The Main Street Gazette digs deep in the Carousel of Progress.
– Disney In Your Day rustles up some cheap Disney souvenirs.
– Passport to Dreams Old & New puts forth a treatise on conflict in theme park rides.
Don't forget, you can follow FRoA on Twitter @fairestrunofall and on Instagram @fairestrunofall. If you have any questions or thoughts, leave a comment or email fairestrunofall@gmail.com. See ya real soon!