Mini trip report! Read all the posts in this report here.
We pick this day up right after finishing the race. Having finished much faster than expected, I indulged myself in a trip to the official race merch tent. After all, I couldn't very well not have a souvenir from my all time best marathon, could I?
Indeed not. I did a few laps before finally settling on a marathon jacket I hadn't noticed the day before with a much cuter design than the one I had seen and rejected. It was ridiculously overpriced, but every time I wear it it'll make me happy. That's where Disney gets you: right in the nostalgia gland.
I didn't want to lollygag too long, though; I had finished much faster than normal but I still had a late checkout to make. I caught a bus to the All-Star resorts, and despite my capitalist detour I still managed to make it back to my room around 11am(!). 
I had been given the gift of time. (Well, I guess I gave it to myself!). I'm sure I could've gotten out of there in as little as 45 minutes if I really pushed myself, but I took my time. First a luxurious shower, then chilling with a little mindless TV while I slowly packed all my things, changed, and slapped on some makeup. 
By the time I finished it was nearly 1pm, but I was feeling pretty good for having just run a marathon. My first act was to hit up the front desk as I had never received my Magical Express information for the trip home, but that was quickly straightened out. Then on to the bus and Disney Springs!
It sure has come a long way since the days of Downtown Disney. The Springs have managed to turn about a vast improvement, but I can't put a precise finger on why. It's not the shops and restaurants. I mean it IS, but that's not what creates ambiance. Somehow DS has synthesized a new, more Disney-like feeling. It's not parks level, but it's definitely there. Whatever it is, I dig it.
My understanding was that Disney Springs had a post-race party, but I never saw hide nor hair of it. Indeed, I hardly saw anyone else with a medal on. Maybe I just missed it? I never really did make it as far as the West Side (assuming it's still called the West Side).
Party-less, I was left to my own devices. I figured the best thing to start with was some food; I was only minimally hungry but it seemed right given the morning's activities. I selected Pizza Ponte, the quick service Neopolitan pizza place from the new Maria & Enzo's empire of restaurants.
After surveying my options, I selected a pizza with marina, mozzarella, prosciutto, and greens. The Cast Member who handed it to me informed me that she wasn't heating it up because it's better fresh.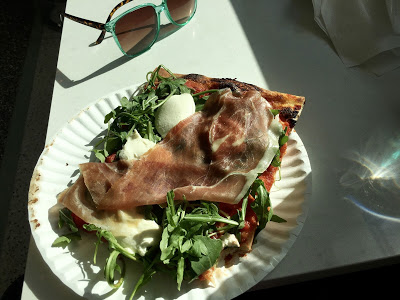 That may be so, but I wasn't a huge fan of it room temperature, either. The mozzarella was insufficiently melty and felt off the pizza in chunks. Most damningly, however, the marina was bland and sweet. I know this place is has gotten good reviews so far, but I found it underwhelming. Interesting selection of Italian sodas, though.
Having experienced one wrong note, I decided to… take a chance on another new place. Life is risk! I couldn't resist popping into the Edison, which had opened a scant week earlier. The small upstairs bar was full, so I snagged a spot at the giant downstairs one.
Let us be real here: the drinks are expensive, even for Disney. I dropped $14 on The Mistress: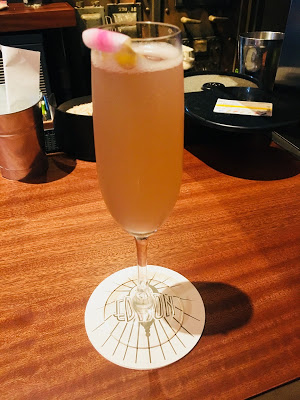 But it was right up my alley: very bubbly and not too sweet. Upon being informed the flower was edible, I ate it, but it tasted like nothing.
I had overheard the bartender mentioning a Thai chili lime margarita, so I went with that next. I give you $13 for the Lightning Rod Margarita:
It's like drinking inside Bioshock!
I cringe at the bill for two drinks but I gotta say this was fantastic. I'll tell you upfront it's legit spicy, so be prepared; this ain't no "Disney-spicy so actually it's mild" type thing. I was surprised to discover looking at the menu online that the drink uses mezcal alongside tequila, as I'm usually not a fan of the flavor. But whatever smokiness it added played in perfect harmony with the chili.
While I imbibed I struck up a piecemeal conversation with one of the bartenders and some passing waiters. By the end the were advising me to dump Pat and move to Orlando. Can't say I'm not tempted… (Just kidding, Tiger!) (Wait, you don't ready this blog. MAYBE I WILL. 😉
I was tempted to stay for one more drink but the combined pressures of money and time levered me out of my seat. Instead I headed over to the World of Disney, where I wandered around a bit before getting thoroughly overwhelmed. I shot out of that mess and over to Goofy's Candy Kitchen to get Pat some of the gummy worms he loves.
I poked around a few more shops, including Cherry Tree Lane's Dress Shop where I want everything and can afford nothing, but ultimately talked myself out of any purchases. At the appointed time, I sadly dragged myself back to the bus to All-Star, then onto the bus to the airport. Boooooo.
And that was my high-speed marathon trip. SO WORTH IT.
I'm not quite finished, either! For the grand finale: a review of afternoon tea at the Grand Floridian.
Don't forget, you can follow FRoA on Twitter @fairestrunofall and on Instagram @fairestrunofall. If you have any questions or thoughts, leave a comment or email fairestrunofall@gmail.com. See ya real soon!