It's trip report time! You can see all the posts in this report here.
Spice Road Table has never been popular. The reviews I've read have been pretty good, but the restaurant never seems to find favor with guests.  
Nevertheless, when I was selecting a Candlelight Processional dining package, I gravitated to it immediately. I knew it had just the sort of menu my pescatarian mother would be into.
We had one of those weird, 3:30ish time slots where it's too late for a normal person's lunch but also too early for a normal person's dinner, and the restaurant was hushed and dim. We were ensconced in a cozy booth across from a large bay window with a view of Spaceship Earth, and while our server was a little slow he was very pleasant.
The Candlelight Processional dining package comes with an appetizer, entree, and dessert per person. We wouldn't normally order that much food. The appetizer was a total gimme, so we were totally comfortable each ordering the exact same thing: hummus with pita and olives.
And it was GOOD, guys! I mean, it was two types of hummus and olives, and if you don't like those things, nothing about this was transformative enough to change your mind. But the hummus was nicely textured and the pita was soft with a hint of spice, and we both enjoyed it enormously. My only suggestion would be to make the hummus flavors a little bolder, but I know Disney needs to keep in mind those with more timid palates.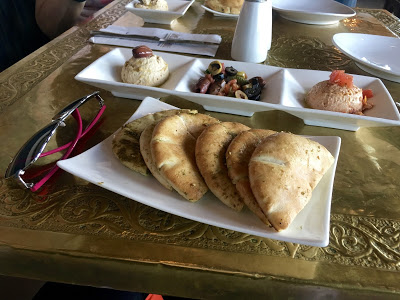 For entrees, my mom went light with the vegetarian platter, which meant more pita and hummus plus stuffed grape leaves and falafel. While this is hardly maximizing your dining package value, she enjoyed everything and that's what counts.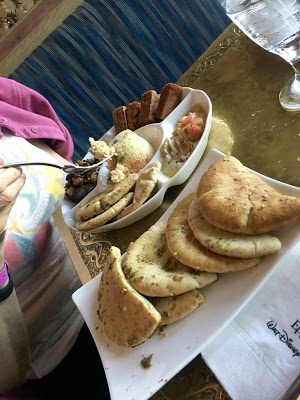 I went with the spicy yellowfin tuna, which was SO GOOD! I hate tuna in a can but when it's raw or a cooked steak it becomes DELICIOUS to me, and this was no exception. The meaty flavor came through, complemented by the spicy sauce. The zucchini and eggplant mix underneath was good as well. I only wish I could've it had come out a little rawer, but that's personal taste. I don't recall the waiter asking me how I wanted it cooked, but I wouldn't swear he didn't… 
Finally, dessert! The chocolate pyramid is their signature dish, but the saffron custard really called my name – and my mom ended up getting the same, because she had no concept of bloggability. But we didn't regret it, because it was great! More of a creme brulee than a custard, the delicate taste of the saffron had the chance to shine, and the pudding element was creamy and smooth. Very enjoyable! 
 Spice Road Table is a bit of a hidden gem, if you ask me. Our experience was relaxed with a nice view and great food. God forbid it go the way of Sanaa where suddenly everyone finds out about it at once and you can't get a table, but what the hell – this place could use the love. Tell your friends!
Don't forget, you can follow FRoA on Twitter @fairestrunofall and on Instagram @fairestrunofall. If you have any questions or thoughts, leave a comment or email fairestrunofall@gmail.com. See ya real soon!