As you tromp along a runDisney course, soaking in the park ambiance or admiring the view of the Boardwalk, you're surrounded by spectators. They cheer and call out your name or your outfit, wave goofy and inspiring signs and offer candy. They are vital to the experience and very prepared.
But have you ever given a thought to the people who just happened to schedule a WDW vacation during a road race and have no idea what's happening?
I always do. On account of because I was once one of them.
Picture it: January 2012. Elizabeth and I have gone down to WDW verrrry early in the new year in order to accommodate Elizabeth's work schedule. I have the most vague whiffs of a memory of something about a marathon going on at the same time, but I don't know what I'm getting into. Who cares! We're going to WDW. 
Well, we totally stepped in it. I mean, everything was fine! But we did all the bewildered non-spectator what-the-hell-is-going-on things you would expect. We were late to our breakfast at Kona Cafe because of road closures.
We were the ones darting across the course at a Cast Member's hurried behest in order to get from one side of the park to the other. And we read the spectator signs in equal parts amusement and bemusement as we walked past the tram drop-off and into DAK.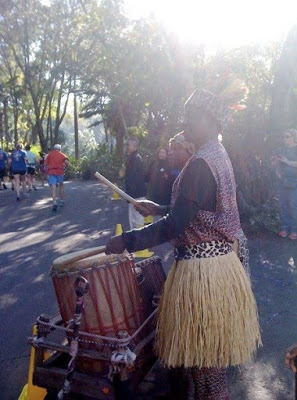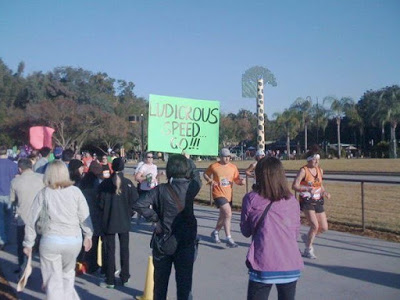 I'm not gonna lie, we didn't exactly embrace the experience. Don't get me wrong – we weren't mad or anything. But we just kinda floated on by to our next destination, taking any race-related impediments in our stride but never joining in with the spectating festivities.
If only I'd known then what I know now – namely, that runDisney was destined to become my shining beacon of light, what keeps hope alive – I would've shouldered my way into the crowd and collected as many runner high-fives as humanly possible. But I didn't, so I didn't. What can ya do.
But I always secretly hope that some of the people toward the end of the marathon, who just showed up to Epcot or the Studios with no thought of any crazy horde of runners they might encounter, are better than I was. I like to think some of those spectators are spontaneous and look at us as a bonus attraction. 
And maybe, just maybe, a handful be inspired to come runDisney too!
Don't forget, you can follow FRoA on Twitter @fairestrunofall and on Instagram @fairestrunofall. If you have any questions or thoughts, leave a comment or email fairestrunofall@gmail.com. See ya real soon!