Continuing my trip report for my January 2019 WDW trip. See all the posts in this report here. Onward!
Oh, but I was stiff after the marathon! I did make a quick lap around the merch tent in the finisher's area, but that was about as far as it went. I hopped aboard a bus to Animal Kingdom Lodge, got off at the Kidani stop, herded myself into the shower, and proceeded to take a nap. But I had to drag myself out of bed shortly after, because I had reservations at Jiko!
Thing was, I had reservations for Jiko an hour later than it was. But I had a whole complicated plan for the evening that required I get into dinner early, so I headed down to the podium like the optimist that I am.
Turns out Jiko was pretty empty, and not only was I immediately admitted I was given my choice of seats – regular table or show kitchen? Being a solo dinner this struck me as an excellent time for the show kitchen, so I selected a seat at the end of the counter there.
It was a good choice; the chefs were bent on their work, of course, but they occasionally chatted with me and I was able to watch some of my orders being assembled.
My server was Audrey, who was very warm and knowledgeable and didn't seem thrown off by a solo diner at all. She walked me through drinks first, and while I was waffling among my choices she talked me into the African MoTEAto, which included mint tea.
I like mint tea and carbonation is my JAM, so this felt like a good choice. As it turned out it was a little bland for my tastes (I wish the tea were punchier), but still refreshing.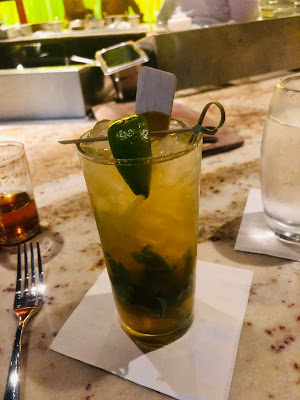 The meal began with a bit of that same tea, minus the alocohol, of course – everyone gets that. Audrey went over appetizers, and we mutually agreed that the Jiko salad would be my selection. I love it when restaurants serve food from Epcot's gardens!
This turned out to be a great call. The vegetables were very fresh as you might imagine, but the real winners were the goat cheese and – wait for it – the CURRIED PUMPKIN SEEDS. I frickin' love curry! Best salad ever. Also the chef made it right in front of me and handed it to me personally, which was a nice touch.
One thing Jiko does not have is great lighting.
For my main course I decided on the elk flatbread, as I don't run into elk on many menus in my regular, non-Disney life. This is normally served with olives but Audrey said she usually orders without because she finds them too briny an addition. This made sense to me and anyway I was ready to let Audrey run my entire life by this point, so I ordered it the same.
And I'm glad I did, because while I bet the saltiness of the olives cuts some of the richness of the cheese and meat, I think the brine would've distracted from the elk. It was good; I would describe it as halfway between steak and duck, with a mild gaminess that made the cheese an afterthought. I liked it but I'd probably try something else if I went back. 
I skipped dessert as I was ready to execute Step Two of my Plan, but I hear there are some good ones. Overall I would definitely recommend Jiko for those with a slightly adventurous palette, especially the show kitchen seats. Dinner and entertainment!
Incidentally, what was Step Two of my Plan? Tune in next week to find out!
Don't forget, you can follow FRoA on Twitter @fairestrunofall and on Instagram @fairestrunofall. If you have any questions or thoughts, leave a comment or email fairestrunofall@gmail.com. See ya real soon!