Can we talk about the Brooks Ghost 10 running shoe for a hot second? Specifically THIS Ghost 10, in this color scheme:


I have them (see above). And based on observation, and assuming you are a woman who wears a woman's shoe, I can only assume you have them too.

I have seen them on my home trails.


I have seen them at multiple runDisney races.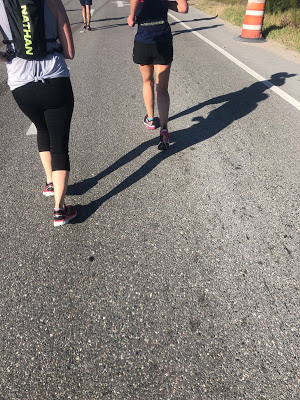 I have seen them in frickin' Runner's World magazine.


I am familiar with the conceit that once you become aware of something, you start to notice it more often, but I've never had this happen with any of my other running shoes. I feel like this one pink Ghost is EVERYWHERE.

Of course, the Ghost 10 has been replaced with the Ghost 11, and probably has its own new set of exciting color options. But man, those pink 10s seem to have had a moment.

Did you have them too? Did you see them everywhere? Or am I just suffering from one of those bizarre Number 23 things?

Don't forget, you can follow FRoA on Twitter @fairestrunofall and on Instagram @fairestrunofall. If you have any questions or thoughts, leave a comment or email fairestrunofall@gmail.com. See ya real soon!