I'm so sorry, friends. I pulled the old bait-and-switch on you. But don't take it out of Morimoto Street Food; the fault lies exclusively with me.
The afternoon of my Disney Springs adventure I polled the Twitter audience: where should I eat lunch? D-Luxe Burger or Jock Lindsey's? But before I could determine a winner I found myself suddenly, desperately post-marathon hungry, so I ducked into the first restaurant in my area that piqued my interest.
Enter: Morimoto Street Food.
I've had an eye on this location for some time, but a shinier penny – usually a table-service restaurant – has always seemed to push it aside. Well, right place, right time at last!
I swear I remember Morimoto's famous duck being served here in bao buns at some point, and since I love both of these items immeasurably that was going to be my order. But either I made it up or they're gone/seasonal, because no such option awaited me.
Luckily, my yen for steamed breadstuffs was not to be entirely unmet: there was a steamed bun in the offing! Yay! … Which I am now seeing is no longer on the listed menu. Blast. A special, maybe? Well, if you see it, you should buy it, because it is everything a steamed bun could be: soft, dense, and packed with savory meat in a lovely proportion assuming you, too, are in it for the bun. My only minor criticism would be that the filling could stand to be spicier, but I know spice isn't Disney's thing.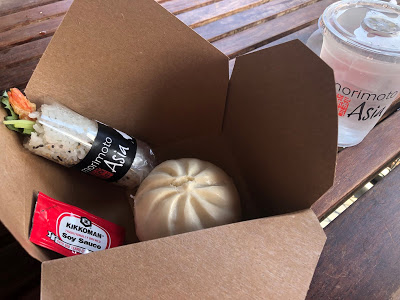 I also added a shrimp tempura maki roll to my order. It comes in uncut log form a la the sushi you can get at the Epcot Food & Wine Festival and for some reason this form of eating sushi has always been appealing to me. I like to play with my food, I guess.
This was okay – but only just. Morimoto Street Food doesn't see the kind of turnover Food & Wine Festival booths do, and my tempura roll was probably sitting there awhile. This meant the fried shrimp was none too crispy, giving the whole thing a slightly gummy texture I wasn't thrilled with. If you want shrimp, I vote you go inside the restaurant proper and order some rolls at the bar. 
Or just order two steamed buns! I LOVE STEAMED BUNS.
Have you eaten a Morimoto Street Food? Would you punch your mother in the face for a bao bun full of duck? No? Just me then? 
Don't forget, you can follow FRoA on Twitter @fairestrunofall and on Instagram @fairestrunofall. If you have any questions or thoughts, leave a comment or email fairestrunofall@gmail.com. See ya real soon!