Sooooo I seem to have developed a Minnie Ears problem.
It all started innocently enough. All I did was wander into Epcot's Mouse Gears gift shop to pick up an ear hat for Pat's niece. After some deliberation, I selected the pink version with Minnie Mouse in the patch, and had her name embroidered on the back. All according to plan.
While I was waiting for the embroidery to finish, though, I was drawn by a siren's song to the rack of ear headbands. This was still back in the day when Minnie ears were in their nascent stages, and I had a scant half dozen or so to choose from. Under a sparkly spell, I popped the black-and-red sequined version onto my head.
I don't need this, I told myself firmly. You can get more unique versions on Etsy for a comparable price. This is a Completely Unnecessary Purchase. I removed the ears and put them back on the hanger.
And then I picked them back up and bought them. I wore them during my next morning's race, and it was all over. I was hooked.
In the ensuing years the world of Minnie ears has positively exploded, and Disney has released many tempting new versions. I've given myself a strict limit of one pair per trip at the most, but I've broken down and bought a new pair four times now. This is not including the bootleg versions I've gotten from other retailers, although I'm pulling back from those as I find they're just not the same. I never did go down that Etsy road for the same reason – there are lots of amazing designs out there, but I just can't imagine them having the same heft and perfect placement.
The original pair has been joined by Figment, rose gold (though it took me forever), Dia de Muertos, and Spaceship Earth. That seems like plenty, right? And yet I can't help but keep the rainbow and purple potion editions in my sights…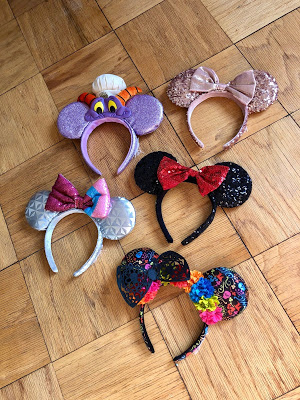 It could be worse, right? I mean, it's this or cocaine, wouldn't you say? I've made the healthful choice! MORE MINNIE EARS!

Don't forget, you can follow FRoA on Twitter @fairestrunofall and on Instagram @fairestrunofall. If you have any questions or thoughts, leave a comment or email fairestrunofall@gmail.com. See ya real soon!