Trip report time! See all the posts in this report.
I was able to wander right onto a Pop bus post-half marathon, and I rolled on back to my room and immediately hopped into a much-needed hot shower. (I don't care what the experts say about ice baths and crud – you can pry my hot shower from my HOT DEAD HANDS.)

By the time I emerged, I figured I might as well stay awake until Erika got back, so I riffled through my snack box and watched the ubiquitous Friends marathon until she appeared. She took her own shower, and then it was nap time!

I woke up about 3 hours later, which is without question the longest nap (of, like, 3 total) I've ever taken at WDW, but I'm learning to chill now so I can party later, y'know?

Erika wasn't far behind me, and we chilled in the room for a bit while a sudden Florida rainstorm came gushing down. After a bit – as is so often the case – it subsided to a drizzle, and we took advantage of the lull to duck over to the Pop food court and snag lunch.

After lunch we killed time for a bit before heading out to the Wine & Dine Half after party. It officially started at 10pm, but the official word was that mix-in began at 8pm. Being a paranoic, I had hustled us over half an hour too early – but I was delighted to discover that cast members had just begun handing out party wristbands at 7:30pm. That's a 30 minute bonus to us!

I was overcome by a sudden thirst, so we took a quick trip to Club Cool followed immediately by the Light Lab for a cider flight. I didn't care for the blueberry peppercorn, but then I don't like blueberries so I saw that coming. The berry one was pretty good – predictably sweet – but the rose cider was my surprise favorite. It was much more dry than the rose ciders I've had in the past, and I enjoyed it immensely. 


Erika had gotten a full-size rose cider, and I gave her my rejected blueberry sample. I picked up my two remaining minis, and we double-fisted into the night and over to World Showcase.

First up: a ride on Mexico's Gran Fiesta Tour boat ride with the Three Caballeros. Erika, a Brazilian native, reinforced something I've been thinking for years: what are you doing in Mexico, Jose Carioca? You belong in Brazil! Maybe that long-rumored Brazil pavilion will open and he'll finally have a proper home?

We took a couple minutes to explore the Dia de Muertos exhibit at the front of the pyramid, which was surprisingly cute. 

 Our feet carried us out of Mexico and deeper into World Showcase, where we finally found ourselves in Japan's Mitsukoshi department store… just as it started to rain. Like, kinda hard. After thoroughly examining the shop's contents, we took a spin through the Kawaii exhibit and… it was still raining. Boo.

I turned over some options in my head and was just suggesting that we head to Morocco's indoor exhibits when I witnessed some brilliant people walking up to the second floor of the Mitsukoshi building. IllumiNations was starting in about 15 minutes, and that platform had a protective eave. I dragged Erika up the stairs and we staked out some of the last spots available for the show.


 Unfortunately the rain was causing more trouble than driving people indoors: an announcement rang out that IllumiNations was postponed due to weather. My heart sank – this was my last chance to see it before it was replaced. Luckily it went off about 15 minutes later. Whew! 

I've since been informed that the show may be delayed as much as 2 hours without getting cancelled, but I wouldn't want to spend 2 hours holding my spot! The one thing I don't get is that it was raining at the official start time, and it was still raining when the show started. What changed that it could run after all? Go figure.

The rain showed no sign of stopping, so we decided to be brave little ducks and venture out into the open. The time of Food & Wine Festival snacking was once again upon us.

To begin we stopped at the Japan booth right in front of us for teriyaki buns, which had delicious steamed dough although I found the chicken mixture inside a bit too sweet.

Next up was the Brazil booth. Since Brazil doesn't have a resident pavilion, the kiosk was staffed by regular cast members. Erika helpfully taught them how to say the names of the foods they were selling in Brazilian Portuguese, and the CMs invited her to stay awhile and coach them.

Alas, she had to decline, as we had delicious pae de quiejo to eat. Erika tells me this awesome cheese bread is usually eaten as a snack. Also she has a bag of them in her freezer, so I'm thinking party at Erika's house?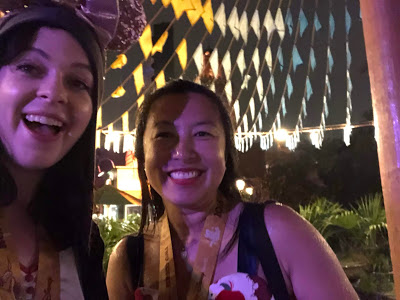 The ears-over-hoodie look is very big in Brazil.
 We made a stop at France so that Erika could pick up some of the raspberry creme brulee, which she deemed to be very tasty. Then we abandoned World Showcase for Future World and Mouse Gears as I wanted to make some purchases before it closed.

My first order of self-indulgent business was selected a new Minnie ear headband because NO CERTAINLY NOT YOU CAN NEVER HAVE ENOUGH. I hemmed and hawed between the rainbow and Dia de Muertos versions before deciding on the latter on the principle that it might be discontinued soon.


I also wanted to get some embroidered mouse ears for Pat's niece, but they've moved the embroidery station since I last used the service and I had to search around for it a bit. The cast members at the station were lovely and helped me add the cheapest possible item so I could get to my Disney Visa discount threshold (a reusable tote, since you asked). 

Sadly the weather was starting to get to us. Erika resorted to buying the world's most expensive poncho in Mouse Gears. My hoodie, increasingly damp, wasn't keeping me as warm as it had earlier in the evening. Visions of Splash 'n Dash danced in my head.

So I did this day what I did that day: rode indoor rides to keep off the rain and chill. First Spaceship Earth, then Soarin.' And that was all lovely, but when we were done it was still raining and we were getting cold. 

I halfheartedly asked Erika if she wanted to go one more round of snacks in World Showcase, but she vetoed in favor of going back to the room. This sounded like a plan to me. Dammit, one of these days I WILL shut down Epcot!
We picked up a bus to Pop pretty quickly and basically went straight to bed, one more day in the most magical place on earth ahead of us.

Next up: the last day. 🙁

Don't forget, you can follow FRoA on Twitter @fairestrunofall and on Instagram @fairestrunofall. If you have any questions or thoughts, leave a comment or email fairestrunofall@gmail.com. See ya real soon!