Trip report time! I'll be covering my November 2016 trip. Onward!
Hello and welcome to Jenn's TREAT YOURSELF 2016!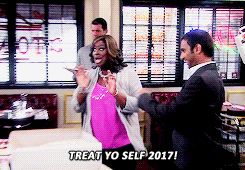 Close enough.
Let us begin.
As is tradition, I slept terribly the night before my flight, but I nonetheless bounced out of bed at 4:45am because such is the power of Walt Disney World. My dad dropped me off at the airport and I slid through security with plenty of time to spare.
Travel tip: always start your trip with a fruit/veggie combo smoothie at Jamba Juice (or wherever) with a zinc shot mixed in. That way no matter what you eat during vacation you're starting off with a strong nutritional base and fortification against airport colds.
Between snagging a seat near the front of the plane and landing 40 minutes early, I was on the Magical Express bus sooner than I ever could've hoped. Pop Century was even the first stop, which is miraculous. Of course, that meant my room wasn't ready, but no matter, as here comes travel tip number two: Pop has a handicap stall all the way at the back with its own mirror and sink, perfect for changing and applying makeup as needed. Just be smart about using a handicap stall – you don't want to monopolize it too long in case someone who legit needs it comes along.
Once changed, an expo bus was waiting for me, and I arrived at the expo a little after 10am. My first order of business, however, was not to pick up my bib. Rather, I stopped in at the little ticket kiosk in the center of the Wide World of Sports Plaza to, y'know, do the thing. Readers, an annual pass is expensive and frivolous. But it was Treat Yourself 2016, so…
There was no line, and a very nice CM who was also originally from Maryland shepherded me through the process; although he couldn't get my AP connected to My Disney Experience for some weird reason. He instructed me to do it in the MDE app myself. I had been burned before, but I resolved to deal with the problem on the bus later.
Then it was actually time to grab my bib, which I accomplished pretty quickly. I headed over to the expo center to get my shirt and poke around, and found it to be 1,000% less crowded than I have ever experienced before. I guess most people were there for the Lumiere's Challenge and were still recovering from the 10K in their rooms? If they intended to return at all. Whatever the reason, the crowd was refreshingly manageable.
My first expo stop was the official race merchandise area. There was some cute stuff but as always the prices are a little ridiculous. Usually I manage to walk away empty handed from these things, but not this time: I wound up buying a lightweight longsleeved shirt with a stylized illustration of Remy running running in front of Spaceship Earth (I'll post in a pic in a haul post later). With my new 20% AP discount and the $15 gift certificate that came with race registration, the price was downright reasonable. Treat Yourself 2016!
I did a quick loop around the expo but didn't run into any overly compelling discounts; I pondered a few things but having just dropped money on my Remy shirt I was able to walk away without difficulty. I did randomly receive a kiwi from one booth, I want to say a grocery store or something? Anyway, that was new.
That was enough expo for me, so I grabbed a Powerade on the way out and picked up a bus to Yacht/Beach/Boardwalk. I used the bus time to hook up my AP (it actually worked! Although I did have to restart the app to get it to register correctly), then played with APs. There wasn't a ton available at Epcot, but after some persistent refreshing I was able to snap up someone's just-abandoned Soarin' FastPass. All the WDW sites tell you to be persistent about FPs and they are right.
I disembarked at the Boardwalk and walked around to the International Gateway. I was extremely glad I had already grabbed my ticket at WWoS, because the IG ticket booth was swamped. I skipped merrily past the line and, well, into the bag check line. But hey, one line down!
And then… EPCOT. Hello, my dear old friend. Hello, Food & Wine Festival. And hello, the apparently entire population of Florida. It was only 11:30am, but it was also Saturday, so the lines were looking pretty long. It was a bit early for champagne for many, though, I guess, as that line was short. Luckily I was taught by Douglas Adams that time is an illusion (lunchtime doubly so), and I grabbed a glass of the cheapest bubbly liquid available and sauntered over to Test Track for some single rider action. Does anyone else kind of miss the old version?
After my ride I headed back to the World Showcase for lunch. Yes, the lines were long, but they moved fairly efficiently. And I'll say this: when the lines are lengthy, the food turns over at a faster pace and what you get is fresh. Such was the case with my first selection, the Peking duck in a steamed bun from the China kiosk. Last year I felt the steamed bun was kind of stale, but this year it was soft and fluffy and perfect.
I followed my duck as follows: spicy tuna hand roll from Japan (basically just a sushi roll but there's something so satisfying about biting into the uncut version [that's what she said]), pao de quiejo from Brazil (once again not as good as I remember), smoked salmon on a potato pancake from Scotland (anything with lox on it is good), and the Ghirardelli raspberry torte from the Chocolate Studio (fancy and delicious but kind of one-note).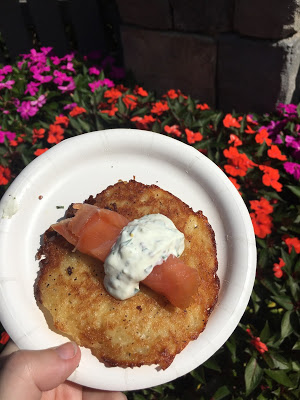 Did I say the lines were long before? Well, matters were only getting worse as time went on. I was sated for the moment, so I retreated from the World Showcase and wandered over to the calm and quiet of the festival center. My primary goals here were to use the bathroom (check!) and examine the Figment merch. I was mostly interested in the oven mitt but it seemed to be sold out. 🙁
For my next act, I did something I haven't done in years: Ellen's Universe of Energy. Strong rumors suggest that this ride is on its way out, and I can't really argue with that – it's old and frankly kind of boring in places. But it's also kind of funny in places and features BILL BILL BILL BILL BILL so I rather like it. I'll be sorry to see it go, unless it's replaced with a dedicated Bill Nye ride – can we do that?
The forty minute respite from walking was lovely, as was having room to stretch out in the ride car (as per usual, the ride was maybe 35% full). I swung through Club Cool for a beverage before walking all the way back to American Adventure for the Voices of Liberty and AA show. Golden dreams!
I had planned to hop into the the Chase lounge following the show, but the line was a solid 100 people deep and I didn't see it moving it all. So much for Freestyle Coke machines, but nothing another stop at Club Cool couldn't ease.
Indeed, lines all around the World Showcase were insane, driving me back to Future World and into the loving embrace of Spaceship Earth. I could smell Rome burning in the queue; is that normal, or is it Pavlovian conditioning?
Somewhere in there I had picked up a Living with the Land FP, and I killed the time before it in MouseGears scoping out ear hats for Pat's niece. I shot him a text about color selection and busied myself trying on various Minnie ear headbands. There were so many cute options but I ultimately talked myself out of this obviously unnecessary purchase.
Then it was over to The Land, which boasted an Actual Line, further proof the FP isn't always a positive thing overall. Mind you, I had a FP, allowing me to callously breeze past the peasants directly into a boat. Row all to myself because single riders live large. Gators are still covered by tarp, by the way.
Shortly after it was time for my very first spin on the new Soarin' Around the World. New third screen notwithstanding, lines were well over an hour, and even with FP it took about 15 minutes of waiting before I was settling into my glider. By a stroke of luck I was in the top row toward the middle, and I enjoyed a dangling-foot-free ride.
SPOILER ALERT! My thoughts on the overhaul: beautiful. I loved it. The vistas were breathtaking and the new smells of grass and ocean were a lovely surprise. My only real complaint is in the transitions, which could be noticeably artificial. I find it hard to believe, for example, that an elephant happened to helpfully throw a camera-obscuring amount of sand in the air. By the time I got to the monument valley scene I saw the hawk out of the corner of my eye and immediately thought, they're so going to throw him at me. SURE ENOUGH.
By that point it was pushing into early evening. I did one more check of MDE and found no FastPasses worth having – it was time to head back to my room. But first: back to MouseGears for that hat.
Pat had responded with a vote for the pink Minnie eat hat for his niece, so I grabbed that and a form for the name embroidery, selecting black thread in the standard cursive-y font. While I was there, I couldn't help donning the black sequined Minnie ear headband one more time. It was, as it had been a few hours ago, a completely unnecessary purchase. But… TREAT YOURSELF 2016!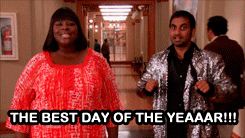 Did I want to wear them out of the store? Um, yes. Yes I did. The very nice CM kindly clipped the tags for me, and then another very nice CM delivered my newly embroidered gift ears, and then I left Epcot in sequined Minnie ears, secure in the knowledge that I was now the WDW equivalent of a basic bitch. And it felt FABULOUS.
There was a bus waiting for me at the Pop stop, and upon arrival in my room my checked bag was sitting on my bed. First up was laying out my race stuff in case I needed to panic and try to find a replacement for something missing, but happily everything was in order.
On to food. I pondered walking over to Art of Animation for their food court's make your own pasta station, which is what I did for the marathon. But I remembered that as a mad scene and didn't even want that much food anyway; I decided instead to stick to Everything Pop and their reliable kid's meal pasta. I picked up two cookies as my sides, one of which would provide pre-race sustenance in the morning alongside a bag of character gummies.
I returned to my room, plunked down my food, turned on the TV, and… nothing. After a bit of fruitless experimentation I called the front desk; the CM who answered apologized and said it's a frequent problem they have with the cable. She said that it can usually be fixed remotely, but I found myself answering the knock of maintenance about 20 minutes later. She successfully fixed my TV and the day was saved. Sure, I could've just pulled up some Netflix on my laptop, but why would I want to do that when I have access to the special WDW channels?
I watched the Breeder's Cup and then some of Pitch Perfect as I ate, unpacked, showered, and prepped for the morning's race. This is also where I started to get a bit frantic about waking up on time. I was already sleep deprived and I still haven't fully gotten over the near-miss of MCM 2015. I set four alarms on my phone, set a wake-up call on the hotel phone, then tried to set a second one but apparently you can't do that.
This all kept me awake far past when I should have been, but as it turns out it doesn't matter because you can hear the Sorcery in the Sky fireworks from Pop. Something to keep in mind for the future.
Anyway. I finally fell asleep. This concludes trip report day one. Next up: race time!
Don't forget, you can follow FRoA on Twitter @fairestrunofall and on Instagram @fairestrunofall. If you have any questions or thoughts, leave a comment or email fairestrunofall@gmail.com. See ya real soon!