And now for my favorite kind of post – the trip report! I'll be covering my 2020 Marathon trip. You can read all the posts in this report here. Onward!
Hello and welcome to the final day of my 2020 Walt Disney World Marathon Weekend trip report, featuring Disney's Hollywood Studios! Are you here looking to get stressed tf out??? If so, do I have the blog post for you!
Our morning began at 5am. In the still-dark of early morning we rose, showered, dressed, and headed out the door with but one goal in mind: RISE OF THE RESISTANCE.
Luckily there was no real line for bag check/airline check in, and with a Studios bus arriving in a reasonable amount of time we were at the park and through bag security a little after 6:30am. That half hour was spent milling around in a pool of anxious psychic energy as we all waited for the moment of release: BOARDING GROUPS FOR RISE OF THE RESISTANCE.
I asked Erika to go for a boarding group too, since it's a numbers game, and at 7am we went to town touchpad-smashing in the app. But, alas, a mixup! Erika got through first but had forgotten to add me to her boarding group. So I had her in mine, got an error that she already had a group, I was briefly distracted by discovering Erika had accidentally signed up solo, and THEN I got my own boarding group. She was 35… and I was 80.
Drat.
Not to litter this trip report with every minuscule move we made in an effort to correct this error, so here's a summary: we talked to several Cast Members at several guest services locations throughout the day, and were told on no uncertain terms that once boarding group filled up the day there was no way to make changes. We finally got someone to agree that, if Erika wanted to ride with me (which she did) despite a lack of overlap in boarding group time windows, that would be allowed.
So what we had now was a numbers game. If we wanted to make our Magical Experience bus to the airport, we needed to head out of the park in the area of 1 – 1:30pm. Group 35 would almost certainly make it – but 80? That was a less certain. It was definitely doable, but it all depended on downtime. Based on early morning boarding group movement, I had around two hours worth of buffer time – but precious little more.
But there was nothing to be done about it but wait and see. We set our sights on other rides, and after grabbing our boarding groups headed immediately for Rock 'n Roller Coaster. We went through the line so quickly they weren't even using the preshow rooms. (Incidentally, if we had gone directly to guest services about our boarding group mix-up instead of riding that first, we might've gotten it fixed, since backup groups were still available. Oh well; live and learn.)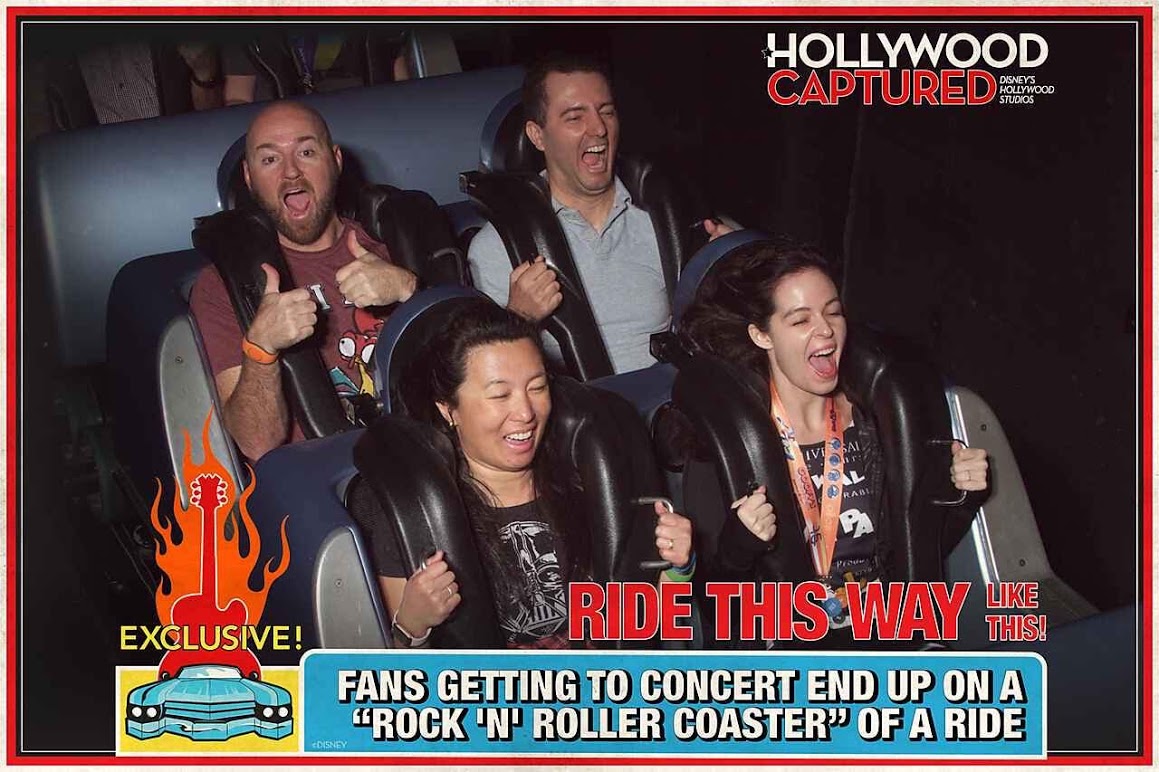 FORGOT TO DO THE SHOCKER DAMMIT
I had originally made DAK FastPasses for this day before we found out about the whole boarding group thing, but in the interest of keeping focus I cancelled them all and instead picked up a FP+ for Tower of Terror, which we then rode. Ironically, my boarding group distraction kept me from freaking out in anticipation of the drops. Turns out sometimes anxieties can cancel each other out! Who knew?
Erika's boarding group number was nearing, so we headed over to Galaxy's Edge, snagging a quick breakfast at Ronto Roasters before setting up camp near Rise. We made a last-ditch effort to see if any CMs would let me sneak in with Erika's boarding group, but alas, they would not. Not that it mattered overmuch, since Rise of the Resistance was down.
It remained down for about two hours.
Double drat.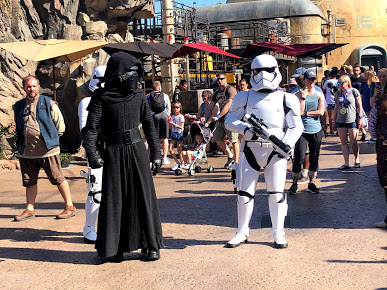 I did enjoy the free-range characters.
I had made us another FP+ for Star Tours, so we did that, and thankfully by the time we got out Rise boarding groups were moving again. But I'd lost just about all my buffer time. I called Disney's Magical Express and convinced them to let me reserve a DME bus 30 minutes later our current one, although they made me agree that if I missed my flight – which was still a solid 2.5+ later – it would not be their fault. Yeah, no, not a problem. (Erika's flight was an hour later than mine already, so fear not, I was not endangering her in any way. I may be a neurotic mess but at least I'm not a total jerk!)
We stopped by guest services at the front of the park where a very nice CM reprinted our DME info even though as it turns out they don't usually do that in-park, and then de-stressed with a lovely photographer who very kindly directed us through some photos in front of Grauman's Chinese Theater.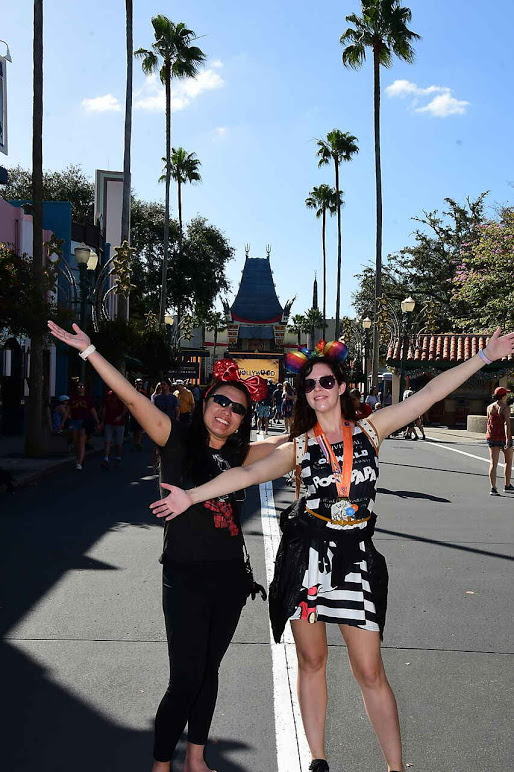 It was only later I discovered I had spent some portion of the day
with my ears on backwards and it will NEVER NOT BOTHER ME.
Do you have your exit buddy?
After that we headed over to Muppets 3D, but I couldn't concentrate; every three minutes or so I was discreetly checking the app for boarding group movement. The groups were creeping along, but agonizingly slowly. Growing frantic, I began surveying Twitter for information – once your boarding group is called, how long is the line usually? How much time did I have, really??? I was doing math wildly in my head, calculating the drop-dead time I had to give up the ghost and leave WITHOUT RIDING RISE OF THE RESISTANCE.
I determined that if I prioritized making our Magical Express bus, I wouldn't make it. But I also knew Uber was a thing that existed, and we were getting so close to boarding group 80. I decided that at 2:15pm, we simply had to abandon our quest.
Boarding group 80 came up at 2:08pm.
Thankfully, even though Erika's boarding group was closed they let her through to ride with me as promised (which is good because I probably would've burst into tears at that point), and after a mere 20 minute wait that included a fortuitous call for parties of two that allowed us to jump some of the line, we were in!
And was it worth it? Oh, hell yeah.
Spoilers ahead, I suppose. To start, I wish I was more of a Star Wars fan; as it stands I respect it and have seen the movies, I'm just not into it, you know? I can only imagine how freakin' amazing it would be if you lived and breathed by those environments and characters. Because as a tepid fan, I STILL found it awesome.
The first portion in the motion simulator shuttle was well done and unexpected, especially the part where you emerged outdoors. The interstitial bit with the storm trooper room and all the First Order CMs was excellent. The CMs organizing people into ride groups were clearly given freedom to role play; I swear I overheard one guy speaking with a mock German accent. Our CM was a petite college girl who was a tad too small and adorable to be convincing, but she did her level best to interrogate us.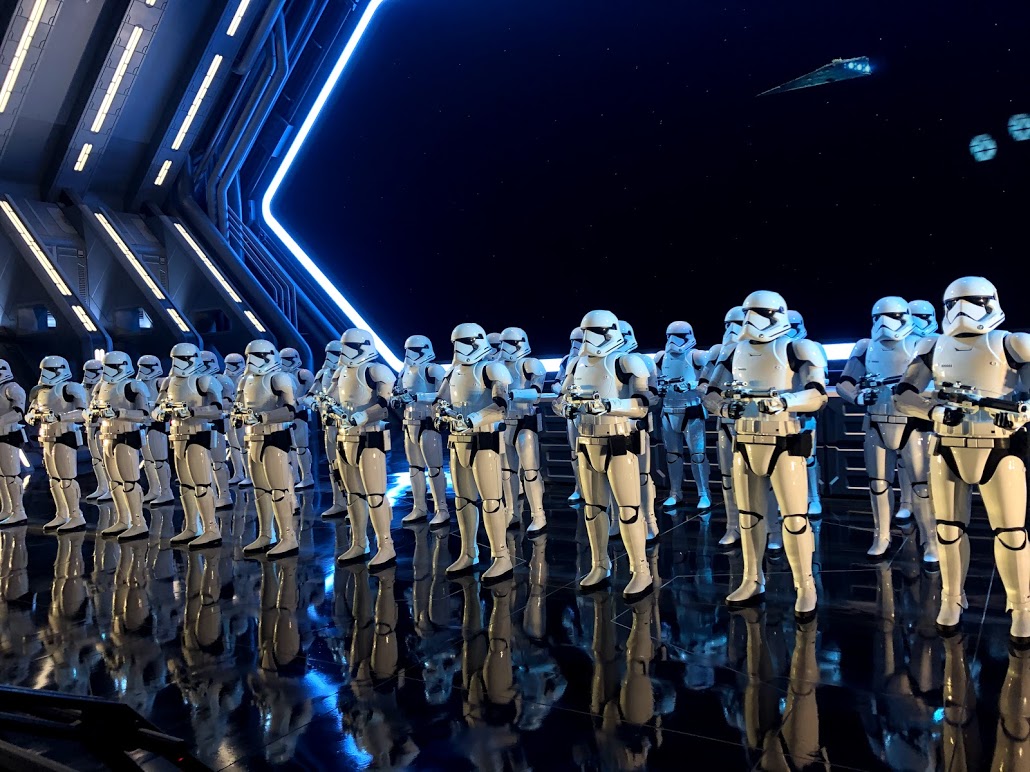 Once the doors opened for the second, dark ride portion, the CMs there too were clearly playing characters, and they called our attention to the droid piloting our car before sending us out into the ship. (Ship? Star? Were we on the Death Star*? I honestly don't remember. See what I mean about being a tepid fan?)
* "What's that?" "It's the Death Star." "What does it do?" "IT DOES DEATH."**
** "I shall have the pasta alla arrabiata."
Anyway, I won't do a blow-by-blow description of the ride, but suffice it to say it was impressive. The sets were massive, the details were plentiful, and I always like to see audio-animatronics. Give me a dark ride over a roller coaster any day! My favorite part was probably, you know, keeping it vague, when the one guy does the one thing with the laser and the ceiling. You know? End potential spoilers.
And so the ride ended and we boarded a bus back to Animal Kingdom Lodge with satisfaction in the knowledge of a job well done. We grabbed our bags from bell services, got a very comfortable Uber to the airport, and were still there in plenty of time to get through security and pick up dinner before our flights. I mean, sure, in essence I paid $35 to ride Rise of the Resistance, what with the Uber charges and all, but that's not the point. The point is that I set out to ride it and ride it I did. Victory! Victory in our time!
So ends the high-stakes tale of WDW Marathon Weekend 2020. As always, it was full of honor and glory.
Thank you so much for reading this trip report! It's truly my favorite type of post to write. Occasionally I like to bust one out and navel-gaze as I relive race triumphs and nostalgic moments; it's probably a solid 85% of the reason I keep this humble little blog going.
runDisney and WDW are not without their faults, but they both truly bring me tremendous joy. I hope I passed on just a little of that joy as you read.
Tune in here in the coming weeks for a couple bonus tidbits in the form of food reviews. See ya real soon!
Don't forget, you can follow FRoA on Twitter @fairestrunofall and on Instagram @fairestrunofall. If you have any questions or thoughts, leave a comment or email fairestrunofall@gmail.com. See ya real soon!