I have predominantly heard three things about the Skipper Canteen restaurant in Adventureland: it is an 1) underrated 2) delight that 3) gets watered down more and more with each passing year. Eager to check it out before it before it started serving "American cuisine," I easily snagged us an early lunchtime ADR for Friday.
Oh, sorry, there's a fifth thing I always hear about Skipper Canteen: it is one of the only places you can get alcohol in the Magic Kingdom. To which I say two things: 1) at that time I was keep drinking to a minimum because of the race weekend and 2) it was all basic beers and wines anything, so I didn't personally see anything to tempt me. But I can see how if you were really craving a beer that would be good to know.
So the Skipper Canteen, if you're not already aware/informed by context clues, is lightly themed to the Jungle Cruise. Outside of the decor and ambiance, which shared the '30s feel of the ride, our first and most prominent example of this came when our host showed us to the table: the man treated us to a litany of puns the entire way. As an admirer of the format, I was very pleased when we were informed that, for example, we would be sitting at "the backside of stained glass windows."
Sadly, this particular form of ridiculousness did not carry over to our server, but she was nice and helpful all the same. She gave us a quick rundown of the specials, which included Brazilian cheese bread. Seeing as Erika was Brazilian, we had to give it a go.
You may recognize this dish from the Brazil booth at the Food & Wine Festival, where it goes by the traditional name of pao de queijo. At its best, these are fluffy and gooey with cheese and delicious. The Skipper Canteen version was okay, but we got the impression it had been left in the oven just a touch too long. The dish was accompanied by a cream cheese and pesto; Erika said that this was not a Brazilian thing and while we both tried it we preferred without.
Erika was also far more interesting than me (a Diet Coke girl) and selected as her drink the Schweitzer Slush, a passion fruit and apple concoction. She said it was too sweet but she enjoyed the boba balls it came with.
For my entree I selected the curried vegetable crew stew, which I ordered on the strength of the curry alone. Unfortunately the flavors were not as strong as I would've hoped, but it was curry all the same. The coconut rice was sticky and mildly flavored, pairing nicely with the stew. Vegetables included green beans, tomatoes, and zucchini, plus there was fried tofu that could've stood to be a bit crisper but otherwise had a nice flavor. All in all I found it to be a pleasant and healthy choice. The naan was tough, though; don't order this for the naan.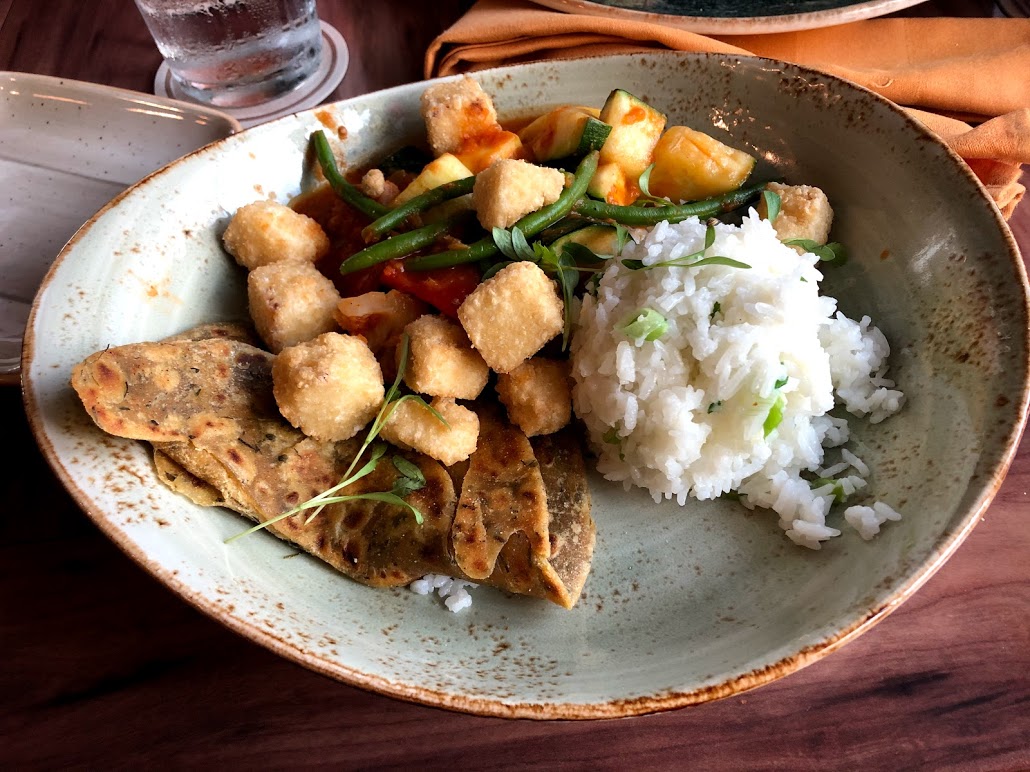 Meanwhile Erika also selected a stew, albeit of the seafood variety, which was our server's recommendation. Alas, I neglected to snap a photo, but she had similar critiques to mine: primarily, it could use a more robust flavor, but it was otherwise tasty.
Ultimately I would return to Skipper Canteen. While the menu does seem to be arranged for less adventurous palates, the Afro-India menu is still more interesting than most. And who can resist the puns?
Don't forget, you can follow FRoA on Twitter @fairestrunofall and on Instagram @fairestrunofall. If you have any questions or thoughts, leave a comment or email fairestrunofall@gmail.com. See ya real soon!