Back in January of 2017, some brave Walt Disney World Half Marathon registrants set a precedent: when your runDisney race is cancelled, you run it anyway on your own.
And so last Sunday, the woulda-been date of the Star Wars Rival Run Half Marathon, I set out on the streets of San Juan to run 13.1 by myself.
I wore my intended race outfit, as viewed below. You see, when it comes to the Stars, I prefer to Trek. ;P
I started at 5:45am, which is probably somewhere in the general area I would've started the race anyway, give or take a corral, a wave, and an on-time start.
(PAT: What time are you getting up to run? ME: 5:15am. PAT: Wow, that's really early. ME: [hysterical laughter])
There were no spectators, no signs, and no water stops. All I had at my disposal was my normal running trail. It was (as Puerto Rico has a nasty habit of being) hot and humid and I'm not sure I would've had enough hydration if I'd brought 18 more bottles of water.
But I did it! I logged my 13.1 miles, then went home and made Mickey waffles. It's not the race I wanted, but it made me feel better to make it happen on my own all the same.
Perhaps it is best to remember Spock's iconic quote: you may find that having is not so pleasing a thing after all as wanting. It is not logical, but it is often true.
All of which to say: I want to try again next year!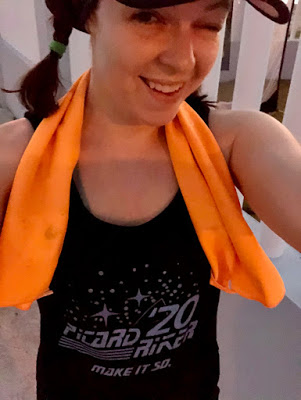 Don't forget, you can follow FRoA on Twitter @fairestrunofall and on Instagram @fairestrunofall. If you have any questions or thoughts, leave a comment or email fairestrunofall@gmail.com. See ya real soon!