It's trip report time again! I love trip reports! I'm recapping my January 2017 trip to WDW for the marathon. Onward!
My morning began with my dad waking me up five minutes before my alarm was even set to go off, but I can't really complain seeing as how he was giving me a ride to the airport. (Always encourage your parents to live near the airport.)
Airport portion of the story was surprisingly uneventful, given the weather patterns circling around at the time. We boarded a little late as we were waiting on the requisite number of flight attendants, but that's all. There was definitely some turbulence during the flight, but we had a very calm and reassuring captain, and only landed about 20 minutes late. All and all not bad considering the snow predicted up north and the storms down south!
It occurred to me, like, the DAY before I left that I never received formal Magical Express tickets in the mail – possibly because I had declined an additional Magic Band? Anyway, I figured it was fine since they only scan your band anyway, and I was right. The DME bus was unusually crowded, but as that meant we got going a little quicker I had no problem with it.
Pop was the second stop, and as my room was predictably not ready – it was a little before 10am when I got there- I went straight to the handicap bathroom, complete with sink and mirror, to freshen up (this is one of my favorite hacks, but always do a quick scan for people in the area who may need it before taking this stall and be mindful of your time).
In an unexpected turn of events, I got a text that my room was ready just as I was finishing up. I figured it would be faster to drop off my stuff in my room than brave the potential line for bag check, so I headed over to my "pool view" (BARELY; luckily I don't care but they were really stretching it) room to dump my bag. I always request the '60s since those rooms are closest to the main hall, but this room was a good location too, just off the path.
Plot point for later: the TV was on when I arrived. I turned it off before leaving.
I headed out, noting all the half marathon runners getting their miles in around Hourglass Lake, official race cancellation or no. Good for you guys!
Less good for all of us: the expo bus line. Disney was requiring half marathoners to come back to the expo if they wanted to transfer to the marathon or needed their alternate item (tickets, gift cards) immediately. That made for a crazy bus line and an even crazier expo.
Picking up my bib wasn't a problem since I was already signed up for just the marathon, but the vendor area was nuts. I eased into the official race merchandise area and looked at a couple things, but it was just too crowded; trying to get your hands on anything involved a lot of waiting and darting. It took about five minutes for me to get tired of that, and I headed out empty handed.
My plan was to head to the Animal Kingdom via Uber, which I deemed to be the fastest method. BUT: snag. The traffic to get into the ESPN Wide World of Sports was seriously prohibitive. I deemed it very likely that, unless an Uber driver was already on site, it would be faster just to go via Disney bus. I brought the app and the closest car was 16 minutes away; who knows if that estimate involved parking traffic.
Instead I picked up a bus to Animal Kingdom Lodge, hoping there'd be a DAK bus waiting for me, and: tada! There was!
I was making good time, except I realized that I had misremembered my safari FastPass time and had overshot anyway. I changed it an available slot in late afternoon, but as the My Disney Experience app was showing a 10 minute wait time anyway, I decided to make it my first stop.
Unfortunately by the time I got through security and the tapstyles (annual passholder lines FTW!) the time had shot up to 20 minutes, which isn't too terrible but that kind of increase that quick often bodes ill for actual wait time. I decided to skip it for now in favor of my Dinosaur FP.
I am proud to say that I no longer need to shut my eyes, squint, or look away from the carnotaurus at ALL during this ride, even when placed in an outside seat. (It's hard to be brave when you're such a small animal. – Piglet) I know this is not the popular opinion but I personally prefer Dinosaur to its Disneyland counterpart, Indiana Jones. Improvements from the refurb I noticed: it's darker, right? More lightning? There wasn't fog before, was there? What am I missing?
There was a father/son duo in the row next to me. DAD: Did you like it? SON: No. I always said this ride seems rather intense for little kids…
Next I headed over to Everest ahead of FP schedule hoping to score a speedy single rider experience, and I was rewarded with a basically nonexistent single rider line. I enjoyed a jaunt on what is possibly my very favorite ride on property (DAT BACKWARDS BIT DOE).
I pulled up the MDE app to consider my next move and saw that the safari was back down to a ten minute wait, so I scuttled on over. Indeed, at this point there was pretty much no line at all, which was great. The sad bit was that I wound up on the right side of the car, and I really think the right side gets the shaft; all the best views tend to show up on the left. The driver was also lackluster, speaking with a rote style that suggested he was reading directly off the script, but I'll take that over WAY! TOO! PERKY! any day.
It was still a fun go-round, with lots of animals active in the comparative cool of a rainy day. Question: as parents, how do you handle wildebeests mating in front of you in a theme park?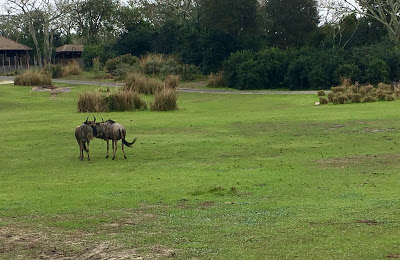 I knew I needed to eat something soon, what with running a marathon in the morning, and all, but I wasn't at all sure what I wanted. I perused the Yak & Yeti menu but nothing quite caught me. I wound up in Pizzafari because the seating area is inside and I was cold (yes, cold in FL – just wait until we get to the race recap, kids). I got a Mediterranean flatbread that actually wasn't that bad, all things considered. Unremarkable but one helluva step up from the pizzas they used to crank out.
Post-lunch, I sat at my table a moment and took stock. I wasn't enjoying myself like I usually do, especially in my favorite park. Was WDW starting to lose its luster for me? PSH. Nonsense. The problem was the temperature: I was cold. I HATE being cold.
Very well; I would step back, reassess, and make adjustments. First up: I swapped out my afternoon safari FP for a Nemo FP, which is lengthily indoors. Then I decided, despite the lack of FPs, to take in my FAVORITE show, Festival of the Lion King.
But first I used my Everest FP, because some things are sacred and not to be touched by such paltry things as the chill.
Back to FotLK. I'm very particular about my positioning during this show – the lion section for preference, the end of the row definitely. For the most part show FPs are, as far as I can tell, largely useless, but they do give you a slight edge if you have a particular spot in mind. Despite my lack, I lucked into a GREAT seat, in the giraffe section but almost right on the stage floor with no obstructions. Thanks, random family, for not sliding quite all the way down and leaving an opening for me!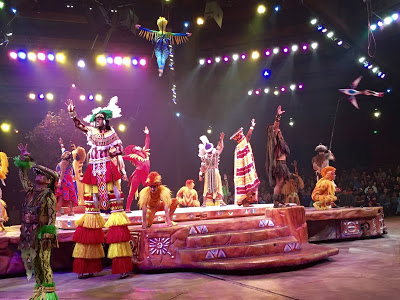 I had some time to kill before Nemo, so I wandered over to Dinoland and accepted a 20 minute standby wait time for Primeval Whirl because what the hell. It's a cute, fun little ride.
From there it was a short walk to the Theater in the Wild, and the small FP advantage won me my favorite seat there – not that I really think anyone else would want it! I like to sit waaay over to the far right, front row, back section. The bench there is really short and one or two or three smallish people can have the whole thing to themselves and then scoot right out the door at the end of the show ahead of the crowd.
While it does make for a sliiightly obstructed view during some scenes, it also affords you some backstage views. When performers are coming to come onto the promenade section, the curtain next to you is pulled back and you can sometimes catch a glimpse ahead of time.
By the time the show ended sunset was upon us. One of my goals for the trip was to ride Everest in the dark, and as it's basically next to the theater I headed there next – only to find it down. Blast.
Somewhere in there I grabbed a cup of tea from Starbucks – a fools game, I know, but I was still leading a crusade against cold.
I consulted MDE and saw that Dinosaur had a 10 minute wait, so I headed over. Unfortunately so did everyone else on earth, as far as I can gather, as the actual wait quickly proved to be much longer. A second consult of MDE about 20 minutes later showed Everest was back up, so I bailed…
Only to find that the single rider line was closed, and the FP line was a million years long since people from multiple time slots were there to make up their FPs. Nevertheless, I was bound and determined to make that nighttime Everest ride happen, so I hopped in line.
Verdict: totally worth it, just as I remembered. The darkness intensifies the entire experience, especially the final tunnel with the yeti.
The park was closed by this point; as I headed out I saw the new Tree of Life projection show was playing, but I was already about an hour behind schedule for race prep so I head to keep walking. Next time! Lucky for me a bus for Pop was waiting for me, plus other runners were on it so I felt better. If they weren't panicking, I didn't need to either.
I grabbed a pasta kids meal and a Powerade from the food court and headed back to my room, where, once again, the TV was broken. Maintenance came by and fixed it – possibly even the same woman as last time – but it seems weird that the issue would recur. Oh well. No big deal, but there's something so nice about watching TV in a hotel room, y'know?
I found a Say Yes to the Dress marathon on TLC, which I am powerless to resist because I am a card-carrying girly-girl sometimes. I watched that while eating and prepping for my race. I set eighteen thousand alarms plus a wake up call, had my traditional pre-race mini panic attack about waking up in time, and then went to sleep.
Next up: the WDW Marathon!
Don't forget, you can follow FRoA on Twitter @fairestrunofall and on Instagram @fairestrunofall. If you have any questions or thoughts, leave a comment or email fairestrunofall@gmail.com. See ya real soon!