Remember last year when Pat bought me Spaceship Earth leggings just in time for my race costume? Well, he's done it again!
Okay, yes, I haven't had a runDisney race in… oh, dang, well over a year. No wonder I'm so depressed. But I have to believe they're going to come back, and when they do, I need to be ready and I need to have race costumes.
Here's another one: remember my Sally the Ragdoll race costume from WDW Marathon 2020? Because Pat did NOT. (Admittedly he wasn't there.) But he knows that I love The Nightmare Before Christmas and particularly Sally, and he channeled that into my Christmas present. Behold: Sally/Jack Skellington pants!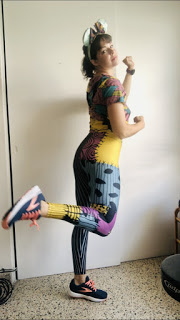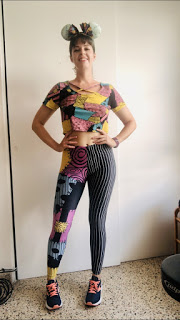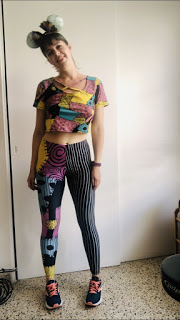 (The first pose is meant to be Sally-esque. The second is, y'know, Sally if she were a runner.)
How perfect would that be for the Princess Half Marathon? I know Sally isn't technically a princess, but I feel like she should still count. She's a princess in my heart, anyway.
The funny thing is, I was talking about something runDisney-related (when am I not) and showed Pat my Sally costume from that last marathon about a month before Christmas, after he had already bought the leggings for me. He later told me it was so hard not to give anything away but he was happy extra happy with his gift selection. 😊
I've got more runDisney race costumes in the tank – stand by for my new, improved Figment!
Don't forget, you can follow FRoA on Twitter @fairestrunofall and on Instagram @fairestrunofall. If you have any questions or thoughts, leave a comment or email fairestrunofall@gmail.com. See ya real soon!