It's time for my favorite type of post: a trip report! I celebrated my second vaccine dose with a trip to WDW accompanied by Becky of Disney In Your Day. I will now exhaustively tell you all about it. You can read all the posts in this report here. Onward!
This Walt Disney World story begins, as so many trip reports do, with an early morning flight. Puerto Rico has been a mess of tourists lately and the airport was surprisingly busy given the hour, but I got through security quickly enough and before long I was on my way to ORLANDOOOOO!
The plane arrived a bit early, which is good because Disney was stopped picking up checked bags. Sadly my baggage carousel was on the opposite side of the airport from Disney's Magical Express, but we persevere.
Once I had schlepped my bag across the airport, I saw the real challenge: the line to check in for DME was looooong. Long! I'd say I waited in line for about half an hour, and when I finally got to the front the Cast Member told me it might take up to 45 minutes to board the bus. Thankfully I wasn't even ten minutes in line before my bus showed up – it could've been far worse.
We were doing a split stay between Pop Century and Bay Lake Tower, the latter of which I was very excited about as it was my first ever stay at the Contemporary, or even a monorail resort. My room wasn't ready yet, so I changed clothes in the bathroom, stashed my bags with bell services, and ran down to the Contemporary bus stop for my first park of the trip – Epcot! (Becky wasn't arriving until that night so I was solo for day one.)
Upon arrival at the park I had my first taste of the new entry policies. First I had the COVID special, aka temperature checks. After that, it was through the metal detectors; no more bag check ever and can I just say how much I love that? It saves so freakin' much time!!! I was through security and inside the park faster than ever before.
There sure are a lot of walls up in Epcot right now, what with all the construction, and I wandered through the maze of Disney art and butterfly wings as I pondered my first move. Definitely I wanted some food, which could only mean one thing: Flower & Garden Festival food booths! Finally I made it!
As is my wont, I immediately got sidetracked. I thought there were some booths in the Odyssey building for some reason, which there weren't, but since I was there already I took a very speedy tour of the Epcot Experience before hotfooting it over to World Showcase.
Hot tip about ride queues in a pandemic – with all the social distancing, lines look a lot worse than they are. They're also usually a fair percentage below their posted wait time. Mind you, things are ever changing in pandemic times, but that was the experience I had all week. For example, the Frozen Ever After line stretched all the way back into China, but the posted wait was 35 minutes, and if I waited more than 20 it wasn't by much.
All right, so! One ride down. Let's hit a food booth and – OH LOOK AT THE GERMANY PAVILION TRAIN DISPLAY IT'S ALL DONE UP FOR FLOWER AND GARDEN!
Maybe some food now? Nope! Distracted by drinks instead. I was determined to drink all the hibiscus drinks in the festival, so I grabbed a hibiscus beer from the Morocco booth. I seriously considered doing a post reviewing all the hibiscus drink offerings, but they all turned out to be largely the same, namely: not enough hibiscus. Not a bad sip though, given that it was a darned hot day for early May even in Florida. (Yes, I burned a bit; yes, I was religious about sunscreen for the remainder of the trip.)
Sadly in our COVID-tainted era much of the entertainment in Epcot and indeed World-wide had been cancelled, but there were still some select groups performing at the America Gardens Theater. Mariachi Cobre was next, and I loved them, so I caught most of their show before slipping out to sneak into the next showing of the American Adventure.
From there I rolled on into what turned out to be my favorite place in the whole festival: World Showplace! You may remember this giant warehouse-y building from my convention adventures a few years ago. I didn't think myself likely to enter the building again as it seems to primarily host hard-ticket add-on events like Party for the Senses, but for this year's festival it housed three food booths.
I think due to the fact that World Showplace is unfamiliar to the average guest and set back a bit from the path many people overlooked it, but if you're going to Epcot before the festival ends do NOT sleep on this absolute highlight. The food and drinks at the booths are pretty good, the crowds are light with plenty of tables, there's air conditioning and bathrooms, and the pianist is enjoyable. I loved it!
Alas, I did not love my first food item there, the biscuit with smoked salmon from Cider House, and it's extra unfortunate as I am a huge salmon fan. The biscuit was dry and the salmon lacked flavor. But the cider flight was excellent! Despite the ingredients, none of them were cloyingly sweet. I liked the watermelon flavor the best, but the strawberry lemonade and triple jam were very good too.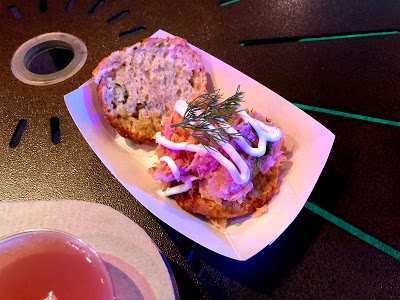 Post snacks and drinks I dragged myself out of the climate control and continued on my way around the World Showcase loop. I had completely forgotten I hadn't seen the new CircleVision film into Canada until I happened upon the pavilion, so I hustled inside. Like everyone else on earth I'm a Schitt's Creek fan and ADORE Catherine O'Hara in particular, but I'm afraid the new movie didn't quite do it for me. Don't get me wrong, the visuals were lovely and O'Hara's and Eugene Levy's line readings were good, but the script wasn't as funny as I know they are. I wish they'd been allowed to riff a bit.
By this point my room was ready, but I had a couple of errands to complete before leaving the park. Thing one was to pick up Orange Bird sippers for my nieces. They're no cheaper without the smoothies, but as I didn't really want one let alone two I bought them without.
I now had two utterly adorable but no less cumbersome Orange Birds on my hands, so I ducked into the nearby gift shop to ask for a bag to store them in. While there I picked up the Figment ears I've had my eye on. Q. Jenn, don't you already have Figment ears? A. Yes, but THIS pair has WINGS.
Pineapple Promenade, home of the famous desert violet lemonade, was just across the way, so I allowed myself one more field trip to pick one up. It was very pretty, but as a fan of floral flavors I wish the violet was more aggressive. It mostly just tasted like frozen lemonade to me.
Only then did I head out of the park, and after a bit of a bus wait I was back at Bay Lake Tower. I retrieved my bags, hauled everything to the room, touched my Magic Band to the door lock and… nothing. Tried the "unlock door" feature on my phone a couple times – also nothing. Drat.
So I hauled everything back down to the lobby and talked to a nice lady at the check-in desk who was able to immediately identify the problem. It was… wait for it… wait for it… BECKY AND I BOTH HAVE TOO MANY MAGIC BANDS.
Yes, really. Apparently after a certain unidentified number of active Magic Bands, the system overloads and doesn't know which to authorize so it just gives up. The desk lady deactivated some old ones for me, added my new one, and told me to bring any others I wanted to work for this trip to the desk later. I find it surprising that this isn't a frequent problem, especially at a DVC resort, but since bands aren't free anymore who knows.
Now for the fun part. Magic Band problem solved, I dragged my bags back up to the room, successfully opened the door, and discovered we had been upgraded! To a theme park view!!!! A theme park view of the Magic Kingdom!!!!!!! To quote me texting Becky: WHAAAAAAT
Incognito mode.
Obviously I had to hang out on the balcony for a bit and admire this wonderful boon, but not too long as I was at a resort where you could walk to the Magic Kingdom and I wasn't about to squander that. I set off on the path and was in the park like ten minutes later. The Contemporary really is magic.
It was late enough in the day that wait times were coming down, and I was able to knock out the Little Mermaid (walk on), the Haunted Mansion (walk on), and Peter Pan (like 15 minutes) in quick succession.
The ride shut down almost immediately – but only briefly.
This last was a tremendous surprise to me as I am accustomed to Pan waits pushing an hour under the best of circumstances, but that's how it happened. It was my first time through the plussed standby line with the house and nursery scenes, and I thought they were super cute. The moving Tinker Bell lights are a great touch.
I made a pit stop at Sleepy Hollow for some food before skipping across the hub to Tomorrowland for Space Mountain. The good: I got to ride the left track, which regardless of what people say I swear is the most fun side! The bad: I wound up yelling at a habitual mask-dropper. Thankfully mask compliance was otherwise pretty good all trip, although people could stand to pay closer attention to their nose status. Hooray for vaccines!
The incident made me so grumpy that I considered just heading out of the park at that point, but I didn't want to go out on a down note so I took a trip through Pirates of the Caribbean instead. Total walk on. Were the cannon splashes always that aggressive?
Thus cheered, I then headed out of the closing park and walked back to Bay Lake Tower. Becky arrived shortly after, and after a quick tour of the room we headed down to the desk to sort our remaining Magic Bands. A speedy sojourn to the main building for some food, some showers, and then it was off to bed.
NO TOUCHING
Next up: our first full park day!
Don't forget, you can follow FRoA on Twitter @fairestrunofall and on Instagram @fairestrunofall. If you have any questions or thoughts, leave a comment or email fairestrunofall@gmail.com. See ya real soon!