It's time for my favorite type of post: a trip report! I celebrated my second vaccine dose with a trip to WDW accompanied by Becky of Disney In Your Day. I will now exhaustively tell you all about it. You can read all the posts in this report here. Onward!
I got up early for a quick run around Hourglass Lake, took a shower, and grabbed breakfast from Everything Pop before we headed to Epcot. It was terrible, but we can talk more about that later.
Epcot didn't open until 11am, and we left around 45 minutes in advance. Unfortunately, the Skyliner was having a bit of a difficult morning. Between the long line at Caribbean Beach and the stop-and-start gondolas, we didn't hit Epcot until 11:30am.
This turned out fine, however, as our first goal of the day was hitting La Cava del Tequila for Cinco de Mayo and Guac on the Rock. They tried to hide the line from us around the corner from the pyramid, but we found it. And since the seating area was reserved for the new Agave Experience upcharge event, we couldn't've gotten a table even if we'd rope dropped the park. See? Providence!
We grabbed our drinks, chips, and guac, and set up shop at the shaded table to the side of the pyramid. As we ate, we evaluated our options for the day. Ultimately we decided just to sort of meander through World Showcase and see what we could see.
The Frozen line was too long, so we kept it moving and popped into the China movie. Are they still revamping it, or did that get cancelled by COVID too?
Naturally the movie dumps you in the gift shop, where I saw they still had some Chinese New Year merch available – and it's the Year of the Ox, aka my year! I spotted some super cute ox stuffed animals, but resolved to think about it a bit lest I make an impulse purchase. I bought some jasmine beer at the festival kiosk instead. I've had it before, but it's floral enough for me and everything!
There were also cute zodiac topiaries in the garden. I only took a picture of the ox because again, me.
We resumed our stroll around World Showcase, stopping here and there for Flower & Garden snacks and drinks.
I picked up the pretzel bread with ham and cheese from the Bauernmarket, because I will eat just about anything with pretzel bread, including ham. This was surprisingly nice ham, though – much thicker than what you'd get at the average deli counter.
I also grabbed some more hibiscus drinks, including the sour at La Isla Fresca, the lemonade cocktail at World Showplace, and the hibiscus lime that comes part of the flight at Citrus Blossom. They were all varying levels of acceptable, with the key lime beer from the flight probably being my favorite. If it sounds like something you'd like, you probably would. Same can be said for the raspberry chocolate tart.
My favorite part was probably singing "Rainbow Connection" with the pianist in World Showplace – it was a very Disney Magic moment. You don't choose your Disney Magic moments; they choose you, y'know?
In between we caught shows from Marimba de Latin Americas (which I'm 99% sure was just three guys from Mariachi Cobre working an extra shift; obviously they were good) and Voices of Liberty (Princess & The Frog medley!!!) at the America Gardens theater.
We checked out some of the exhibits in the America Adventure galleries while we were there. Becky wanted to see the new Soul stuff, and I always enjoy looking at the Native American textiles.
We got some super cute PhotoPass shots too! I want to say this was in Italy?
After completing our World Showcase loop we scooted over to Mouse Gears to see if they had any Flower & Garden Festival-branded merch since there's no festival center this year. They did, but not much, and nothing we felt called to buy.
Next we practically walked on to Spaceship Earth, something of a priority to ride since who knows when Disney will decide to refurb it after all? Here we discovered that the photo tech has a heck of a time taking your picture when you're wearing a mask – we wound up with two generic cartoon people in our future video. But we did listen to the narration in Spanish, which was fun. As far as I can tell it's almost a one-to-one translation.
Obviously we hadn't gotten our fill of the Flower & Garden Festival booths, so we doubled back to World Showcase for more! On our way we found the VERY BEST INSTAGRAM PHOTO OP EVER CREATED.
Where was I? Right! Food. Drinks. Okay. We bought lemonade cocktails at Trowel & Trellis, which were perfectly fine but be purchased them exclusively for the souvenir mason jar glasses.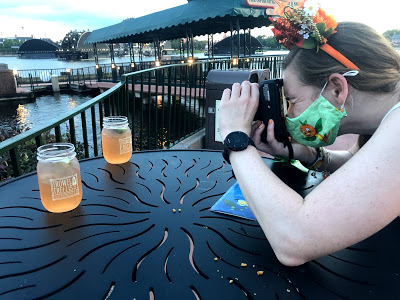 Then we stopped at Jardin de Fiestas for the sopes with plant-based chorizo. This was good but could've used more kick; I like spicy. Oh, and I also got the Garden Margarita for some reason, which among other things contained lettuce juice. Becky later described her sip as tasting "like dirt." I would've said grass, and I didn't even entirely hate that, but neither did I finish it. That's a lot of grass at once.
Finally, we ended things in France, where I purchased the famous La Vie en Rose frozen cocktail I've heard so much about. It was pleasantly tart from the cranberry juice, but I think its popularity is probably largely because it's so darned photogenic. I love pink!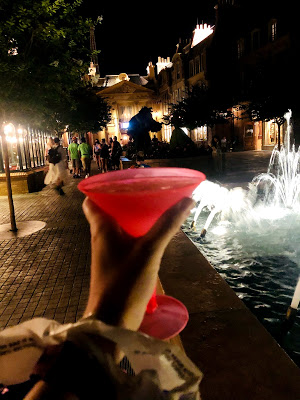 We didn't end up leaving until the park shut down at 10pm, but I'd say the wait for the Skyliner was comparable to the day previous. We were back in our beds in due course.
Next up: more Magic Kingdom time!
Don't forget, you can follow FRoA on Twitter @fairestrunofall and on Instagram @fairestrunofall. If you have any questions or thoughts, leave a comment or email fairestrunofall@gmail.com. See ya real soon!