It's time for my favorite type of post: a trip report! I celebrated my second vaccine dose with a trip to WDW accompanied by Becky of Disney In Your Day. I will now exhaustively tell you all about it. You can read all the posts in this report here. Onward!
I knocked out my Hourglass Lake run a little early again this morning; it was another Studios day and you know what that means: Rise of the Resistance Boarding Group Rush! Once again Becky with the Fast Hands got us a boarding group, this time in the single digits. Assuming this whole boarding group thing continues, I have no idea what I'll do without her on future trips.
That early boarding group does come with a caveat, which means that now you definitely need to make it to the park before rope drop. I was apprehensive of how we'd fair on the Skyliner given the debacle of our attempts to make it to Epcot on time earlier in the week, but surprisingly the lines were extremely manageable. I guess people don't like waking up early on vacation even when Kylo Ren promises to meet them there.
Cast Members were actively advertising Runaway Railway as a short wait, and since we wanted to ride it again anyway we hopped in line before the park was even officially open. Not that it mattered, as the ride was already running. I still think the visuals are a skosh chaotic but I also noticed a bunch of stuff I didn't see the first time. I predict that'll keep happening for a while, so high scores for re-rideability!
We exited Runaway Railway at 9am precisely, official open time, and to our boarding pass being called. Not wanting to keep Rey waiting, we immediately headed over to Batuu for another thrilling escape from the First Order.
Although, can I opt to join the First Order instead? It's the only CM job where you can tell guests what you really think of them. Like, as we transitioned through the Stormtrooper room, a CM instructed everyone to go right to the next section, as per usual. I hung back briefly on the left side of the room to snap a quick selfie with a droid (pictured above), at which point the CM said "Right is that way." I got served!
For once the little Batuu market area didn't have a gigantic line, and as I had never been we decided to meander through the shops. They were only allowing one party per time in each individual kiosk so we really just window shopped, but it was interesting to see some of the souvenirs they're producing. Ever the fan of stuffed animals, I liked the… the… look, they're shaggy and have horns? The internet informs me that these are in fact the banthas. I've been drinking their milk all along. (It's like drinking the Kool-Aid only it specifically makes you interested in IP you never cared about until somebody made a theme park land out of it.)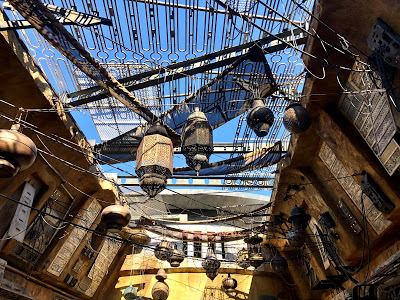 The milk also makes you take pictures in front of the Millennium Falcon like you wouldn't answer the question "Whose ship is this?" with "I don't know but you better hope the Borg don't catch up to it. Anyway, does anyone know if there's a Species 8472 animatronic?"
(Not Becky, obviously. She has her own Porg. Clearly she knows what she's doing.)
Toy Story Mania was right on the other side of the land and posting a reasonable wait time, so we took a ride through the Midway in which I discovered my string-pulling skills are rusty. It's like all that arm-focused weight training I've been doing has been for nothing.
We also jumped in line for Slinky Dog Dash; the posted wait time was just under an hour, but I've definitely seen worse. Becky noted that the queue area is subtly decorated with hints about how Andy customized his roller coaster building set, and as my only other experience had been through the FastPass+ line I was able to keep myself entertained looking for them.
While in line we mobile ordered food from Docking Bay 7, but the restaurant was so popular our pickup window still hadn't opened by the time we got off Slink. We walked back into Batuu anyway and killed some time in the Den of Antiquities until we could get our food. I expected something higher end but the animatronic proprietor was kinda neat.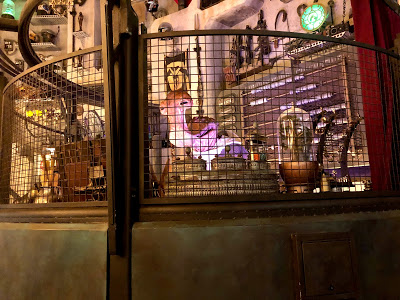 Docking Bay 7 was weirdly cold inside, so we sunned on a bench for a bit while we considered our next move. Muppets 4D seemed like a good bet, but when we arrived there was a rather more social-distancing induced line than we were prepared to deal with. Yet another strange impact COVID has had on our society.
Instead we backtracked to Star Tours, where Becky was once again the rebel spy (nostalgia!). Let's see, we traveled to… oh, shoot. Hold on. Oh, right, we did the battle scene where you end up dodging AT-AT walkers, and then we evaded Boba Fett, with Yoda as our interstitial character. Not my favorite destination but at least I didn't got the pod racer scene again.
We still had some afternoon to fill up before our reservation at Oga's Cantina, so Becky suggested a wildcard option: the Vacation Fun showing in the Mickey Shorts theater. My exposure to the modern Mickey cartoons has been limited almost entirely to what's shown on the Magical Express, but as it turned out I really enjoyed Vacation Fun! The yodeling segment was my favorite but Potatoland is entirely deserving of its photo op (how did we miss that one?).
Finally it was time to return to Batuu for our ADR at Oga's Cantina. I've reviewed Oga's before and didn't necessarily anticipate doing so again, but as it happened it was a truly superlative experience that is deserving of its own post. SO MUCH PASSION FRUIT FOAM!!!
On this happy note we rolled out of the park, although not before stopping for more Millennium Falcon pictures as we weren't entirely satisfied with that morning's batch.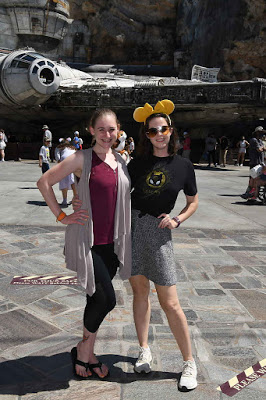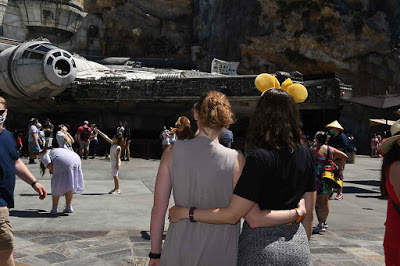 Then we took the Skyliner back to the park for a much needed rest break. Of course, not long after we were back at it again with the Skyliner to Epcot. Just can't get enough of that Flower & Garden Festival!
We hung a right toward France and immediately stopped for a PhotoPass photographer.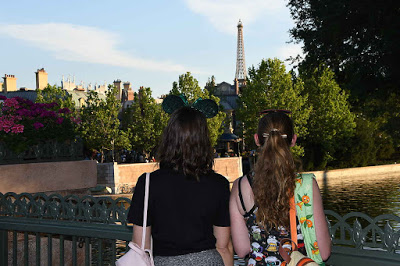 In Morocco, we… stopped for a PhotoPass photographer. You WISH your social media was as flush with pictures as ours!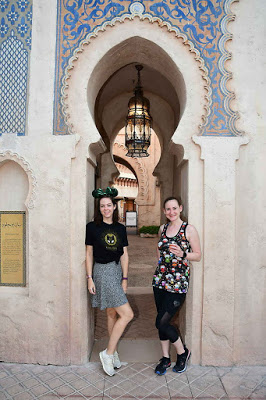 Our presence duly documented, we grabbed some food and drinks to enjoy at one of the picnic tables outside The American Adventure. Disney appears to have hired rotating local bands for the evening shows, and if I remember correctly we caught the tail end of a pleasingly retro set by I think The Hooligans?
I grabbed a pineapple sake from the nearby Japan pavilion, which was a light and pleasant sip with a smooth and fruity finish I was happy to slowly savor. This was in stark contrast to the duck gnocchi I had earlier wolfed down like an animal. The "gnocchi" was more like dumplings but the meat had the rich flavor I expect from duck.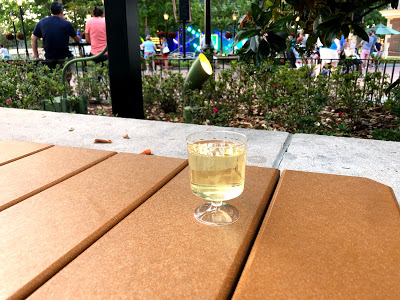 There was a PhotoPass photographer in Japan, and we just walked right by. Wouldn't even look at them. HAHAHAHA AS IF.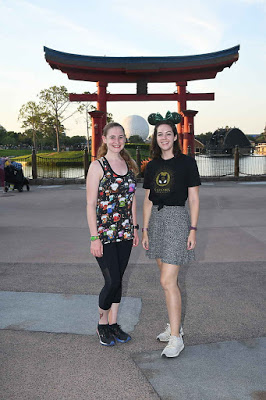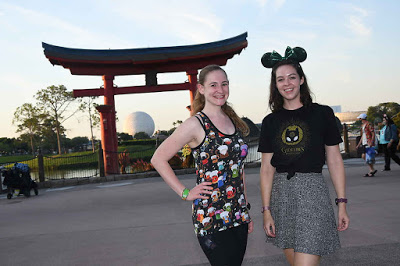 I also grabbed the one hibiscus beer I hadn't already sampled, which tasted like all the others, as well as a desert violet lemonade beer, which actually had a bit more of a floral taste to it than the OG desert violet frozen lemonade. We split a spicy hot dog, too, which was tasty if not really spicy enough.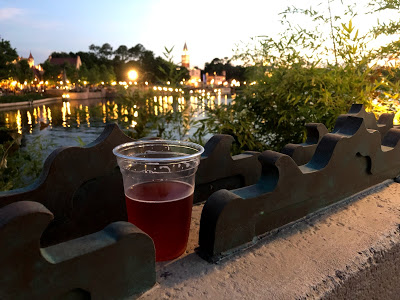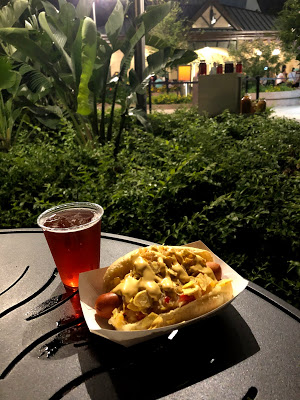 I didn't buy any food or drinks in China, but as we wandered past the House of Good Fortune gift shop I asked Becky if we could stop in real quick. "Are you going to buy the ox?!" she cried with great enthusiasm, and with that kind of encouragement how could I not? A superfluous purchase to be sure, but LOOK AT HIS LITTLE FACE HE HAS ROSY CHEEKS I CAN'T!!!!
In Norway we attempted to get Aquavit shots so we could prove we're true Vikings, but alas, Kringla wasn't selling it at the time. I hope it comes back in a post-pandemic world because I still want to earn my Brunhilde status.
My photos suggest there was one more drink in there somewhere, but I've got myself all turned around and if my brain does too many cartwheels it gets dizzy, so let's just say I had another beer of some sort. Either way, an excellent end to the day.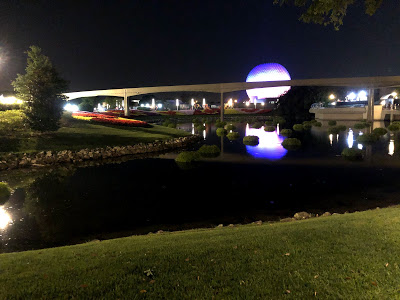 There was a long line for the Skyliner at the end of the night, as per usual, but we were back in our room at Pop in as reasonable an amount of time as could be hoped. We finished up the French room wine and did some preliminary packing up, for tomorrow was the dreaded… last day. 🙁
Don't forget, you can follow FRoA on Twitter @fairestrunofall and on Instagram @fairestrunofall. If you have any questions or thoughts, leave a comment or email fairestrunofall@gmail.com. See ya real soon!