It's time for my favorite type of post: a trip report! I celebrated my second vaccine dose with a trip to WDW accompanied by Becky of Disney In Your Day. I will now exhaustively tell you all about it. You can read all the posts in this report here. Onward!
I got up extra early for my usual Hourglass Lake run, because it was Disney's Animal Kingdom day! And as it was our only Animal Kingdom day, we wanted to get there ahead of the 8am opening time. (The weird thing is, DAK is my favorite park and I want to say Becky's too? That's the way the scheduling shakes out sometimes. I'll come back for you, DAK!)
Our plan was nearly thwarted by an absolutely bonkers DAK bus line, but as two nimble childless millennials we were able to pivot to a Lyft and make rope drop. Disaster averted!
Obviously we started our day by hitting up the PhotoPass photographers. The Tree of Life was a given, but if you think I can just walk past even a cardboard photo op with Kevin, you are sorely mistaken.
The Flight of Passage line in Pandora was already crazy long; we vowed to come back later, but we did sneak in a trip through Na'avi River Journey while we were there. Even as an Avatar nonbeliever I rather enjoy that ride – it's so peaceful and transportive, and the Shaman of Song audio animatronic is undeniable. She was working and everything!
Our next order of business was a trip on Kilimanjaro Safaris. The requisite giraffes were in attendance, and the lions were kind enough to take their nap in full view, but the real treat was when we spotted the new baby white rhinoceros. He even gamboled about for us! I also saw the new ranger station at the end, and if you're asking me those standard issue goats are just as delightful.
We grabbed some breakfast from a random food stand and took it to the Harambe Market seating area to eat. As the market itself wasn't open there was almost no one else there, and we took advantage of the emptiness to wander about and snap some photos. DAK is my favorite park, and Harambe is my favorite part of my favorite park, so I was all about soaking up the details.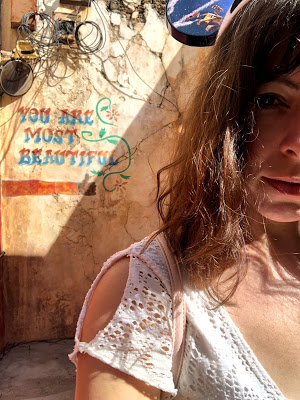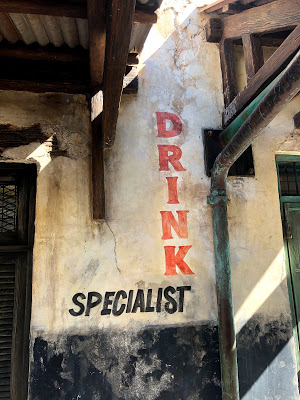 Expedition Everest had a very short wait, and we all but walked on for a visit with the yeti. Afterward we were casually wandering out of Serka Zong when I stopped to take a picture of what I thought was one of DAK's many jaunty little signs, full of theming but with no deeper meaning beyond that.
Yet as we read it closer it began to occur to us that if we came, that way, there might actually be an interesting photographic opportunity involved. We peered around the little bit of the Rivers of Light amphitheater and saw a PhotoPass photographer just kinda hanging out, waiting, and to make an already unnecessarily long story marginally shorter, here is our magic zoom shot!
While we were up there we watched some character cavalcades go by, which are on boats in DAK, and we caught a few more while crossing bridges and eating snacks in a relaxation area (we stopped at Mr. Kamal's for a mid-morning pick-me-up).
We also went back in time just real quick to check in on some dinosaurs on… Dinosaur. Always happy to see my buddy Carnotaurus, who is not at all scary and I definitely didn't have to close my eyes the first couple times I rode.
By the way, did you clock our Disneybounds? If you haven't yet, you're about to. Woah.
Shortly after noon we in fact left the park (where the above magic shot was available) because I needed to get a COVID test if I wanted Puerto Rico to let me come home. I was all set to bribe an Uber driver into taking me through the CVS drive-through when two of Becky's Cast Member friends swooped in for a daring rescue. It was their day off, and they graciously took me to get my test and then – wait for it – we went to CAST CONNECTION!!!
Holy smoke Rocky, are you guys aware of Cast Connection? It's a Disney outlet with super discounted souvenirs BUT you can only shop there if you're a CM or the guest of a CM. I had never been before and oh my gosh it did NOT disappoint. I definitely picked up a couple awesome deals that I will detail in later posts. My only regret is that I didn't buy MORE stuff. Farewell, Dr. Teeth jacket! Farewell, chibi Darth Vader shirt! Farewell, Figment hoodie! Farewell Skyliner windbreaker – okay, I'm going to stop here because otherwise this post will devolve into 8,000 more words of souvenir loves lost.
Suffice it to say, if you ever have the chance to hit up Cast Connection, I recommend you budget LOTS of money and, most importantly, LOTS of time. As it was, we barely made it back to Pop to drop off our stuff and then back to DAK for our Tiffins reservation, and that was with somebody driving us. We like to live on the edge in WDW.
I think we can all agree that Tiffins is a DAK masterpiece that deserves its own post, but here's a hot tip while you're waiting: if you ask, they will make your Hightower Rocks cocktail spicy. Do it!
By the time we finished dinner we had just about an hour left before the park closed. We tossed some ideas around but ultimately decided to just get in line for Flight of Passage. But not before taking some photos with a PhotoPass photographer, of course.
Incidentally, our photographer had such an amazing deep bass voice I'm still half convinced he was just moonlighting as a photographer while waiting to return to his regular gig in the Festival of the Lion King. If we'd been at DAK one day later we could've caught the soft opening for the show, alas. I can't wait to see it again!
Anyway, we got in line for Flight of Passage, and there was a bit of a wait. But! It was my very first time actually going through the whole, proper queue line, so I was entertained by all the little details I'd heard so much about but never seen for myself. I do wish you got a little closer to the avatar floating in the tank, but it's a neat effect all the same.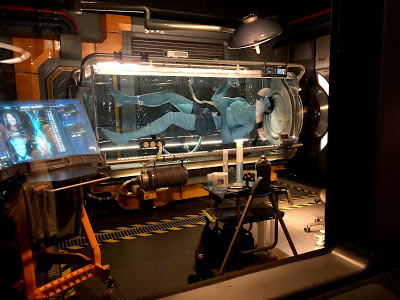 The park was closed after our banshee ride, even all the shops, so we just took our butts back to Pop and went to bed. We needed our rest – still two days to go!
Don't forget, you can follow FRoA on Twitter @fairestrunofall and on Instagram @fairestrunofall. If you have any questions or thoughts, leave a comment or email fairestrunofall@gmail.com. See ya real soon!