It's time for my favorite type of post: a trip report! I celebrated my second vaccine dose with a trip to WDW accompanied by Becky of Disney In Your Day. I will now exhaustively tell you all about it. You can read all the posts in this report here. Onward!
Galaxy's Edge time, and therefore obligatory: May the Fourth Be With You!
Yes, we did it: we snagged Studios Park Passes for the most important day of the year assuming you're a Star Wars fan. I am resolutely a Star TREK fan in favor of the Wars, but even I'm not immune to Batuu's charms, so I was in!
Of course, the first thing anyone must do on a Studios Park Pass day is wake up at the crack of just before 7am to try to get one of those coveted Rise of the Resistance boarding groups. I had only just gotten to the "select your party" screen when Becky announced that she was already through and we were boarding group 11. Score!
Our next order of business was a slightly sadder one: this was our morning to transfer to Pop Century. Don't get my wrong; I'm a huge Pop fan, and there was plenty more WDW time before us. But it was bittersweet to say goodbye to that amazing theme park view.
We dropped off our bags at bell services to transfer and headed out to the bus stop. Not surprisingly for such an important date, the bus line for the Studios was no small amount of LONG. We noped right out of there and paid for a Lyft instead. We were beating rope drop come hell or high bus wait times.
Despite arriving ahead of the technical park opening time, our boarding group was called before we even got inside. No matter; we had an hour to get there. Nevertheless, we went directly to Batuu and hopped right into line. There was almost nobody else there and we breezed straight through to the – let us say to avoid spoilers – first ride segment. I was happy as I had read that Disney was occasionally skipping the pre-shows/first segment, but we got a total ride experience. It was awesome as always!
On May the Fourth all SW-related experiences will have long lines, so we figured we'd get some PhotoPass photos out of the way early.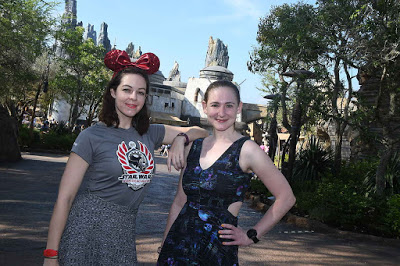 We were already in the area, so we braved a minor line for Smugglers Run. I like this ride but this time we were assigned the engineer role, which I didn't care for as it requires you to focus a lot of your attention on the sides of the ride vehicle so that you don't miss your button-pushing call outs. I wasn't a fan of having to bounce my attention between the screen and the wall if I wanted to catch any of the actual visuals. Being the pilot was much better. I've never been a gunner but it's probably an improvement too.
By this point we were feeling a bit peckish, so we decided to mobile order some breakfast. Ronto Roasters wouldn't let us pick up for another half an hour, but we put in our orders and wandered into the adjacent Toy Story Land while we waited. Toy Story Midway Mania's line looked prohibitive, but Alien Swirling Saucers was pretty short and I've never ridden it. I thought it was cute and fun enough but certainly not worth waiting a while for.
We scarfed down our breakfast in that little recessed area next to Docking Bay 7 while we considered our next move. Sadly the Tower of Terror wait time was inflated – I assume because they weren't fully loading the elevators. Oddly enough the Rock 'n Roller Coaster line was short, so we did that instead. They were loading every row of the trains there and skipping the pre-show entirely, so it was extra fast.
Surprisingly the Mickey & Minnie's Runaway Railway line was posting, I don't know, like 40 minutes? Which for a brand new ride in the middle of the day in the age of inflated wait estimates was good enough for me. We had to wait in the sun for a bit again, but it still wasn't as bad as the Tiki Room. 😅
Runaway Railway is really cute! I do think it's a touch to frenetic to follow the story effectively, but that might not be as much of a problem if they were running the pre-show. I felt like I was missing some key background info. But the sheer number of visuals does give it a lot of re-rideability. SPOILER: My favorite part was definitely Daisy's dance class where the ride cars waltz! END SPOILER.
Lunch brought us to BaseLine Tap House, another first for me. We had to brave a bit of a line to get in but I regret nothing. While there we met a gorgeous service husky who was a little worse for wear due to the Orlando heat. I gave him my cup of ice water but I think Disney should start stocking dog bowls like a lot of bars now do.
On our way into the park that morning we had snagged a spot in the virtual line for a "Star Wars Merchandise" opportunity of some sort. To be honest, we didn't know exactly what that meant, but if there's a virtual line at Disney you should probably join just in case, no? Anyway it turned out to be for special May the Fourth souvenirs they were selling in what was usually the Muppets gift shop. Our shopping time came up during lunch, so we went to take a look. Honestly none of it was particularly compelling, but we did see some very impressively costumed SW fans.
It was getting on in the afternoon, so we picked up the Skyliner back to Pop (God I love the Skyliner!!!) where our new room was ready. We wound up in the '60s section, which is what I prefer, on the opposite side from the pool with a nice view of Hourglass Lake, which is also what I prefer.
We grabbed our stuff from bell services and took a rest break in the room for a bit, then jumped back on the glorious Skyliner to Epcot. This was (almost) strictly a snacks-and-drinks Flower & Garden Festival stroll. Our biggest haul was from Honey Bee-stro – we tried all three food items. The lavender chicken flatbread was disappointingly pedestrian in my book, and the flavor of the cheesecake was a little light, but the spoonbread was a slam dunk in both texture and flavor. The citrus honey beer was only okay.
We also stopped in at World Showplace. I was disappointed with the maple bacon stout, which was minimally maple and not at all bacon, but the watermelon mint was one of my favorites – light and pleasantly fruity. I love watermelon!
Other activities: we did roll through that one gift shop and bought the flower scavenger hunts. The cashier let us grab our prizes (travel mugs in Figment and Orange Bird) in advance, which is good because I don't think either of us ever completed the hunt. 😆 Look, it didn't fit in my backpack, okay?
I also insisted on a viewing of the Impressions de France movie in the France pavilion, because for some reason they're only showing it at night now. I've never seen this new Beauty & The Beast Singalong they're doing in the daytime, but I've yet to hear anyone say a single good thing about it. Whereas the France movie, while admittedly somewhat dated, has a KILLER soundtrack. The Saint-Saens Organ Symphony alone is worth the price of admission (free/the bajillion dollars an AP now costs).
Then I dragged Becky through the France gift shops because I wanted to get something for my Spanish teacher, who is from France. (She's THAT good at languages.) It wasn't all bad, though; while there Becky discovered they have bottles of wine for sale for $15. Room wine!
We thought we were getting out ahead of things by leaving the park half an hour early, but of course the Skyliner line home was absolutely bonkers. And of course in pandemic times it's only one party per gondola. But it's still darned efficient, and we were on our way back to Pop and safely in bed in reasonable time.
Next up: back to Epcot we go!
Don't forget, you can follow FRoA on Twitter @fairestrunofall and on Instagram @fairestrunofall. If you have any questions or thoughts, leave a comment or email fairestrunofall@gmail.com. See ya real soon!