It's time for my favorite type of post: a trip report! I celebrated my second vaccine dose with a trip to WDW accompanied by Becky of Disney In Your Day. I will now exhaustively tell you all about it. You can read all the posts in this report here. Onward!
No matter how long a Walt Disney World trip is, it never feels long enough. Even eight days, a length of time I haven't spent at WDW since I think 2009, felt like it went by in a thematically appropriate Thanos snap (Team Thanos!).
I skipped my run and slept in on the last morning, which was a bit of a bummer but I wanted to give myself plenty of time to shower, pack my remaining belongings, and check my bags before we headed out to our breakfast reservation.
Turns out if you have a breakfast ADR at a Skyliner resort, they'll let you take the Skyliner there even if the associated park isn't technically open – you just have to show your reservation info. Which is how we wound up with a personal escort onto the Skyliner to the Riviera. High-end, VIP, exclusive!
I won't spoil our experience at Topolino's Terrace, but I will tell you that I would recommend it for sure. We also explored the Riviera Resort a bit, and while it's a little too realistically refined to read as fully Disney to me, it's definitely beautiful. And the view from the restaurant terrace is killer!
After breakfast it was sadly time to say goodbye to Becky, who had an early afternoon flight and a Magical Express bus to catch. I walked her back to the Skyliner like a gentleman before getting on myself in the opposite direction. I had made my Park Pass for the last day Epcot again; yes, I had probably been there more than anywhere else that week, but the park didn't open until 11am so I could still make rope drop!
(Quick aside: since the gondolas to Epcot originate in Caribbean Beach before they get to the Riviera, we were wondering how anybody gets one from Riviera in the first place, especially in COVID times with only one party per gondola. Having now once gotten on at Riviera… I still don't know. There were a LOT of full gondolas before there was finally an empty one for me. My only guess is that every once and a while CBR just lets one go empty.)
It was scarcely past 10:30am and I was already power walking my way from the International Gateway entrance toward Future World. Since it was Mother's Day, I FaceTimed my mom and walked her with me as I traversed Epcot. I think she enjoyed it; she said it felt like being there. Or, as I always say – Happy Mother's Day! Hope it was worth it for ya. 😂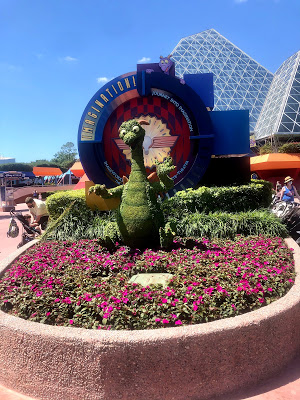 My plan was to do Test Track first, but the CM with the "end of line" sign said the wait was already up to an hour. That was probably an exaggeration, but I didn't want to risk it, so I turned tail and walked over to Soarin' instead. There I probably waited like ten minutes. Every once and a while I make a good decision.
Since it was there anyway I took a relaxing trip through Living with the Land. It took a little longer than I anticipated, though; upon disembarking, I discovered I only had nine minutes to hustle over to the America Gardens Theater (WHY isn't it American Gardens???) if I wanted to make the first Mariachi Cobre performance of the day. Which I did – so I did. That's right, halfway across Epcot in nine minutes! And they say runDisney is purely recreational.
Mariachi Cobre put on a magnificent show per usual. When they finished we were only ten minutes out from the Voices of Liberty, so I simply stayed put. Sadly, the VoL set was completely devoid of Disney medleys this time around, but no one can deny their talent.
At the conclusion of the show I continued on in the Canada direction, where I stopped briefly to catch some of the Jammitors set before heading back into my Flower & Garden Festival MVP, World Showplace. I got another watermelon mint beer and then another cider flight while listening to one more set from the pianist there. I think I said this already, but I mean it: do NOT sleep on World Showplace.
For my final act, I walked back to the America Gardens theater, where I picked up a Wicked Weed light ale from the Magnolia Terrace booth. It was pretty generic but perfectly drinkable, which was fine because I just wanted a beverage to consume while watching my final Mariachi Cobre performance.
Here's a new one: on the way into the theater, I saw that they were giving out sunscreen samples for some reason. I'd grabbed a couple cards that morning; when I went in again, the CMs were still pushing it. "Oh, this is my favorite kind!" I said, because it was but also in case they recognized me from earlier sunscreen sample grabbing. Evidently not, because one lady said "Here, take a bunch!" and handed me like ten of 'em. So now I have like a whole free bottle's worth of the sunscreen I like but can't seem to find in PR stores. Disney magic comes in many forms, kids.
So that's how I finished up my Disney adventure – listening to the marvelous Mariachi Cobre, sipping a beer, awash with sunscreen samples. Perhaps others would have prioritized rides, but I was content with my ambience-soaking morning. When the performance ended and I had to leave, it wasn't all right, but it was okay.
I took the Skyliner back to Pop, grabbed my bags from bell services, and boarded the Magical Express back to the airport. And that was it. The end of a beautiful journey.
Thank you so much for going on this long, long trip report with me! I hope you enjoyed reading it as much as I enjoyed writing it. Sad that it's over? Don't be! I have a ton of additional posts to share, including restaurant reviews, early morning runs, fun souvenirs, my first Disneybound, and more. Come back soon, and I'll catch ya at the next one!
Don't forget, you can follow FRoA on Twitter @fairestrunofall and on Instagram @fairestrunofall. If you have any questions or thoughts, leave a comment or email fairestrunofall@gmail.com. See ya real soon!