The full trip report is over, but the details still need filling in. Read on for more May 2021 WDW fun!
Our first sit down meal of the the trip was at The Wave, a monorail restaurant in The Contemporary that seems to fly under the radar. Yeah, it's not elaborately themed or a character meal, and no, it's not fine dining a la California Grill or Narcoossee's, but it's definitely worth a trip out of the culinary wasteland that is the Magic Kingdom at the very least. Let's dive (PUNS) in, shall we? Follow along with the menu here.
DRINKS AT THE WAVE
I started my lunch with a cocktail, because that's how Vacation Jenn rolls. The drink menu at The Wave is pretty expansive – I remember enjoying a craft beer flight way back in 2015 – but it was ultimately the simple Paloma that called to me.
The Paloma is kind of like an offshoot margarita: tequila, grapefruit juice, lime, and soda water. Some places cheat with grapefruit soda which in my opinion ruins the flavor balance, making it way too sweet. Luckily The Wave's Paloma went the juice route and I loved it! Tequila is such an amazing mixer and the whole thing was delightfully tart.
…ALSO FOOD
For our meal, Becky and I decided to share a selection of appetizers and an entree, because we are hella smart and know the key to good Disney dining is sharing for the variety. 😁
First up was the seasonal salad, because I like to eat a salad now and then at Disney to pretend I still give a crap about nutrition. But this particular salad sounded really good – goat cheese, strawberries, and candied nuts and such. Ultimately it wasn't particularly inspired, but the ingredients were all fresh and worth eating.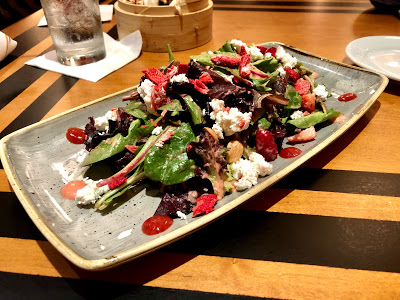 Next up: steamed bao buns! I LOVE bao buns and will legit eat just about anything in them, which in this case was slow-roasted pork belly and spicy Asian slaw. The bao buns at The Wave did not disappoint – they were soft, chewy, simultaneously pillowy and dense… textbook, really. The filling was good too but not quite rich and spicy enough to make a memory mark. If you like bao buns, I recommend them, but if you're indifferent to this wonderful bread product I might try something else.
We were very tempted by the bacon and eggs appetizer to round things out, but as we were already eating some of the pork belly it contained we decided to go in the complete opposite direction with the plant-based option. It was tofu and vegetable tikka masala and I freaking ADORE Indian spices so I was IN.
I'm not a vegan, but the reason why I often like to sample Disney's plant-based dishes is that they seem to be more inclined to amp the taste with interesting flavors, in this case coconut and yellow curry. The tofu could've been a little crisper, but otherwise the flavor profile was spot on. If you like curry, I don't think you'd even miss the meat! If you don't like curry… don't order this.
IN CONCLUSION
The Wave has a calm atmosphere and a classy although arguably not very Disney ambiance. I wouldn't necessarily recommend it for families with young kids or anyone on one of those once-in-a-lifetime trips I hear people take. But if you're on the monorail line and looking for a decent lunch with an easier reservation to score, I'd say it's worth a look.
Don't forget, you can follow FRoA on Twitter @fairestrunofall and on Instagram @fairestrunofall. If you have any questions or thoughts, leave a comment or email fairestrunofall@gmail.com. See ya real soon!