The full trip report is over, but the details still need filling in. Read on for more May 2021 WDW fun!
Hi, my name is Jenn, and I LOVE breakfast food. Like, breakfast-food-was-my-wedding-menu LOVE breakfast food. I love pancakes, I love waffles, I love eggs, bacon, and sausage. Whipped cream, butter, syrup, YES.
Asking me to choose a favorite would be akin to asking me to pick a favorite pet, but if I absolutely had to make a call, I would go with the glorious breakfast sandwich. It offers so many wonderful staples in one: eggs, cheese, usually a breakfast meat of some kind. Bread options are endless: English muffins, biscuits, croissants, even pancakes and waffles! Seriously, breakfast sandwiches rock.
The carbs and protein also make excellent fuel for a busy day at the parks, so a breakfast sandwich is my go-to morning meal at Disney. Sadly, they are not ubiquitous as I would like. (We won't even talk about the dearth of brinner.) But you can ferret some out, and here are the three I tried during last May's trip.
I have this weird, unintentional habit of ending my food reviews on downers. No matter how much I enjoyed the meal, for some reason my least favorite part seems to close out the post. This time I am deliberately choosing to go in order of least to most favorite, which means we are starting with the egg and cheese bagel sandwich from Everything Pop, the food court at Pop Century.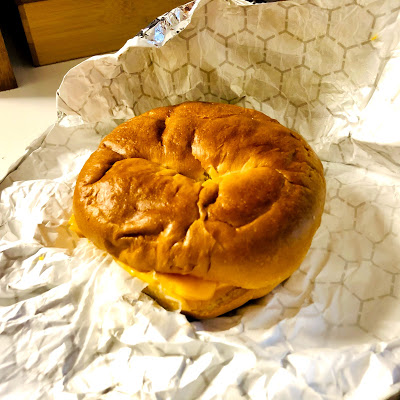 IT SUCKS.
Perhaps you think I am exaggerating. Perhaps you think I do not take into account the resort-wide usage of powdered scrambled eggs and the worst of all the cheeses, American. Actually, neither of those are the problem here. Sure, they were scanty, and would ideally be replaced with real eggs and some cheddar, but the problem here is the bagel.
The bagel they use is a behemoth. You can get better bagels from Thomas's in a bag at the grocery store. It barely even has a hole, so you already know it's overproved, and the loose structure bears that out. It's completely lacking in that tell-tale bagel chewiness, not to mention the overcooked crust, and it's entirely too much bread for the filling. Seriously. You won't die if you eat this, but don't. Get waffles instead. Please.
I had a heck of a time finding a viable option in the Animal Kingdom, as it seems like much of breakfast was on a COVID-induced hiatus. Indeed, the one breakfast sandwich I could track down seemed to be a grafted on extra distributed to every counter service restaurant currently open – it was available on mobile order just about everywhere but I can't locate any proof of its existence on an online menu. One way or another, behold the sausage, egg, and cheese biscuit we picked up at the Harambe Fruit Market: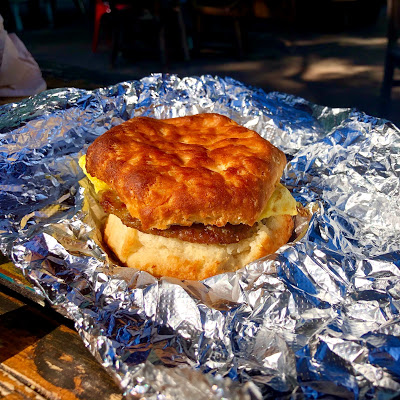 These were clearly made in a central kitchen somewhere, wrapped in foil, and spread around the park, but this one wasn't that bad. The biscuit was pedestrian but tasted surprisingly fresh, and the sausage, while mild, had a good umami flavor. You can even see a bit of browning on the egg. All the ingredients were proportionate as well. Not too shabby.
Finally, we come to the breakfast sandwich so good I got it twice: the bacon, egg, and cheese sandwich from The Lunching Pad of all places. This was darned tasty! The egg and cheese were the usual weak sauce, but shockingly the bacon was NOT. Disney bacon has a reputation for being thin and limp, but they must've gotten this batch from somewhere else because it had a little heft.
What really elevated the sandwich, though, was the multigrain croissant it all comes on. Of course anything multigrain is going to be less buttery and delicious than its original, less grainy version, but this croissant was fresh and had a nice sprinkle of seeds and salt on top for an extra kick of flavor. I'm pretty sure these are the same croissants from Topolino's, and I've seen suspiciously similar examples in pictures from other restaurants as well. Table service bread at counter service prices! What a world. What a World!
Don't forget, you can follow FRoA on Twitter @fairestrunofall. If you have any questions, leave a comment or email fairestrunofall@gmail.com. See ya real soon!