The full trip report is over, but the details still need filling in. Read on for more May 2021 WDW fun!
As a patron of the arts, how could I possibly resist breakfast at Topolino's Terrace in Disney's Riviera Resort? The only way it could be more perfectly themed to my taste is if there was a petting zoo attached. Let's take a look at this magnificent character breakfast experience, shall we? (Here's the menu if you want to take a look.)
Disney's Riviera Resort is themed to – wait for it – the Riviera, largely of the French and Italian persuasion I think, although if the music is any indication Topolino's Terrace itself tends to skew Italian. Funiculì, Funiculà!
Anyway, the resort itself is beautiful, but a bit more sophisticated as opposed to fantastical. You're transported to another realm of course, but this realm feels more grounded in reality than Disney's other, more whimsically themed resorts. How that makes you feel will ultimately come down to personal taste, but it also informs the setting of Topolino's. The decor screams class more than fun. Don't worry though; at this character breakfast, said characters are undeterred – but we'll get to them after we eat.
FOOD AT TOPOLINO'S TERRACE
Topolino's at breakfast is prix fix, with a communal basket of pastries for the table plus an individual entree and your basic, non-specialty and/or alcoholic drinks included. We could've had plain old normal coffee at no additional cost, but we decided to splurge on the French press of the Riviera's proprietary blend.
This was fine. I honestly could've gone with a stronger pot, but then I'm used to espresso from the Breville at home. Next time I'd just get the free ("free") cup of joe, but it's always worth trying these things once.
I also got POG juice, aka pineapple-orange-guava juice, something of a WDW staple. It's very sweet and honestly I only get it whenever it's offered because it's quintessentially Disney to me. I free associate easily.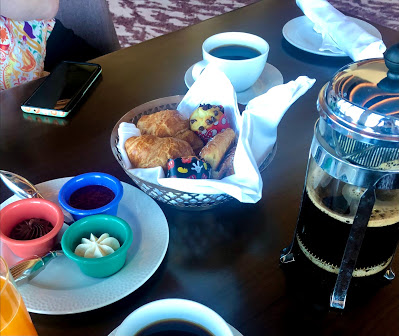 Alongside our drinks we received our pastry basket, which included croissants, caramel pastries, and chocolate muffins. This all reminded me of something you could get in a plastic clamshell case from your local grocery. Which is not to say any of it was bad! Just that it didn't strike me as house-made, although to be fair we didn't get around to trying the muffins. The pastries come with jam, honey butter, and a chocolate spread that's basically Nutella by any other name.
On to the entrees. I was tempted by the smoked salmon and bagel as a devout lover of lox, but that hardly seemed worth the prix fix price tag. I ultimately settled on the spiced sausage hash, which also included a poached egg, English muffin, potatoes and onions, something called "choron sauce," and herbs.
This was really good – and huge. I maybe ate half of it and didn't feel hungry again until late afternoon. The sausage was good, although I wish it had brought a little more heat. The poached egg had a perfectly running yolk, which is always welcome, and the vegetables were well cooked and tasty from the herbs. The English muffin, buried at the bottom, was completely unnecessary. Order this is you're looking to fuel up.
Becky also asked our frankly amazing server if we could have one of the sour cream waffles to share. He was happy to accommodate us at no extra charge, but I should note that this brunch is not billed as bottomless so it might be up to your individual Cast Member. Anyway, the waffle itself was light and pleasant but what really kicked it up a notch for me was the chantilly cream. I swear I took a photo of this but I'm coming up blank. 🙁 Oh well.
CHARACTERS VS. COVID
Now that the food is out of the way, let's talk about the characters! During COVID times, they didn't meet with us directly, table to table, but instead took up strategic positions around the restaurant for over-the-shoulder selfies. Once every half hour or so they also did a little parade around the room. As a person who sometimes suffers from the Why So Awkwards, I didn't mind this at all, but I'd imagine they'll revert to the old table-to-table method in the future.
As I mentioned at the top, all the characters were dressed as artists! You have Painter Mickey:
Poet Minnie:
Sculptor Donald: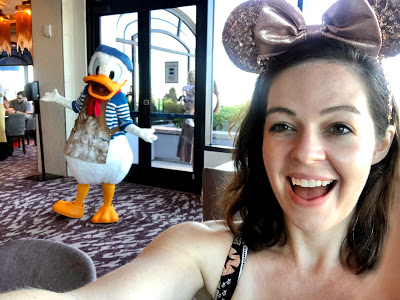 … and Dancer Daisy.
Flawless. What is it the French say? J'adore.
After our meal, Becky and I wandered out onto the eponymous terrace just to check it out. The views are pretty sweet, into Epcot especially.
While this character meal isn't exactly cheap, I wouldn't hesitate to recommend it. The character costumes are unique and the food is good. I would especially encourage anyone staying at a Skyliner resort to give it a go!
Don't forget, you can follow FRoA on Twitter @fairestrunofall and on Instagram @fairestrunofall. If you have any questions or thoughts, leave a comment or email fairestrunofall@gmail.com. See ya real soon!