The full trip report is over, but the details still need filling in. Read on for more May 2021 WDW fun!
Some Disney snack locations don't warrant their own posts – but come on, do we really want to leave food reviews on the table? Of course not! And with that in mind, we're finishing up our May 2021 trip food coverage with what Douglas Adams would refer to as a Whole Sort of General Mish Mash. (I think I have used this joke before but I love it and it stays.)
Let's start with the sweet and spicy chicken waffle sandwich from Sleepy Hollow in the Magic Kingdom's Liberty Square. This is a somewhat storied item; while waffles having pretty much always been on the menu in various sweet guises, their savory sandwich counterparts hop on and off the menu at Disney's whims. I enjoyed several of these sandwiches back in the day, and was excited to try the new iteration.
Unfortunately they've made some changes. The chicken itself was okay – a little thin and overcooked with minimal breading. Kinda bland for something with "spicy" in its name. The broccoli slaw didn't have a ton of flavor either, although it did add a welcome crunch. The housemade chips were fine.
Ultimately, though, what sank it for me is that they appear to use a different type of waffle for the sandwiches. Sleepy Hollow waffles are usually the thick, fluffy waffles you can find all over property. This waffle was much thinner and by consequence, in my opinion, overcooked. Perhaps the thought process here was that a thick waffle would overpower the fillings, but I think a softer, less crispy waffle would contrast the chicken nicely. Not the worse you could do in the Magic Kingdom, but not awesome.
A greater success story was my late-night impulse purchase of a peanut butter pie from the Contempo Cafe, The Contemporary's quick service location. I wouldn't call it the best dessert on property, but for something grabbed out of a cooler at 10pm, it really held up. The outer pastry shell and vanilla custard are serviceable and unremarkable… but this isn't a vanilla pie, it's a peanut butter pie, and boy is it.
I'd be hard pressed to tell you what the peanut butter section is, exactly – a mousse, perhaps? But it's a little thick for mousse. Too thick and not as sweet as frosting, either. It's not a cheesecake, but the texture could be described as cheesecake-like. Anyway, it's peanut buttery without feeling like your eating peanut butter straight out of the jar, and with that drizzle of chocolate on top, it's great stuff. If you're eating at the Contempo Cafe anyway, definitely slap a peanut butter pie on your order.
Next up, the quasi-famed seasoned fries from Mr. Kamal's. Thought they have a bit of a cult following, we bought these as a hail Mary when we couldn't get mobile order of cheeseburger pods from Santuli Canteen in a necessary time frame. That being said, and without feeding into the hype too much, I think the seasoned fries are a worthwhile snack – IF you're interested in the sauces.
The menu says the fries come with Korean chili ketchup OR curried honey mustard, but when we asked we had no problem getting both. I am in love with curry so I was all about the honey mustard, but the chili ketchup had a decent kick as well. The fries were a little overdone for my taste, but it may help to note that I am a "when in doubt, underbake" person. They were certainly tasty enough as a sauce conveyor. Kids might not be totally on board, but I think the seasoned fries are at least more interesting than a lot of more basic WDW snacks.
You know which WDW snack definitely isn't basic? Sunshine Tree Terrace's Magic Kingdom Snack MVP, the Citrus Swirl! Sure, you can get a soft serve swirl anywhere, but a soft serve and frozen orange juice swirl? Now that's the business. The vanilla sets off the tart orange juice; the sourness of the orange juice sets off the sweet vanilla. Mere orange soft serve could never.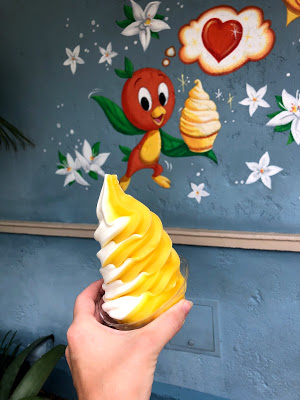 I only wish I could try a cup of straight frozen orange juice by itself. Probably be the cause of the worst brain freeze of my life, but totally worth it.
Let's finish this up with arguably the most exciting snack stop – Gideon's Bakehouse. I mean, we had to put our names on a wait list just to get in, so there's that. So naturally the question becomes: are these worth (virtually) queuing for?
Well, yes. But then again, no. NO WAIT HOLD ON LET ME EXPLAIN.
Okay, obviously, the cookies were delicious. I got a basic chocolate chip for me and a peanut butter chip for Pat. Quote the man himself: "That was way tastier than I expected." The cookies are expensive but huge, and while the flavors I got may be basic I thought they were executed in an elevated fashion. There was considerably more salt to cut the sweetness than I'm used to in a cookie, and as a salt monster myself I was down with that. Also, while the outside is firm and doesn't crumble, the inside has a distinct just-barely-baked texture. As I noted above, I'm an underbaked gal, so this was perfect for me.
So, Gideon's cookies: 95% recommended. The remaining 5% is just because they remind me of a cookie I've had on WDW property before. They've been available for years and you can get them all over the place, readily, without virtual queues or even lines sometimes.
I'm talking about the Minnie's Bake Shop/Selma's cookies, and maybe it's just me but I find them strikingly similar. Yeah, Selma's might not be as fresh, but they have a similar doughy consistency inside. And though there's not quite as big as Gideon's, they still have a fair bit of heft. Admittedly, this is me going from memory, but I think they might be surprisingly comparable. Next time I'm in WDW I may need to do a side-by-side taste test. Oh, no! A cookie taste test in the most magical place on Earth?! Perish the thought!
And on that happy note, I shall leave you. Oh, and if I missed your favorite snack, definitely drop it in the comments!
Don't forget, you can follow FRoA on Twitter @fairestrunofall and on Instagram @fairestrunofall. If you have any questions or thoughts, leave a comment or email fairestrunofall@gmail.com. See ya real soon!