This is not a review of Colourpop Disney cosmetics so much as it is, shall we say, a revue of them. I show them to you so that we might ooh and ah at their splendor. I'll offer my thoughts, of course, but I'm a mere makeup tyro.
In it for some pretty colors, fun names, and SUPER cute packaging? Let's go!
I've dabbled in Disney makeup before, but never to this extent. See, Colourpop offered a really great sale price over Memorial Day weekend, and I got overexcited. Behold my bounty!
Ready for the super fun part? We've come full circle: a lot of this stuff is on sale RIGHT NOW for Labor Day Weekend! Scroll through for links as a I breakdown individual products.
(Disclaimer: I bought all this stuff myself and have no affiliation with Colourpop, sadly. But either way I solemnly swear to always review honestly, no matter the circumstances of the post.)
COLOURPOP EYESHADOW PALETTES
I have three palettes: the Bambi Flower palette, an array of purples; The Child from "The Mandalorian," largely greens and golds; and a palette themed to Elsa in Frozen II, an interesting mix of warm and frosty tones.
I've tried them all now, and find the quality consistent across the three. The color payoff is good, especially with the darker cranberries in the Elsa palette, and the pale green from The Child is a surprise hit. The mattes in particular are soft with minimal fallout. The shimmers can be a bit dustier but work fine.
The glitters can be chunky and hard to apply, though. They don't comprise many shades so it doesn't bother me.
COLOURPOP LUX LIQUID LIPSTICKS
Colourpop offers a lot of different lipsticks finishes, including multiple liquid types. The ones I purchased were of the "Lux" ilk, which they describe as "a plush, velvet liquid lipstick with medium buildable coverage that creates a soft, diffused look."
I'd be willing to cosign that description. They don't promise extreme longevity, and you won't get it – but on the upside it's WAY more comfortable. My enthusiasm for longwear lipcolor has waned; it tends to get so dry and cracked. Like, yeah, it's still on my lips hours later, but it looks janky up close.
Anyway, I got the Prince Naveen and Wonderboy (aka Hercules) shades, which are perhaps not as distinct from each other as I might have liked, but they have excellent pigmentation. I like to pat just a little and the center of my lips and diffuse out. The shade is less intense but it fades less weirdly. Plus it's easy to top up without having to clean your lips completely and start all over.
The pretty gold tube design will rub off if you leave it in your purse or bag for an extended period of time, so keep that in mind.
CREME GEL EYELINERS
I got the Life in the Woods creme gel eyeliner set, but I'd recommend against it. The color payoff isn't great, and as you can see, they collapse in on themselves very easily. That being said, the packaging continues to be very sweet, so as a cheap aesthetic item you could do worse.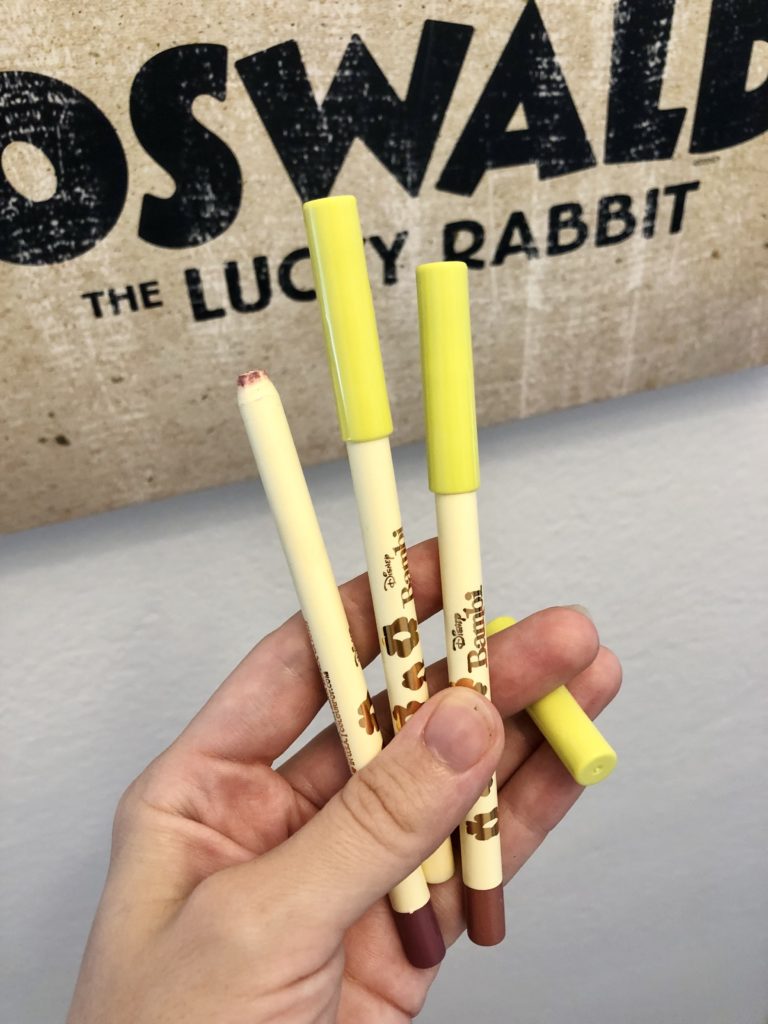 (You may notice in the pictures at the top that there's a body highlighter in mind-bendingly cute Bambi packaging I did not mention. In truth, I rarely have occasion to wear body highlighter; I bought it for the purposes of looking cheerful on my vanity. 😄)
FINAL THOUGHTS ON COLOURPOP'S DISNEY COLLABS
In conclusion: not everything Colourpop makes is a complete hit, but quite a few products are legitimately high quality for their actual, intended, cosmetic purposes.
But we all know why I bought only their Disney-branded items, right? For the joy. For the improvement of the mundane. And because using any of it in your resort hotel room as you get ready for a Disney parks day sounds amazing! What can I say? I love a good theme.
Don't forget, you can follow FRoA on Twitter @fairestrunofall and on Instagram @fairestrunofall. If you have any questions or thoughts, leave a comment or email fairestrunofall@gmail.com. See ya real soon!