I'm decidedly NOT a team sports person, but I'm not against joining a team of running individuals, especially if they offer discounts. Did I join Sparkle Squad for the camaraderie or the discounts? Trick question! I joined it for the visor!
And the blog post, of course. Anything for a blog post.
WHAT IS SPARKLE SQUAD?
Right, so, Sparkle Athletic is a small but mighty athletic apparel store geared primarily toward women, although I'm sure they're happy to sell to anybody who's angling for a sparkly running skirt or ball cap. You're almost certainly familiar with them if you're even semi-regular on the runDisney circuit, as their booth is a fixture at the expos and their skirts are a fixture in race costumes.
Truth be told, I've never purchased anything from them before. I've been tempted, yes, but I have a tendency to agonize over my purchases and nothing's ever quite pushed me over the edge. But for some reason, when they announced enrollment for their Sparkle Squad program, I felt compelled to join.
The Squad only accepts members for a few weeks in the summer, so I'm afraid you've missed your chance for this year. But there's always next year, so bookmark this review in case it seems like something that might interest you.
Sparkle Squad is a kind of like Sparkle Athletic's yearly membership program. This year the cost was $120, and in exchange for the signup fee squad members received:
• A running skirt
• A running top (choice of tank or tee; I went with the tank)
• A running visor
All in the team's rainbow cheetah print, although I think the fabric may change yearly. You don't get to pick, though.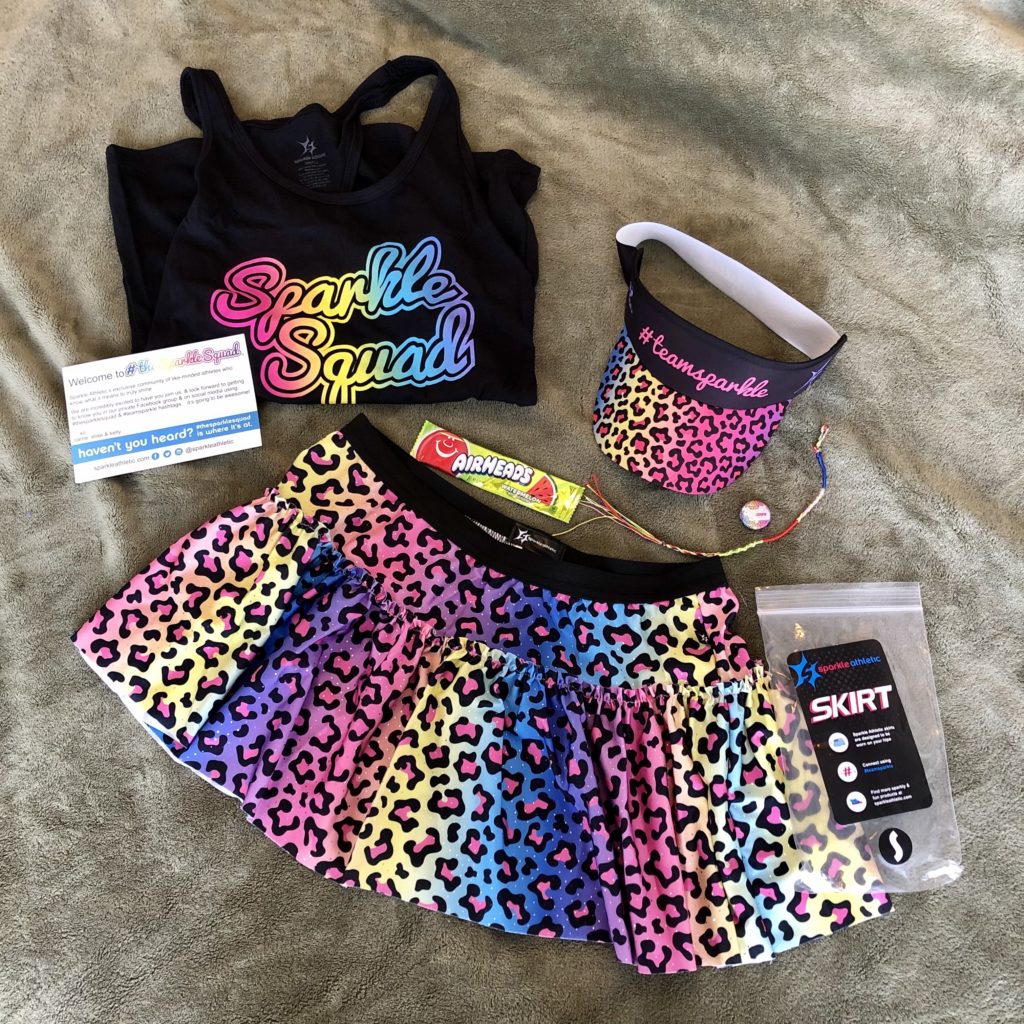 You also specify your size. Nosing around the website, I see XS – 2XL, although not all sizes are available in all products. I'd imagine size inclusivity is on their to-do list, but of course it can be hard for small companies.
WHAT'S THE STUFF LIKE?
Quality is good for the price but not mind-blowing, with the possible exception of the visor, which feels particularly sturdy. It somehow manages to be comfortable – no head squeezing here – while remaining perfectly secure. (The visor really is what tipped me over into joining the squad; I'm funny like that. I'm running out of ballcaps, okay? I left one at Disney and Becky is holding onto it for me. 😂)
The tank is basic but serviceable. Its appeal is in the spunky sayings and graphics.
The skirt is cute and fits me well. I got a small, but could probably have even gone down a size. I wish do wish the skirts weren't sewn to sit on your hips. These sorts of things tend to ride up my butt when I run. Luckily, I'm sure that could be fixed with some safety pins.
The skirt is also not machine-washable, which is a bummer for a workout item, but it's not like hand-washing is that hard.
The thing about the skirts, in truth, is that you buy them for the aesthetic. They are otherwise completely non-functional. Pick a color and pattern to suit your race costume and/or personality and roll out. Their purpose is the mental boost that comes from looking colorful and feeling cute. For example, this one would be great for something like the The Fast & The Fierce 5K!
I also received an unadvertised pin, hand-braided friendship bracelet, and a watermelon Airhead in my squad package. None of which has much value but it was a sweet touch and anyway I love Airheads!
WHAT ELSE DOES THE SPARKLE SQUAD GET?
So that's the hard product. In addition to the clothing, Sparkle Squad status also nets you:
• 10% off all year with personalized discount code
• Free shipping
• First dibs on sales
There are also social media aspects like Facebook and Strava groups, an Instagram hashtag, etc. if you're looking to make new running friends. Sparkle Athletic is clearly very dedicated to keeping anyone who wants to be in the community mix busy; there are plenty of ways to get involved.
Their customer service is excellent, too. They initially forgot to send my visor, but when I wrote to ask them about it I received a reply within hours and a visor in the mail within a week. Anyone can make a mistake, but not everyone can handle it so deftly. I don't think that was just 'cause I'm on the Squad, but it's good to know the company has your back.
SHOULD YOU JOIN NEXT YEAR?
That depends. I mean, if you've got money to burn, why not? Go to town on cute race gear. But if you want to think about it from more of a cost-analysis perspective, here's the breakdown.
Based on comparable items in the Sparkle Athletic store, the skirt is worth approximately $38, the shirt $32, and the visor $28. That puts us at $98 in value in terms of the hard product you receive.
That means if you want to break even on your $120 investment – and always assuming the cost remains steady – you need to spend $22 on Sparkle Athletic gear, including, theoretically, shipping ($3.99), which doesn't kick in as free until $50+ for nonmembers.
That's not a tough ceiling to reach, but you're not getting a huge discount. I will say, however, that Sparkle Athletic isn't one of those companies with a tendency to hand out discount codes like candy, so if you're after their product even that 10% is potentially valuable. If you're already a big Sparkle Athletic fan or feel a sparkly skirt shopping spree coming on, you can easily make money on the deal.
Speaking of the product, in addition to their famous skirts they offer lots of tops, a small selection of bottoms (including running shorts with pockets now; I've got my eye on a pair), hats, towels, and other fun running accessories. A lot of it is Disney-themed, too. It's a great place for a pick-me-up present to yourself.
(Did I mention I paid for my membership on my own and I'm making this post of my own volition? Yeah. That.)
Ultimately, do you NEED a Sparkle Athletic Sparkle Squad membership? No. It's not an absolute can't-miss deal. But if you're buying what they're selling or are searching for an online running community to call your own, you could do much, much worse.
Anyway, definitely buy a visor. It's a really good visor.
Don't forget, you can follow FRoA on Twitter @fairestrunofall and on Instagram @fairestrunofall. If you have any questions or thoughts, leave a comment or email fairestrunofall@gmail.com. See ya real soon!