Time for another trip report! I'll be covering my 2022 WDW Marathon Weekend trip. Find all the posts in this report here. Onward!
The only thing that is certain is uncertainty. I think I have a handle on the New WDW and bam! It all changes again. For example, after my last trip I thought Genie+ for Hollywood Studios would be an absolute must, so Erika and I agreed to buy it for this day. Turns out if you're there for Early Entry you might not need it?
But I'm getting ahead of myself. I hopped out of bed Saturday morning and showered real quick before it was time to make my first Genie+ selection. I figured getting through Rise of the Resistance might take us awhile, so to be safe I made our Tower of Terror Lightning Lane time for after 10am.
We were out the door by 7:30am, and I was shocked at how quickly and easily we made it to the Studios. There was barely any line at either of the Skyliner stations. And on a Saturday no less!
Hollywood Studios was scheduled to open at 8:30am, but we wound up tapping through the entrance at 8am and walking straight on through to Batuu – no hold points. In fact, we proceeded directly into the Rise of the Resistance line, where there was literally no wait. That's right, Rise of the Resistance was a walk-on. Color me shocked!
MINOR RIDE SPOILER: The ride was excellent as usual, but it was my first time experiencing the Broken Kylo Ren screen. You know where usually there's usually a Kylo animatronic that moves your transporters around with the Force? I guess he was sick, because instead we got digital Kylo attacking from a spaceship outside the window.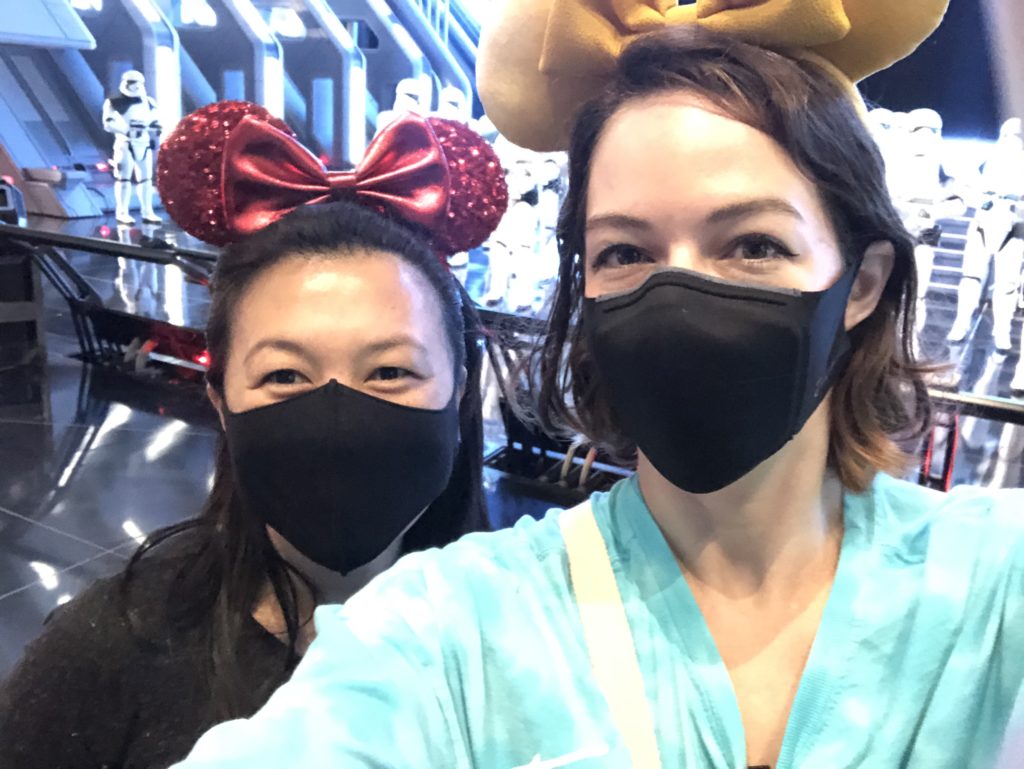 THEN we walked onto Smugglers Run! There was such a lack of line that Erika even took this picture of me to demonstrate. We were in no one's way as no one walked up behind us until well after she took the picture.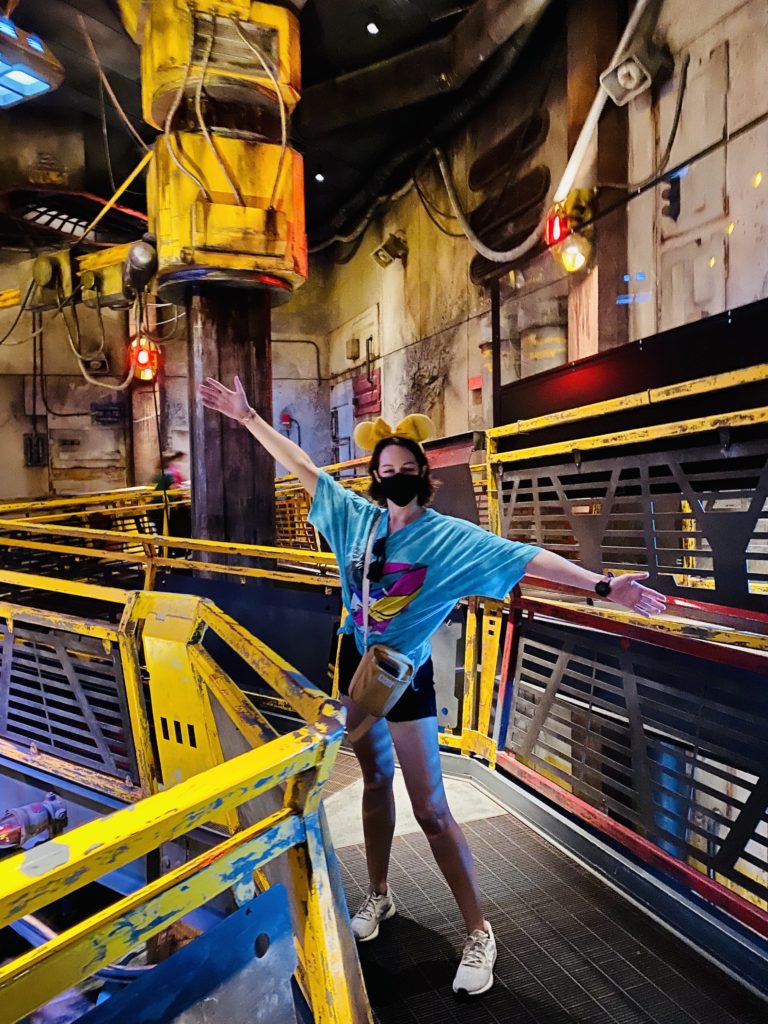 There must've been something in the electricity in the Studios that morning, as the Hondo Ohnaka animatronic was also covered up. Instead he gave us instructions via Zoom. If we buy Zoom stock now, our great-great-great-great-great grandchildren will be set for life, I guess.
I've been a pilot – fun! – and an engineer – boo – but this time around I received the assignment of gunner for the first time. I liked this better than the engineer role since as far as I could tell I could just mash the button while keeping my attention on the screen. Of course, at the end of the ride it turns out you get an accuracy rating. Was there some sort of directional component I just didn't notice? Not like Hondo ever gives you a fair cut anyway.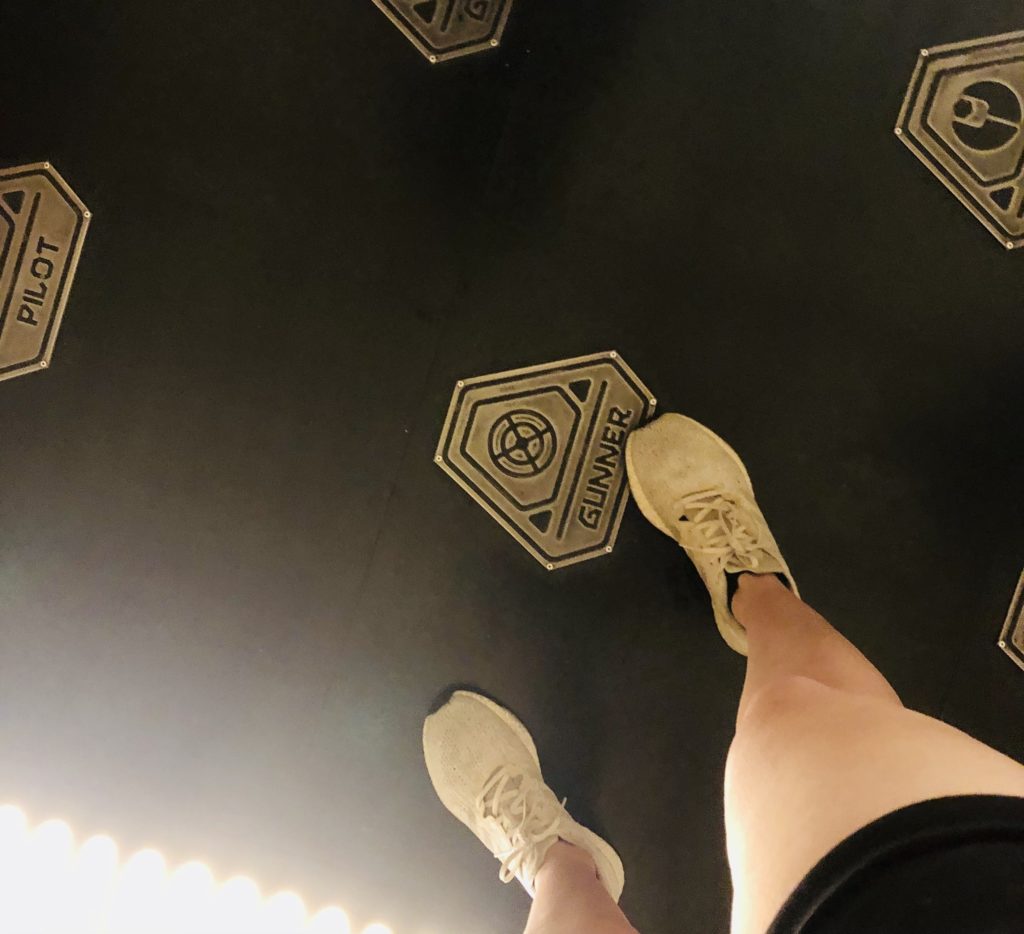 We were feeling a bit peckish by then, but there were still 10 minutes or so of Early Entry time before the hordes rushed in; we didn't want to waste it, so we finished things off with a quick whip through Alien Swirling Saucers. "Spin in circles first, get a Ronto Roasters breakfast wrap second" is a common Batuuan aphorism. I assume.
Nothing like downing a greasy sausage and then getting your photo taken. You know I would never let a lonely, lineless PhotoPass photographer twiddle their thumbs.
Now it was after 9am and we were forced to mix with the off-site hoi polloi. Rock 'n Roller Coaster was sadly down all day, so we considered our remaining options. Mickey & Minnie's Runaway Railway, which Erika had not yet ridden, was posting a 60 minute wait. However, based on previous experience, I thought the line looked shorter. Sure enough, we were on a train in 30.
By that point it was time for our Tower of Terror Lightning Lane reservation, where I hardly experienced any anxiety at all! I think I'm finally inured to the anticipation. Took like a decade to get here but late is better than never, right?
I recovered from my terrifying tower experience with some retail therapy, dragging Erika through two separate Sunset Boulevard gift shops in pursuit of the elusive black 50th Anniversary Minnie ears. I did not find those, but I did find the pink cozy ears that were also low-key on my list. In fact, this was the only store I ever saw them in. Not one to leave merchandise to chance, I bought 'em.
Next up, something brand new to me: the Frozen singalong! Full disclosure: I'm not a huge fan of Frozen. I don't not like it, I just don't quite get the hype. Still, I'd heard good things about the singalong, so I figured why not give it a shot?
And my gamble paid off! The live action Anna/Elsa/Kristoff trifecta was, for me, a little cringy, but the royal storytellers totally made up for it. Their comedic timing was excellent. Minor spoiler, but "That troll Kevin Baconed me!" is now my favorite Frozen quote. That's right, I'm declaring it canon.
Our next Lightning Lane reservation was open by then, so we scooted over to Toy Story Midway Mania. The Cast Member stationed at the head of the line complimented my Darkwing Duck shirt, yay!
I am completely incompetent in the face of Buzz Lightyear's Space Ranger Spin, but I'm reasonably capable on Midway Mania. I managed to win the cat this time, which is not bad for me.
You always want to make sure you hydrate the day before a race, so my subsequent act was to snag a Powerade from a street vendor and chug it on a bench next to One Man's Dream. The CM outside that attraction was doing the most, attempting to drum up interest in the exhibit. "Did you know," he told one group as they walked by, "that Walt Disney was a real dude?" What is it the kids say? Oh yes: DEAD.
My external battery pack was out of juice, so I myself pulled Erika into One Man's Dream in search of a wall socket with which to charge my phone. I manage to locate one in a primo position in secluded bench right before the movie theater. We sat for 20 minutes or so and relaxed while my phone recovered.
Once my battery percentage was comfortably high, we skipped off to our next Lightning Lane reservation, Star Tours. The line was posted at I think like 25, maybe 35 minutes? But I doubt it was more than 5. Total waste of a Lightning Lane slot, but by that point all the good stuff was either gone or hours away. I think Rock 'n Roller Coaster being down didn't help. I didn't exactly extract the value from Genie+ today. Ah well. Live and learn.
Speaking of which, after our Tour through the Stars, there were basically no more Lightning Lane spots worth having. I would've taken another spin on Tower of Terror, but of course, only one LL slot per ride per day. Alas.
Instead Erika indulged me in backtracking all the way to Batuu, where I bought some porgs for my nieces. Pat and I got them porg mugs on our last trip, so the puppets will make a nice little gift set for them.
Mind you, they come in adorable but ENORMOUS carrying cases, which I wound up breaking down and folding in order to fit them in my luggage. We might need to do some creative things with tape to get them back together again, but that's a problem for future Jenn. Present Jenn won't worry about it.
It was only mid-afternoon, but we nonetheless decided at this point to throw in the towel on the Studios for the day. We'd been out and about for awhile, and had an entire marathon to run in the early morning, you know. So we took the Skyliner back to Pop.
The rest of the day was very restful at the time, but hardly makes for riveting reading. We got lunch from Everything Pop, then went back to the room was some relaxation and race prep. Back to Everything Pop for dinner, where I sailed merrily past all the newbs who don't get how the split cashier lines work. 😉
And then we were down to the night-before-the-race wire! I set us a 2am wakeup call and attempted my usual uneasy pre-race sleep. Is this the horrible trip where I finally realize my worst fears and sleep through the race?! (No.)
Next up: the Walt Disney World Marathon!
Don't forget, you can follow FRoA on Twitter @fairestrunofall and on Instagram @fairestrunofall. If you have any questions or thoughts, leave a comment or email fairestrunofall@gmail.com. See ya real soon!