It's my favorite annual trip report – my WDW Marathon trip! See all the posts in this trip report here. Onward!
Whenever I mention Topolino's Terrace to a Disney buddy, I inevitably hear the same comment: that's the best character breakfast on property! And while I cannot fully cosign this declaration until I've tried them all, I think they may well have a point. Topolino's Terrace does have a pretty excellent character breakfast. Let's talk about it, shall we?
BREAKFAST (OR BRUNCH) AT TOPOLINO'S TERRACE
Breakfast at Topolino's is prix fixe (check the menu here), and begins with an assortment of included beverages. There are also, not surprisingly, some upcharge drinks including alcohol, mocktails, fancier coffee, etc.
Since I had a race coming up and didn't find the specialty coffee terribly impressive last time, I elected to stick with the included drinks. Their standard coffee is perfectly serviceable, as is their orange juice. Nothing you can't get at home, but it'll do.
We also received the standard pastry basket for the table, which is adorably delivered in an art-themed pot with paint palette knives. Contents included croissants and muffins, all of which I clocked as grocery-store quality. A good grocery store, but there's no way they were made in house. Accompaniments included Nutella, honey butter, and jam, all of which were fine but again, probably mass-produced.
Interestingly, and by contrast to the first time here where no such policy was officially stated, we were told from the outset that we were permitted TWO entrees in the price of our meal. The only twist is that our second selection would be a half portion, which seems perfectly fair to me.
For my first, full-size entree, I went with the Avocado Toast: Prosciutto, Poached Egg, Toy Box Tomatoes, Fennel, Harissa Vinaigrette, Ciabatta. Now that's rather fancier than what you'd get at home.
Cue jokes about millennials and their avocado toast, blah blah blah, but I thought this was excellent. The avocado was ripe and flavorful, not bland as they can sometimes be. The poached egg was perfectly cooked with a runny center, and the prosciutto added a salty, umami flavor that elevated the toast as a whole. The ciabatta was a bit crisp for my taste, but that's probably by design to keep the bread from disintegrating under the weight of its moist toppings. Do recommend.
For my second, half dish, I elected to carb up for the marathon with the Sour Cream Waffle: Roasted Apple, Chantilly, Orange-Maple Syrup, and served with choice of Smoked Bacon, Ham, Sausage, or Plant-based Sausage. Note that the bacon/ham/sausage was in fact NOT served with the half portion.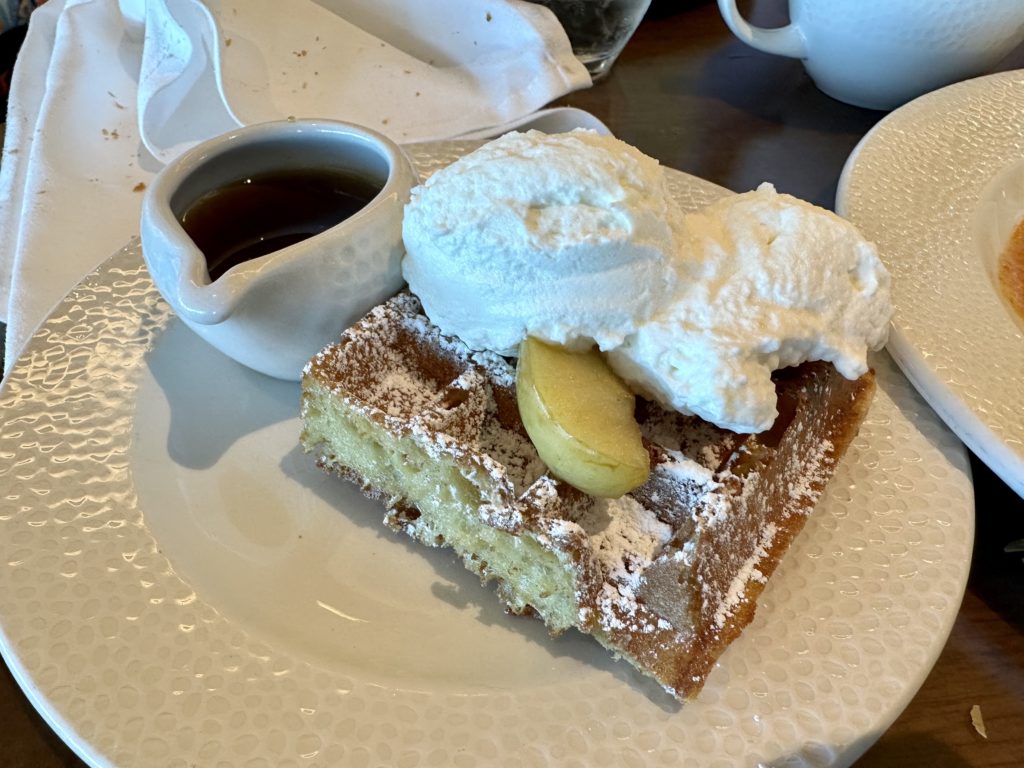 I thought this was good, although again, the waffle was a bit more well done than my personal preference allows for. I myself was not super-into the orange maple syrup, finding the flavors to be at war, but the whipped cream was AMAZING. Definitely hand-whipped. Though I'm not sure I'd want a whole portion of this meal, it made a great sample.
A TRIP REPORT NEEDS CHARACTERS!
Now for the characters. Topolino's Terrace features Mickey, Minnie, Donald, and Daisy, all dressed up in exclusive artist outfits.
Last time I was there, the usual meet 'n greets were still COVID-distanced, but this time we were back to the regular stand-together-for pictures method. I'm not gonna lie, it made a difference. Not to knock selfies with characters in the background, but the up-close photos are so much better!
Personally I prefer fur suit characters to face characters as there's no risk of awkward conversation, and the characters here are great at interacting and posing for photos quickly without making it weird or rushed.
I'd say on average most diners will have two opportunities to see each character, but if you really stretched out your meal it probably wouldn't be that hard to make three rounds happen.
IN CONCLUSION
I'll tell ya this much: don't go to Topolino's Terrace for breakfast if you're in a hurry. It's extremely busy and the service is slow. To be clear, I don't mean to suggest the servers aren't working hard – they definitely are! It's just that they're also stretched thin and we had to gently alert the staff a couple times to get some of our orders. Since we had nowhere urgent to be, this wasn't a problem for us, but plan accordingly.
Other than that, I had a great time at the Topolino's character breakfast! So great, in fact, that I'm inspired to go out and try some other character breakfasts on property. Or just come back to Topolino's over and over and over. Either way, right?
Don't forget, you can follow FRoA on Twitter @fairestrunofall and on Instagram @fairestrunofall. If you have any questions or thoughts, leave a comment or email fairestrunofall@gmail.com. See ya real soon!