It's my favorite annual trip report – my WDW Marathon trip! See all the posts in this trip report here. Onward!
One more post to add to this trip report, and then you can leave, I promise. If it helps, I'm ending it on a good one as always – who doesn't love Disney food reviews?!
So let's hurl ourselves right into the culinary abyss, starting with…
SEASONAL TREATS FROM GIDEON'S BAKEHOUSE
January flavors at Gideon's Bakehouse were all about cookie butter aka speculoos. Naturally, I had to try everything!
Cookie butter butterscotch cookie: Delicious! That beautifully dough inside with a crunchy top. I may have gotten a hint of ginger? The butterscotch drops were a surprising highlight.
Cookie butter enormous cake slice: I eat cake for the frosting, and there is some SERIOUS frosting on this cake. I don't know – I can't fully explain it, but for some reason speculoos as a frosting flavor didn't do it for me. I guess because frosting is sweet and speculoos is sweet, and by their powers combined it's too much? The texture was excellent and the flavor was there, so I think this might just be a me thing. I still haven't tried any of their chocolate frostings…
Cookie butter butterscotch cold brew: Too sweet. I just tasted sweet, with maybe a hint of the butterscotch. The pumpkin chai I tried last time was excellent – next time I'll try the peanut butter!
PIZZA & PASTA AT END ZONE FOOD COURT
The night before a race, you need bread. You need pasta. You need Italian food. And in the hotel food court, you take it where you find it. All-Star Sports' End Zone food court has all your major food court players, so pick your poison. (Literally? Although Pat thinks food poisoning would've lasted longer.)
If you have had Disney counter service pizza, you had had the pizza at All-Star Sports. Seriously, because I'm 99% sure all Disney counter service pizza is the same exact pizza. It would deeply offend a New Yorker but impress in an elementary school cafeteria. It is edible, and good carbs in a pinch. I neither recommend it nor revile it.
I also picked up a variation on my go-to prerace kids' pasta meal. Now, I say variation because at End Zone, the pasta comes with chicken and, theoretically, vegetables. I asked if I could have a breadstick on the side, and somehow that turned into a breadstick but no veggies. Substitution rules in these situations seem to vary from Cast Member to Cast Member.
It came with a mini water, which is helpful for race morning, but no cookie. Has Disney phased out the cookie option? Stupid Mickey Check Meals!
Although advertised as a feature, the pasta doesn't actually come with a whole lot of chicken, but what it does include is pretty decent. Marinara is still bland; pasta is still boxed. It's not designed to titillate the tastebuds – this is either for picky kids or, as an off-label prescription, runners. Highly recommended for those purposes and those purposes only.
ROASTED CHICKEN RICE BOWL AT LOTTAWATTA LODGE
Counter service at a water park with limited restaurant choices to begin with? My expectations were not high. But I walked away from Lottawatta Lodge pleasantly surprised.
Suspicious in this context of some of the greasier offerings, I selected the Roasted Chicken Rice Bowl: Roasted Chicken, Stir-fry Vegetables, and White Rice.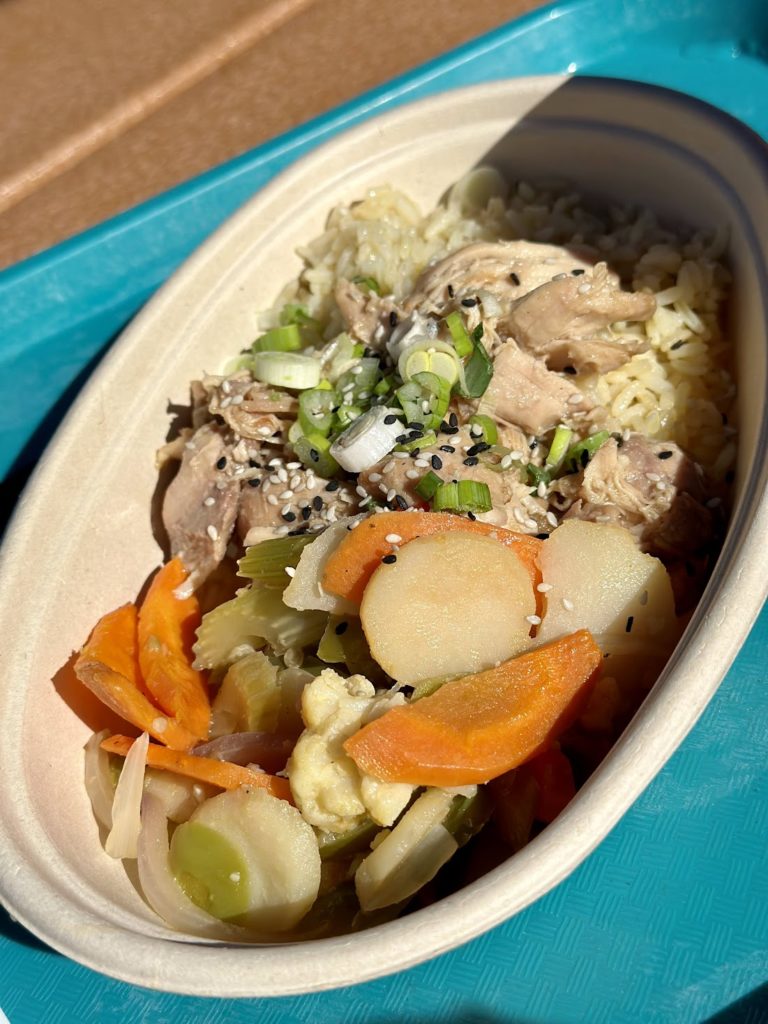 Guys, this was good! Not inspired, per se, but the chicken was delicious, the vegetables were crisp, and the rice was well cooked. My only complaint was the lack of sauce or dressing. I myself remedied this issue by grabbing a container of honey mustard from the condiment bar, but I can see how that might not work for everyone. Some soy sauce would go a long way here.
FROSE AT GRANDSTAND SPIRITS
Don't sleep on the value resort pool bars – they may not be fancy but the atmosphere is always convivial; it's a great place to hang for a bit. While Grandstand Spirits does have some more interesting cocktails, what I was feeling right before I left for the airport was a plain ol' frose.
The frose here is more or less exactly what you're expecting: a slushy made with rose wine mixed with a shot of Tito's vodka. Bonus points for the strawberry garnish.
I enjoyed that this version wasn't overly sweet, although next time I might request a double shot; it definitely wasn't a stiff drink. And right before your Disney vacation ends, you could use a stiff drink. All in all, if you want something cool and with a fruity tang, the frose is not a bad choice.
END OF TRIP REPORT
Right before my trip report ends, I could use a stiff drink. Alas, it's early morning on a workday, and coffee will have to suffice. Let us raise our mugs to the grand finale of this year's WDW marathon trip report, and I'll catch you at the next one. The Toy Story Ten Miler is mere months away! So obviously not soon enough.
Don't forget, you can follow FRoA on Twitter @fairestrunofall and on Instagram @fairestrunofall. If you have any questions or thoughts, leave a comment or email fairestrunofall@gmail.com. See ya real soon!