It's my favorite annual trip report – my WDW Marathon trip! See all the posts in this trip report here. Onward!
Alas, the bittersweetness of your last morning in Walt Disney World. We rose, we finished packing, we checked our bags at bell services. Every movement a dirge.
It wasn't all bad, though – we still had one more Disney day ahead of us, and we were slated to do something brand new to me: a water park!
For the last couple runDisney races, WDW has been offering runners 50% off water park tickets (whichever one is open at the time). The weather was borderline – the high for Monday was slated to be 75 degrees – but in talking with Becky during our Topolino's brunch, she claimed the water was well heated and 75 should be fine. We ultimately decided to go for it, and Erika grabbed us some tickets on her second expo run.
Thus we found ourselves on a very sparsely populated bus to Blizzard Beach on Monday morning. We arrived around 15 minutes before opening to an equally sparsely populated park. I found myself in the unusual position of not knowing anything about my surroundings, so we spent the ensuing time studying a map while wandering the main gift shop.
It wasn't strictly necessary; Blizzard Beach is not an enormous place, and there are signs everywhere. And really, it was so quiet that we felt no pressure to create a touring strategy or even particularly hurry. Indeed, the first thing we did was grab some coffee from the Joffrey's kiosk by the wave pool.
Erika was kinda enough to take an Outfit of the Day photo for me so Pat could see I was wearing the amazing Mary Blair socks he got me for Christmas. (For those of you with sartorial interests, an ex post facto wardrobe post is coming!)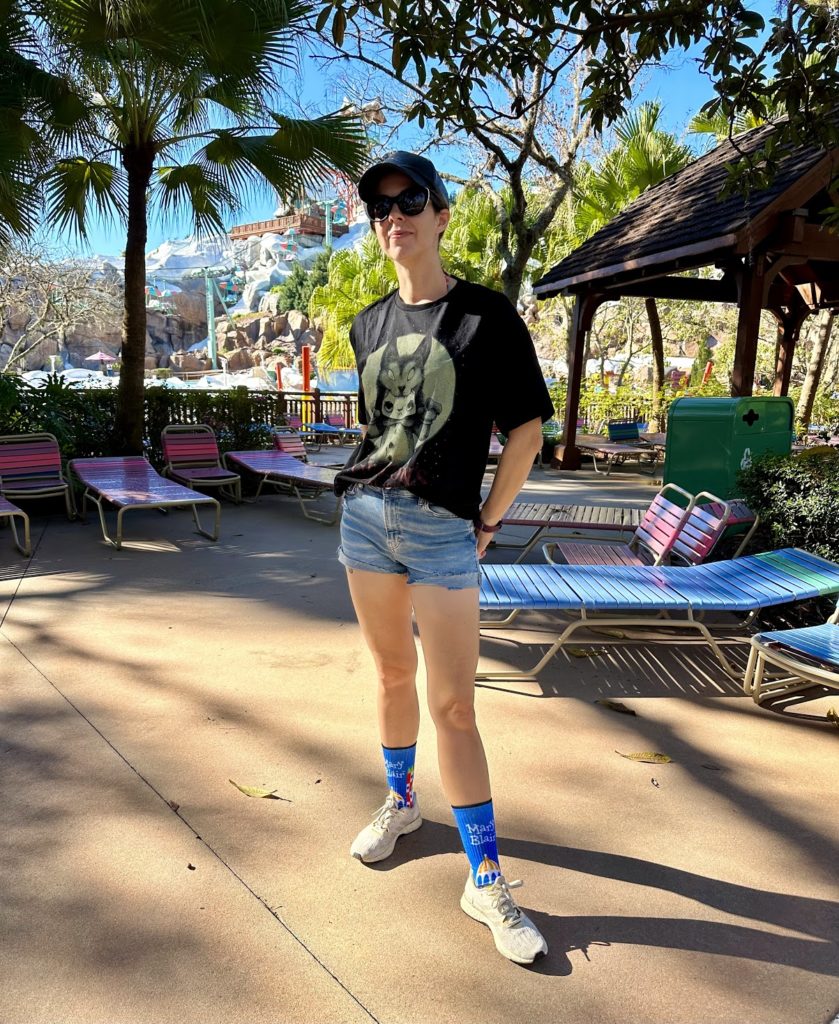 Our next act was to grab a locker in which to secure our stuff – better safe than sorry – after which we picked up some towels from the rental stand. Fun fact: as of this writing, towel rentals are free if you're staying at a Disney resort!
It was still a little chilly for my thin blood – Erika's Apple watch clocked the current temperature at 68 degrees, hence the quasi-deserted park – but we figured we might as well do something so we jumped into lazy river. Did I say jumped? I meant slowly and carefully eased into by degrees, because Disney does not heat its pool water enough for my personal tastes. Never trust a Pennsylvanian to accurately gauge warmth; that's my primary takeaway. 😅
The lazy river encircles the entire park, and a full go-round takes longer than you might expect. The entrances are numbered and also named – we entered at #1, Ice Gator Landing – so if you want to be sure you get out where you got in, it's easy to keep track. You can also use it as a sort of transportation system, letting the gentle current push you to a different part of the park.
Note that while there are several water features you may choose to either engage with or avoid, there's one area at the entrance of a tunnel that's covered over with an inescapable waterfall. So if you think you can grab a pool float and keep your hair dry on this particular attraction, think again. 😂
We made a quick pit stop at the lodge for lunch, and then it was time to try out some water slides! Slides are grouped together by color, with clusters of entrances in the same area.
First we took the "ski lift" to the top of the green slope to try Teamboat Springs, which is a multi-person raft slide. We were almost to the top when the line came to a standstill; the conveyer belt that brought the rafts up was stuck. The Cast Member manning the slide entrance kept us entertained with some Disney trivia while we waited. I only ventured a guess when everyone else seemed stumped, and correctly answered 2.5 questions: What's the name of the alley cat in The Aristocats? (Thomas O'Malley, bam!) What's Ariel's daughter's name? (Melodie, kaboom!) Who's the main villain in Tarzan? (Clay…….. okay, I forgot the ton. 😅)
Eventually the raft belt got going again, and we took a pleasant trip down that slide before heading over to the red slope for Runoff Rapids. This cluster has three slides, one of which is enclosed and two of which are open, and all of which are traversed on a one-man inner tube. The two opens slides are basically the same thing on opposite sides of the mirror.
Given that there was little to nothing in the way of lines, we both tried all three. The closed slide was my favorite because a) darkness is fun (LIKE MY HEART) and b) the enclosure made everything warmer. The temperature was rising but not enough for my tastes.
I swear we tried another slide area somewhere in there, but I'm not seeing anything described on the internet that matches up with my memory. The Mandela Effect strikes again?
You might be asking yourself: what about Summit Plummet, Jenn? Well. I packed my Mulan bikini (seen here), and it's a little bit too big on me. Summit Plummet being the aggressive experience it is, I regretfully decided not to risk a potential incident of indecency. Next time I will pack a one piece swimsuit and give it a go.
It was getting toward mid-afternoon and we had a stupid bus to catch at the stupid airport, so we elected to end our Blizzard Beach experience here. For full price, I might've been mad, but for $35-ish I thought it was a good value. I'm not sure how interested I'd be in revisiting a water park for the whole $70, but I could see taking up on a runDisney offer again if the timing worked out.
Aside from the comparatively cheaper room price, the All-Star resorts don't have a ton going for them, but they do have this: they are one of the few resorts with direct bus service from Blizzard Beach. We were able to hop a bus straight back to our resort, no transfer required.
We had a bit of time before the Mears bus came to collect us, so we took a seat at the Grandstand Spirits pool bar and grabbed a drink. One thing that I think is actually kinda neat about the design is that the pool bar connects to the food court, so there are inside seats too. Good to know for a rainy day!
After a pleasant hour or so of repose, we picked up our bags from bell services and trudged onto the airport bus. Here largely ends the trip report, except I was interested to notice for the first time that there was runDisney race merch at the Disney airport gift shop! They gotta take that one final desperate lunge at your money, no?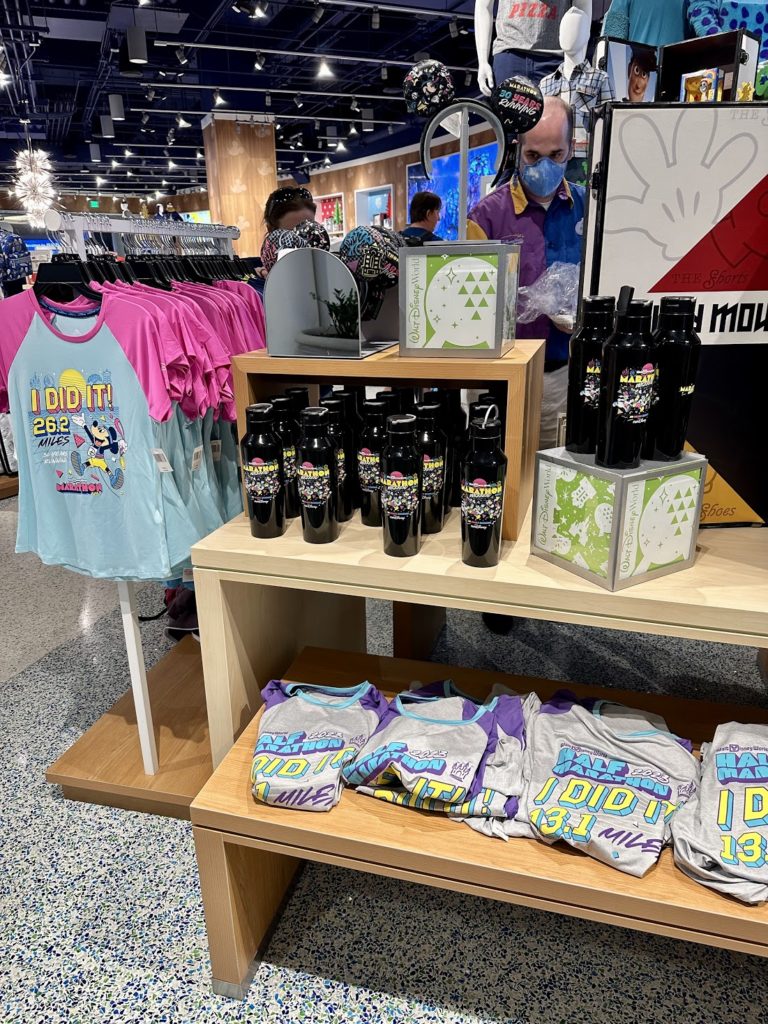 Okay, now the trip report is over. Well, the main, day-by-day bit. I still have one more post up my sleeve… eh, I'll just tell you. It's my snack roundup. 'Cause everybody loves a Disney snack. See ya then!
Don't forget, you can follow FRoA on Twitter @fairestrunofall and on Instagram @fairestrunofall. If you have any questions or thoughts, leave a comment or email fairestrunofall@gmail.com. See ya real soon!