It's my favorite annual trip report – my WDW Marathon trip! See all the posts in this trip report here. Onward!
This day has been a long time coming. I have been wanting to see the Hoop de Doo Revue* for years. I mean, haven't you? This show is legendary! It's been running since the '70s, and I believe its only pause was pandemic-induced. Luckily it is BACK, with a slightly retooled show to boot (don't worry, we'll touch on that).
* Hoop de Doo MUSICAL Revue? Website says musical; sign outside Pioneer Hall doesn't.
So, with more than a decade's worth of hype driving me, is the Hoop de Doo Revue dinner show worth it? Let's see!
TRIP REPORT INTERLUDE: GETTING THERE AND CHECKING IN
One of the reasons it's taken me so long to finally make it to this experience is that it's a bit out of the way. I kinda touched on the process during my trip report proper, but I wanted to reiterate location and transportation info here since it's so integral to the process.
Hoop de Doo takes place in Pioneer Hall at Fort Wilderness resort. There are two primary ways to access the area: park in the main parking lot of the resort and take a bus over to Pioneer Hall, or take the ferry from the Magic Kingdom.
We elected to do the latter, and while our timing worked out great, Disney suggests leaving a solid 90 minutes for travel from your hotel. Once your bus drops you off at the Magic Kingdom, keep walking like you're going to the park until you reach the turnstile area. The dock for Fort Wilderness/Wilderness Lodge will be on your left. There's a separate dock further on for other resorts on the lagoon, so pay attention to the signs! If you hit the monorail, you've gone too far.
The Fort Wilderness dock dumps you right by Pioneer Hall. Once you've arrived, you'll need to check in for Hoop de Doo. We got a hot tip from Becky before the show: checking in through the My Disney Experience app is NOT the same as checking in for the revue! You'll need to check in at the host stand across the way from the hall to get your table assignment. No table assignment, no entry!
THE FOOD & DRINK AT HOOP DE DOO REVUE
Food is served family style at Hoop de Doo, and as all you can eat – just asked for seconds. Let's take a look at the menu real quick, shall we?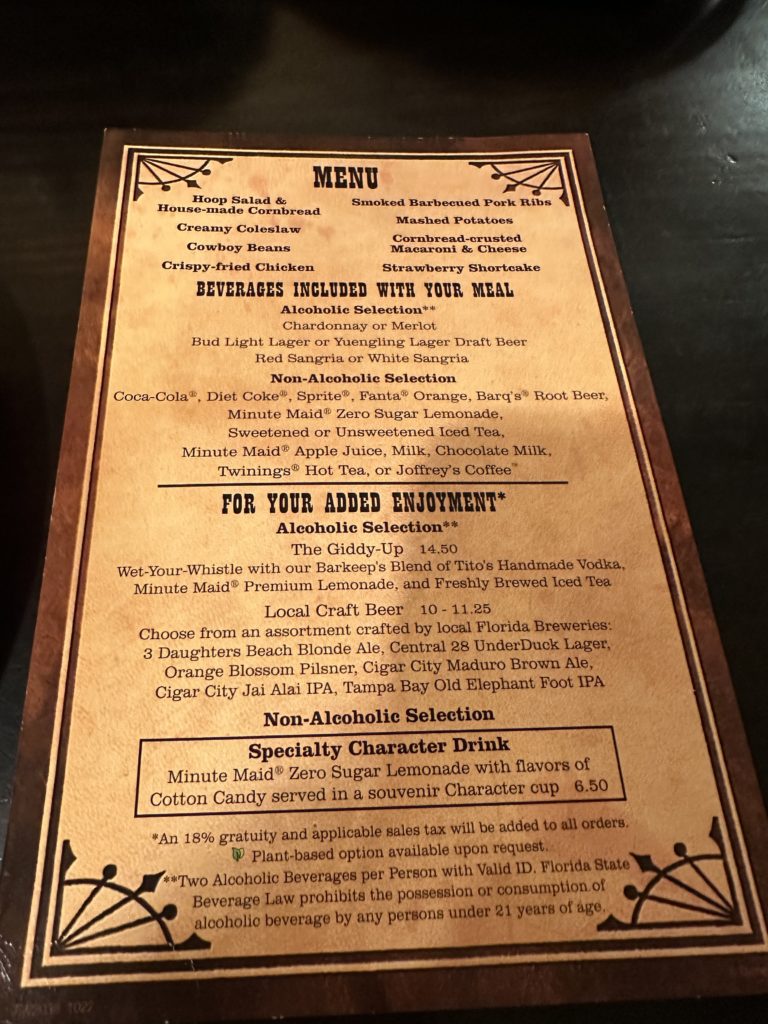 As with most all-you-can-eat meals at Disney, basic drinks are included while others come with an upcharge. (By the way, the meal is completely prepaid and tip is included – you'll only be given a bill if you get one of the extra-charge drinks.)
Surprisingly, cheap wine and beer are included in the price! The menu fine print does stipulate two alcoholic beverages per person, but I didn't test this limit. Indeed, I wish I had had the opportunity for a second glass, but the servers don't check in super often toward the back half of the show. Understandable since they probably assume you want to enjoy the entertainment by that point. My recommendation would be to ask for your second drink when the entrees hit even if you're not quite ready for it, just to be safe.
Cornbread, coleslaw, and salad are already on the table when you arrive. The salad is a very basic house salad, but it tasted fresh and was dressed with I think a light vinaigrette? It was a pleasant enough way to get some vegetables in there.
I like my cornbread not sweet, which as far as I can tell puts me in the minority. The cornbread here is sweetened, but only somewhat, and I enjoyed it well enough. Likewise, I would've preferred plain salted butter to honey butter, but again, I think many would disagree with me on that.
I did not eat the coleslaw because 99.9% of coleslaw is disgusting. No one should be eating coleslaw, anywhere, ever, with the possible exception of my grandmother's house because she chops it up extra extra extra fine. All other coleslaw is gross. DO NOT EAT COLESLAW. 😜
Besides, I know what you should be eating. The fried chicken was the highlight of the meal for me! The meat was moist, and the skin was crisp and well seasoned. You get a nice assortment and dark and white meat, breast, thigh, and drumstick.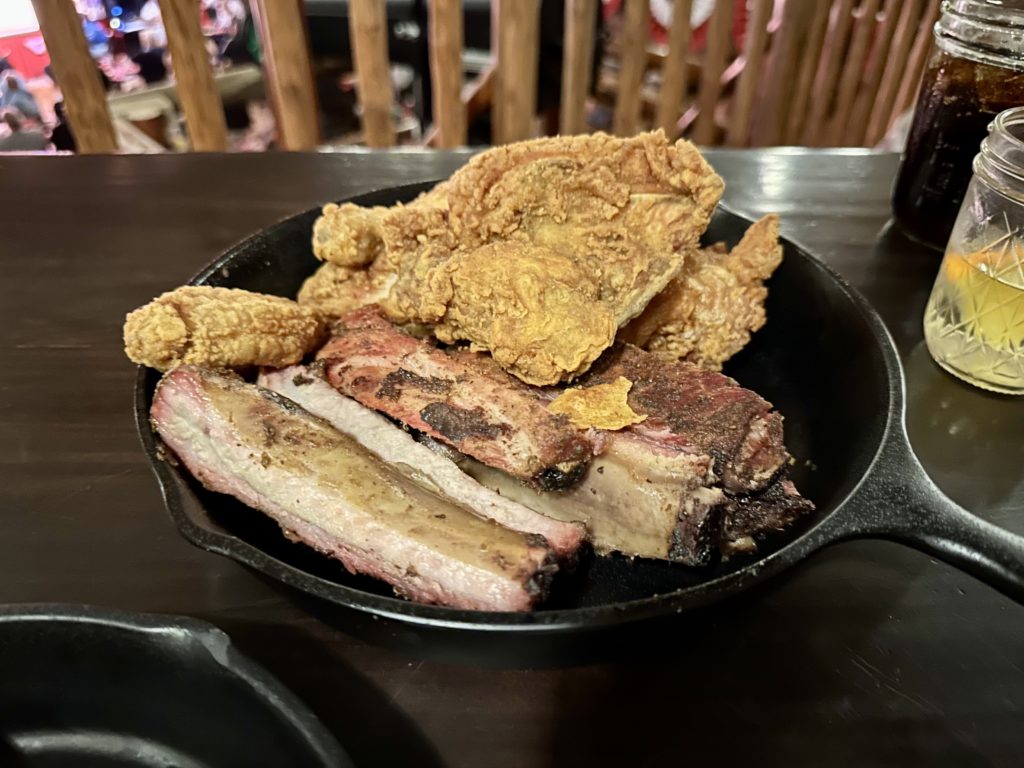 The ribs, on the other hand, were frankly not good. They were incredibly dry. I took like two bites and called it quits. Why waste time on bad ribs when you can eat great fried chicken instead?
Now for the sides! In order of least to most preference: the baked beans tasted like they were straight out of a can. Not bad but not impressive. The mashed potatoes were, y'know, mashed potatoes. Could've used a bit more butter, I think, but fine.
The side you want to focus on is the mac and cheese! To be fair, I love mac and cheese, but bad mac does exist and this is luckily good mac. Not superlative, mind you, but it strikes that elusive balance of gooeyness that is neither too liquidy nor too congealed. Chicken and cheese, that's the jam!
On to dessert. Don't hate me, but I've never been big on strawberry shortcake. If you're a strawberry shortcake superfan, this will scratch the itch. The strawberries were fresh, the cake was kind of dense, and the whipped cream was fine but did not taste house made. While it does bear the distinction of being served with its own theme song, the Hoop de Doo version was not good enough to convert me. It was… strawberry shortcake. That's all.
Per the menu, there are kids' and vegetarian selections by request, but we didn't pursue that.
THE NEW SHOW…
If you knew my family, I would tell you that my dad would LOVE Hoop de Doo, while my mom would find it cute but largely perplexing. This being helpful to almost none of you, however, I will explain further. Although perhaps it would help to listen to this song first.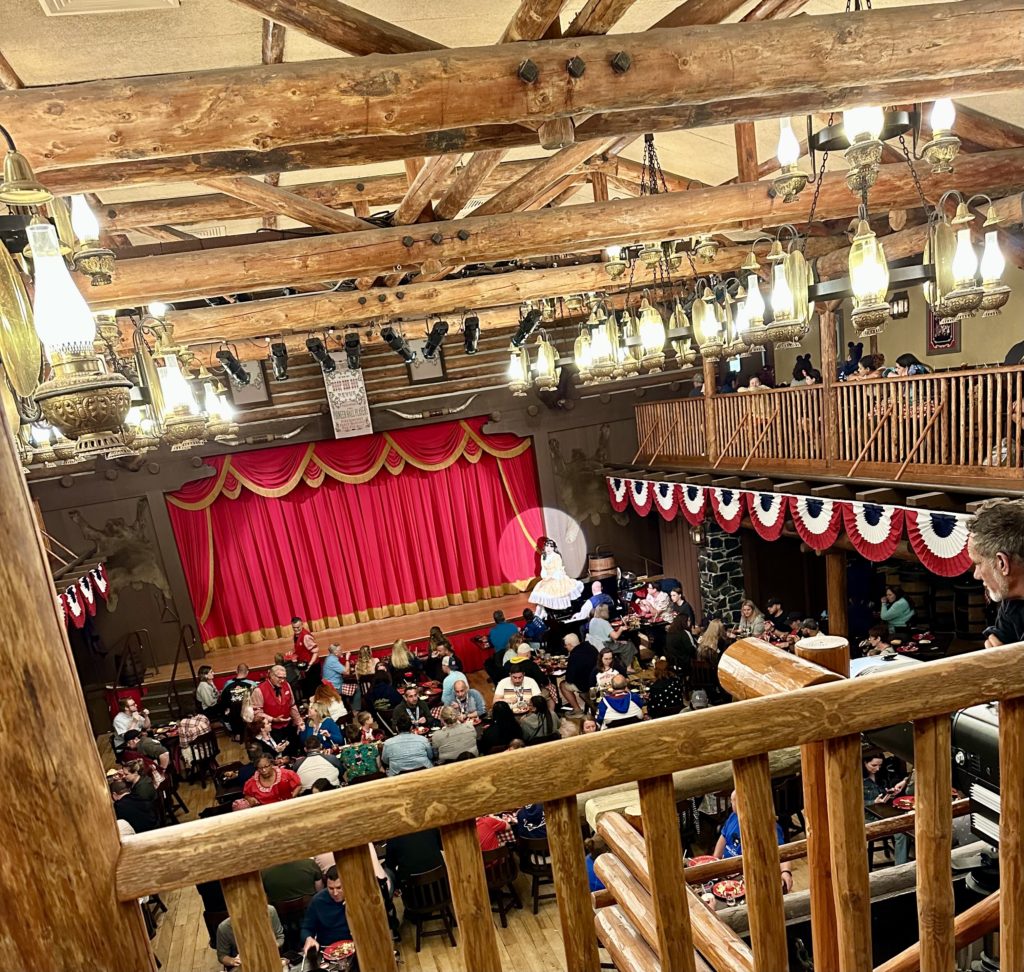 The Hoop de Doo Revue is, by my estimation, a show that lives and dies by its performers. It's very vaudevillian in style, as you might guess by… you know, the whole atmosphere. Think puns, sight gags, slapstick, and the occasional joke that goes over the kids' heads. I wouldn't personally call it brilliant or witty as a script sitting on the page – rather it is the actors themselves that make it genuinely funny and enjoyable.
(Because of this, I don't feel any deep need to declare SPOILERS! Because it's not so much what they say and do but how they say and do it, plus the inherent electricity of live performance. All the same, proceed through this section at your own risk.)
There's a decided Wild West Variety Show vibe, with some lightly patriotic undercurrents and faint southern charm. You've got your big opening musical number, some comedy bits, some crowd work, some solo/small group stuff, repeat.
The acting is deliberately broad to support the old-timey conceit. Some parts clearly comprise the permanent skeleton of the show, whereas others are obvious improvisations. Hmmm, maybe that A Prairie Home Companion reference I made earlier is more apropos than I thought.
Gosh, so far I sound kinda dismissive, don't I? Don't get the wrong idea! The performance is simple in spirit, but as I said, the actors are endlessly talented and really carry it.
My personal favorite, hands down no contest, is Six Bits Slocum, whose role consists largely of self-deprecating and physical comedy. He reminded me just a bit of Donald O'Connor (and here I am thinking specifically of "Make 'Em Laugh.") All my favorite lines were from him: "You came all the way from Mass. and you're sitting on your chairs!"; the Frankenstein/Mary Shelley part of "Clementine"; and most of all, "KEY OF R!" 🤣 🤣 🤣
Dolly was his female counterpart and my second favorite; she delivered her lines with gusto. Claire de Lune also had a well-defined, airheaded character; I get why she's a fan favorite. The other three characters' personalities were more subdued, but when called upon to sing and dance they absolutely delivered. I can only imagine the competition was fierce on audition day.
Basically, if you're looking for intellectual stimulation, go see some Shakespeare or something, ya egghead city slicker. If you're ready for some unfussy, sweet, down-home fun, c'mon in!
… AS COMPARED TO THE OLD SHOW
When Hoop de Doo was reinstated post(ish)-pandemic, Disney announced they would be making updates to the show. And I know they did, because as we were leaving I overheard someone say "I liked the changes."
So I went back and found a 2019 version of the production on YouTube, to find out what I was missing. The answer, as it turns out, is: nothing. Guys, it's the same show.
Okay, okay, if you're a regular, it's a different show. But I'm fairly certain, even having seen it once, that it's always a different show, in that the actors improvise and play off the audience to a degree. Still, the structure is exactly the same, as are the skits and almost all the songs.
The only protracted sequence that I would call more than tweaked was Six Bits' segment, where the "Bananas" song was replaced entirely with a dueling uke-and-banjo sequence. And really, you could swap just about anything out there; in fact, if you told me he had six separate bits he rotated over the course of a couple evenings to keep things fresh, I'd believe you.
Hold up. Six Bits?! Have I cracked the code???
All this being said, if you've seen the show a bunch and can point to some meaningful changes I've missed, hit me up in the comments. Heck, you can watch the 2019 version yourself here. (Or just watch this part; it's my favorite and admittedly I don't remember this precise joke in the version I saw.)
A NOTE ON CATEGORY SEATING
There are three seating levels available: one, two, and three. One is closest to the stage and most expensive; two is toward the back middle and upper tier middle for a bit less, and three is upper tier sides for a bit less than that. We got Category 2 seating (it was all that was available when I booked) and wound up in the upper tier smack dab in the middle.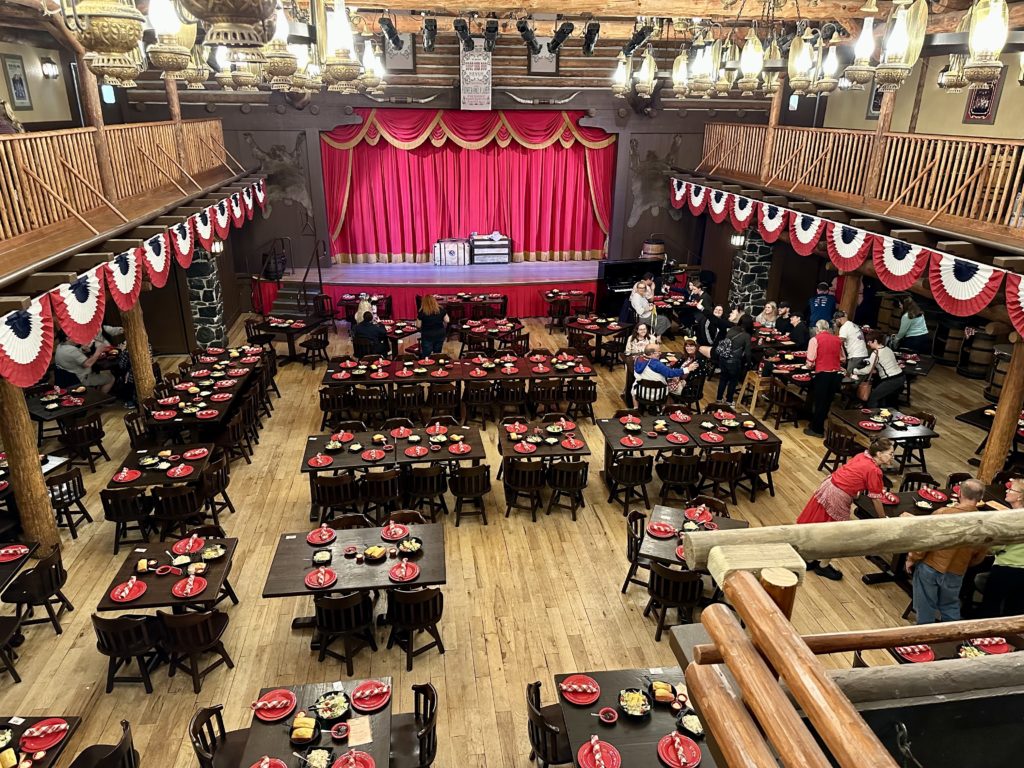 Were I to do it all again with all categories available to me, I would book one OR three, but try to avoid two. Strangely enough, the middle of the upper tier, while offering a great straight-shot view of the stage, was a bit of a no-man's land. While a couple actors did venture to the second floor once or twice, they seemed to spend more time on the sides. We were also the last to receive our washboards, and while the upper floor side seating was technically not as good a view, it was closer to the action.
This is all nitpicking, of course, and if you're trying to avoid any interactions with the performers, maybe Category 2 sounds exactly right (although I don't know what Category 2 is like on the first floor). But I think next time I'd pay for Category 1 if I could get it. Might as well get the full experience.
IN CONCLUSION
Having finally seen the mythical Hoop de Doo Revue, did it live up to the legend? Well, yes and no.
I enjoyed the show immensely, and can see the potential for re-watchability in the improv. However, I didn't necessarily like it enough to counterbalance the amount of time it takes out of a trip and the minor pain of transportation. Plus I thought the food was perfectly good but not remarkable. If Fort Wilderness is your usual resort, I could see it being an every-trip tradition, but there are plenty of other restaurants and experiences at Disney I'd like to try first.
That having been said, there are absolutely circumstances where I could see reserving a table again. If a traveling companion expressed a desire to go, I'd book an ADR in a heartbeat. And as I said, I do think my dad would love it (he loves Davy Crockett!). When I finally coerce him into coming to WDW, Hoop de Doo will be on the docket, no question.
Six Bits, play me off!
Don't forget, you can follow FRoA on Twitter @fairestrunofall and on Instagram @fairestrunofall. If you have any questions or thoughts, leave a comment or email fairestrunofall@gmail.com. See ya real soon!