Hello and welcome back to my long-running Thoughts While Watching series, where I react to bygone Disney parks media in real time. Some months I know exactly what forgotten clip I want to give the TWW treatment; others I have to go out and find something. It never takes long, though, because many wonderful people have uploaded just about every episode of Walt Disney's Wonderful World of Color to the internet. Thank you, internet!
Thus I wasn't scrolling YouTube long before I came upon an intriguing episode from 1962: "The Golden Horseshoe Revue," a special plussed version of the staple Disneyland stage show in recognition of its ten-thousandth performance. Given that I was barely born before WDW shuttered their Diamond Horseshoe version, all I knew about it was what I had read, but I was certainly willing to learn.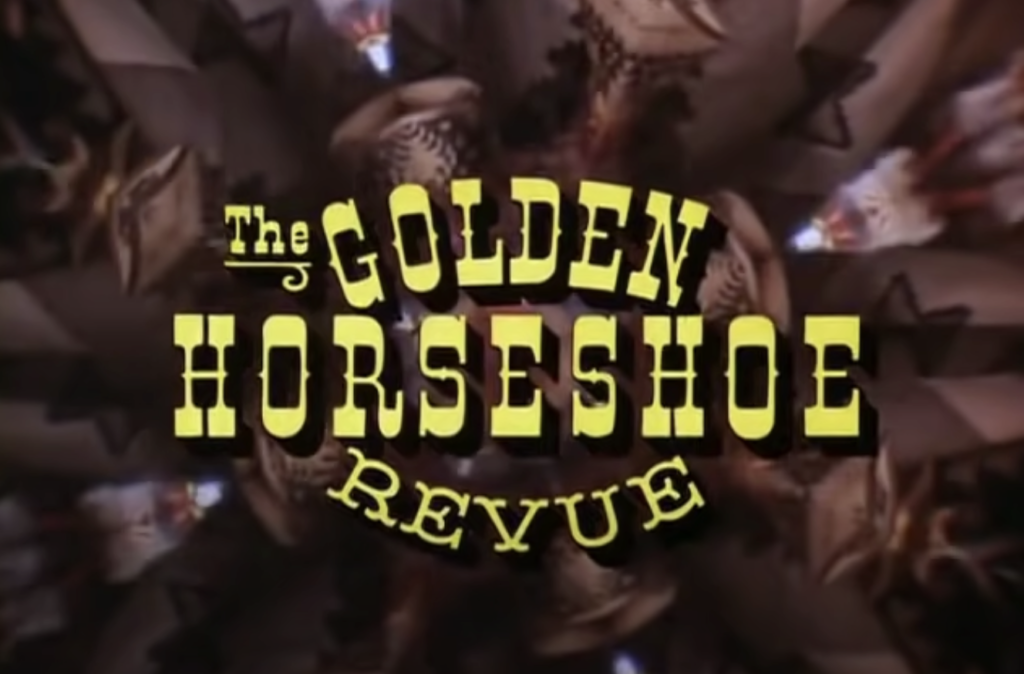 Part of what I learned was that 1962 continued to be a different time.
Q. How different was it?
A. I wasn't there so I'm basing this all on previous episodes, but I can tell you that the words "Native American" never crossed anyone's mind. Nor were they followed by the thought "Let's ask some first." I also know you were free to smack children around, as evidenced by… well, you'll see. Also also: bicycle piano!
Pretty good teaser, no? I trust you are now in the mood to celebrate the Old West as it never was. Your Uncle-Father Sheriff Walt has saved you a table. Don't keep him waiting – click play!
23 THOUGHTS I HAD WHILE WATCHING THE GOLDEN HORSESHOE REVUE
1. Ed Wynn?! Was this his Mary Poppins audition?
2. Awwww, look at cute little retro Disneyland!
3. What's up, Sheriff Walt? I can't tell if this is a promotion or demotion for him.
4. Petition for a reproduction of that pink dress, please. Giant bow included, obviously.
5. Oh, heck, just send me all the costumes. I'll find a use for them.
6. Holy smokes, I just noticed the lady in the front row with the teal hat. That is a serious chapeau.
7. I've heard of Wally Boag, but this Betty Taylor is new to me. She can sing!
8. Likewise I am unfamiliar with Gene Sheldon. I take it his thing is physical comedy.
9. Oh, boy. Annette Funicello seems to have gotten caught up one of those A Different Time bits. Let's just keep it moving.
10. Okay, one note: that is a God-awful buffalo costume.
11. Did Ed Wynn ever work with Sterling Holloway? I feel like they've got a similar vocal timbre. Must investigate. [Yes! In Disney's Alice in Wonderland! Wynn was the Mad Hatter and Holloway was of course the Cheshire Cat.]
12. I can't tell if the costume switch was visual trickery or corrected in post? Almost certainly the latter but the audience is doing a great job of reacting like it's the former.
13. This bicycle piano is amazing!!!
14. You know, I'm not actually sure we've seen Wally Boag yet. Maybe he was the guy who tells us there's no more tables at the beginning, and is possibly in this saloon scene?
15. And now Annette reenacts The Harvey Girls, I guess? First half Judy, second half Angela.
16. OH, THIS is Wally Boag. I was WAY off.
17. Fess Parker lives!
18. "I've made quite a name for myself doing this, and I don't like it either" is an excellent line.
19. "Ava Gardner" is also good. I like this guy's patter.
20. In 1962 you could just slap children on the head in front of a live audience.
21. "You'll be reading about me in the newspapers; I smoke in bed" is VERY dark and I'm here for it. (All right, we're in danger of this becoming a Wally Boag transcript; I'll stop now.)
22. The in-park mythos is that Betty Taylor is dating Pecos Bill? Huh. Oh, right, her stage name is Slue-Foot Sue. She should at least get her own snack cart or something.
23. I'm glad they're finally going to let Betty finish a song.
IN CONCLUSION
I'd say any Disney parks enthusiast should have a good working knowledge of The Golden Horseshoe Revue; its presence in the annals of Disney history looms large. I feel just a little bit more ready for the Disney history exam that's surely coming any day now. I hear Disney trivia is a thing on DCL cruise ships – anyone wanna bring me along? I'm an asset, I swear!
Don't forget, you can follow FRoA on Twitter @fairestrunofall and on Instagram @fairestrunofall. If you have any questions or thoughts, leave a comment or email fairestrunofall@gmail.com. See ya real soon!