Hooray for trip reports! This trip report covers my April 2023 trip for the runDisney Springtime Surprise Weekend. For our final entry, we'll discuss all the awesome snacks and drinks I had at WDW that didn't fit into a restaurant review. Read all the posts in this report here. Onward!
And now we come to the final entry from my April WDW trip report, which is the now-classic Random Food Roundup. For one does not simply eat and drink at Walt Disney World. No, one photographs and records and notates! If your snack doesn't melt in the interim, you are then allowed to consume it. Ice cream is a tough one.
No ice cream on the list here, luckily, so this should be a good post. Let's get right in there, shall we?
MARGARITAS FROM PARADISO 37
We got margaritas from Paradiso 37. They were margaritas. As margaritas go, they were good, but not noteworthy. That's pretty much all there is to it. I will say that Paradiso 37 is an expansive restaurant with a ton of indoor and outdoor bar seating, so on a crowded day Disney Springs it's a pretty good bet if you're looking to wedge yourself in somewhere can grab a drink.
DRINKS FROM THE SWAN POOL BAR
While we stayed at the Dolphin, we wound up hanging out at the Swan pool so that Pat could draw the Dolphin building. While there, we snagged some pool bar drinks.
I was very excited to order my pre-planned no-brainer drink, the Solstice Margarita: Jalapeno-Infused Maestro Dobel Diamante, Muddled Cucumber, Agave Nectar, Fresh Lime, Watermelon Purée. This was tasty with a decent spice, but I wish there had been a stronger watermelon presence. I love watermelon!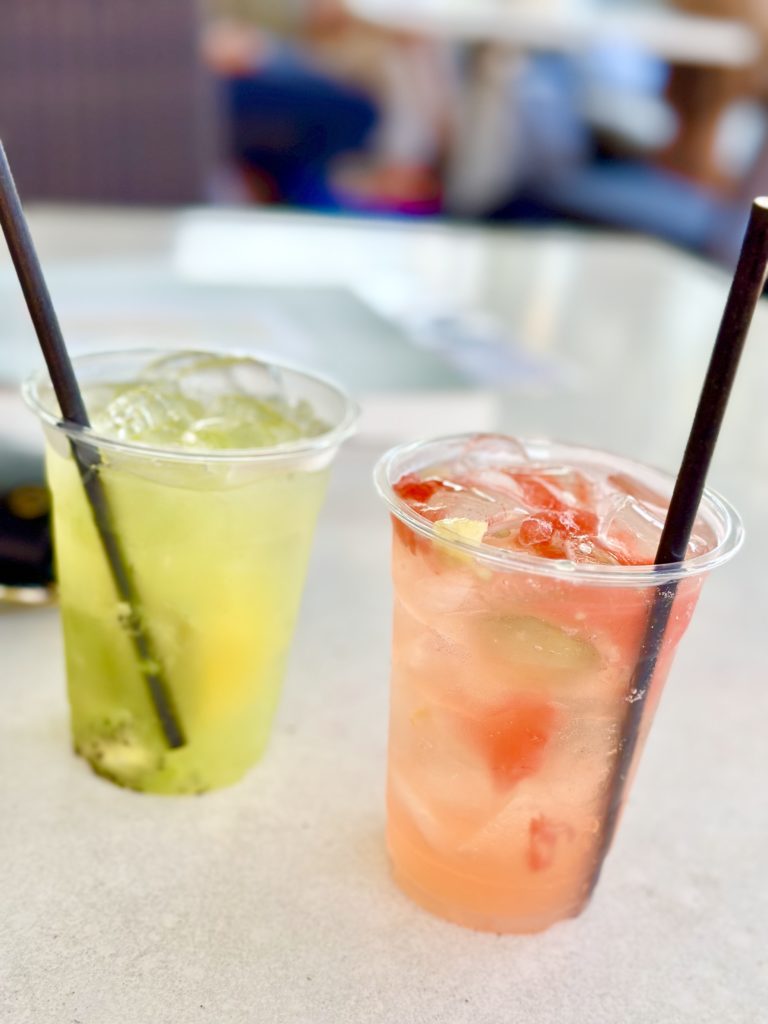 Meanwhile Pat got the Dominican Sneak Up: Brugal Dominican Rum, Fresh Kiwi, Hand-squeezed Lemonade. He ended up not caring for this, I think because of what he found to be a weird texture to the kiwi and their seeds. If you're a big kiwi fan, you might not have this problem, but be warned.
MY OBSESSION WITH OGA'S CANTINA PERSISTS
Full disclosure: I did not try anything I haven't reviewed previously from Oga's Cantina. But here are some pictures of the Jet Juice, Jedi Mind Trick, and Dagobah Slug Slinger! I think the Jet Juice and Outer Rim are my favorite.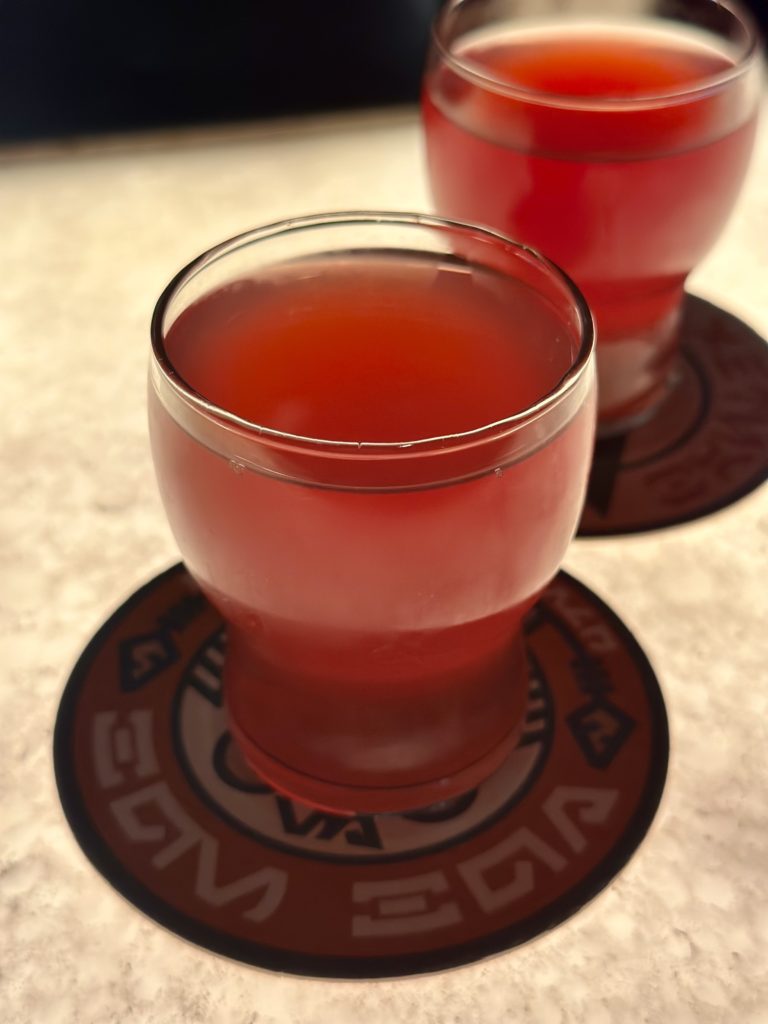 DO THE PRETZELS FROM THE GERMANY PAVILION MAKE GOOD SNACKS?
No. The pretzels at the Germany cart have evidently been sitting there for the better part of forever and are stale and terrible. Get a pretzel from Baseline Tap House instead. Or the one at Jock Lindsey's. The one from Cask & Larder at MCO is really good. Anywhere else, really. I didn't think to take a picture before tearing into it, and then we threw it away, so.
SPEAKING OF BASELINE TAP HOUSE
I DID try something new at Baseline Tap House! While it's, well, a tap house and therefore the focus is on beer, they also have a couple of tap cocktails. Finding this concept intriguing, I decided to eschew my usual beer flight in favor of the California Sunset: Absolut Vodka, Southern Comfort, Orange Juice, Sweet-and-Sour with a float of Pomegranate Juice.
This was good, but also kind of disappointing? Given the ingredients, I was hoping for some punchier flavors – yet I found it sort of blandly fruity. The pomegranate juice didn't assert itself as much as I would've liked. Ah well; they can't all be winners. Still arguably the best bar in the Studios outside of maybe Oga's.
(Pat got the on-tap margarita and declared it to be, similar to Paradiso 37's, a perfectly serviceable margarita.)
EVERYTHING GIDEON'S BAKEHOUSE ALL THE TIME ALWAYS
I don't know if I can ever go to WDW again without hitting up Gideon's Bakehouse. Partially because I love the aesthetic, and partially because Pat would be like NO COOKIES????? 🙁 🙁 🙁 These are the obligations of adulthood.
Amongst our cookie order was the specialty cookie for the month, the Coffee Toffee Chocolate Chip. I KNOW I took a photo of this – I REMEMBER taking a photo of it – but it has vanished from my phone. Drat! Anyway, this was good because it's a Gideon's cookie and all Gideon's cookies are inevitably good, but it didn't crack the top 5 for me. I didn't think there was enough toffee to distinguish it from a regular chocolate chip cookie, except to make it a little stickier to eat in spots. I'd rather just have straight up chocolate chip myself.
We also got a slice of Pipistrello's Cake, which is a chocolate cake with cinnamon buttercream and those crunchy bits you get on the outside of the coffee cake cookies. Now THIS was friggin' amazing. Possibly my favorite of the cakes I've tried yet – the cake was unbelievably moist as always, the cinnamon balanced the intense sweetness of the frosting nicely, and the little crumbly cinnamon bits just took it straight over the falls. Brilliant. If you enjoy cinnamon in any of its beautiful guises, you will love this.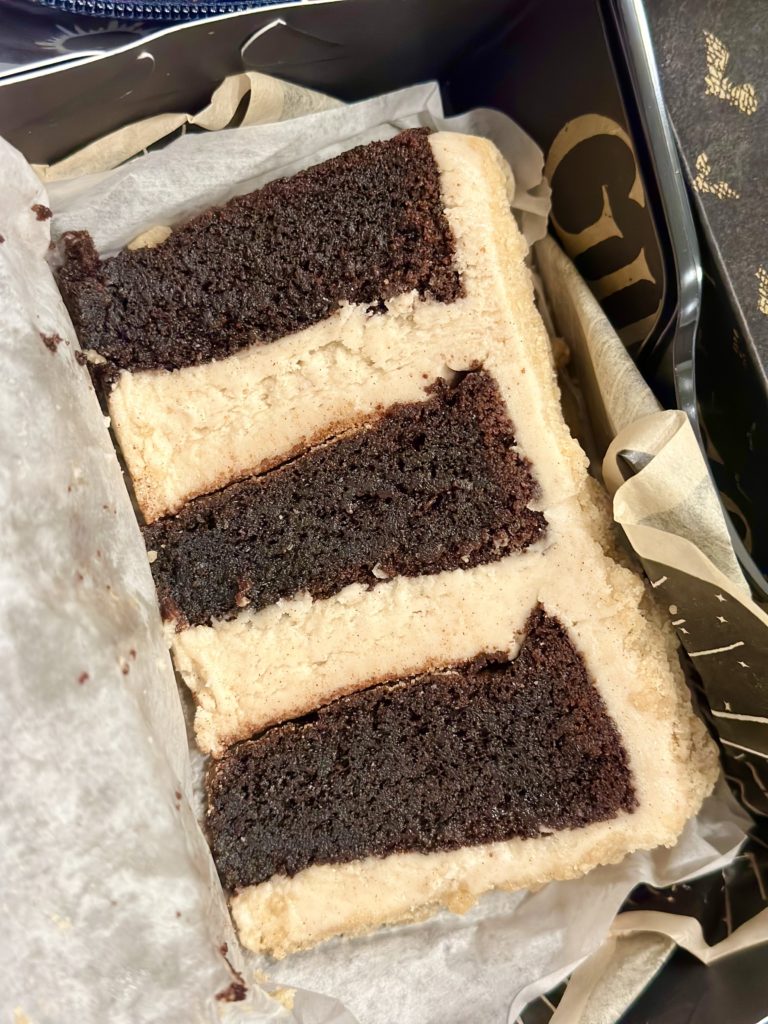 I also finally tried the peanut butter cold nitro brew. This was a well-balanced and enjoyable iced coffee; I am always impressed by how delicious and creamy they somehow manage to make it using oat milk. I do wish the peanut flavor was a bit stronger; I wonder if they'd give me a double shot?
GRAND FINALE: RACE WEEKEND BEER!
Becky recently turned me on to the fact that Playalinda Brewing Company brews a specialty beer for every race weekend. I've historically been a get-on-the-bus-immediately-and-head-straight-for-the-shower sort of post-race person, but when I saw the words "berry lemonade" in the beer description, I was sold. (I THINK this was called Space Ale? But I'm not sure; since it was limited edition I don't see it on the website.)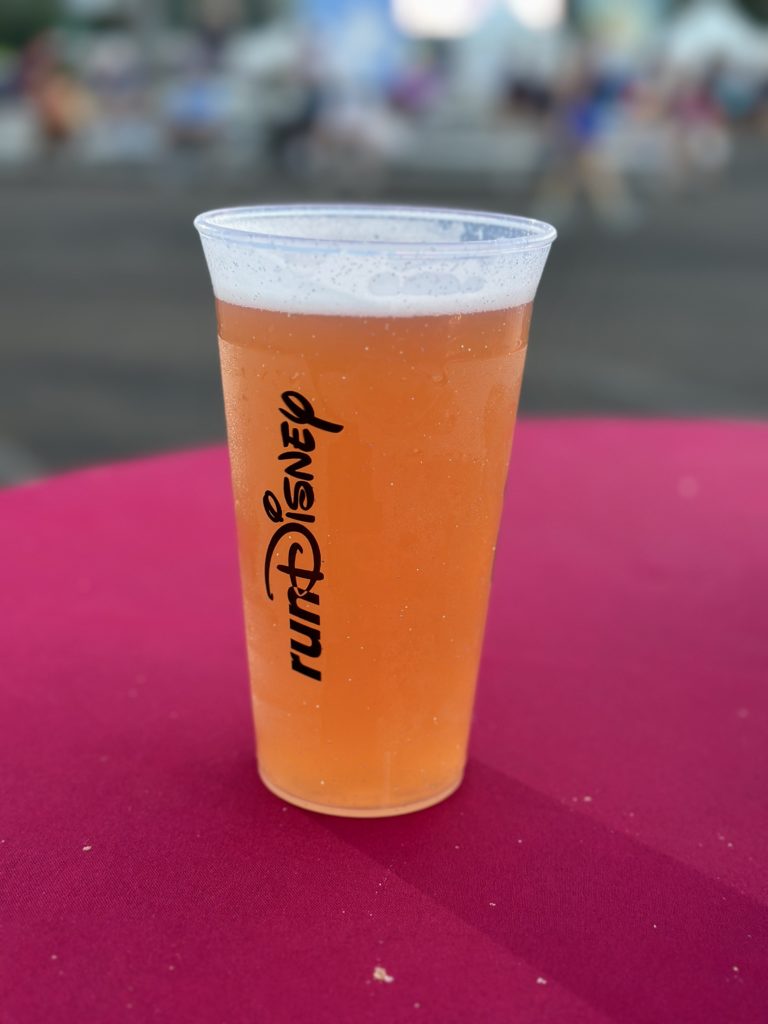 I really enjoyed this beer! If you're an IPA person, this might be too light for you, but if you're put off by the fruit implications of "berry" and/or "lemonade," don't be; the flavors were present but by no means aggressive. Nor would I describe this as a sour (and I'm a huge sour fan, so I would know!). Just a very light, refreshing, drinkable beer. If it ever returns, I would definitely get it again. I'm excited to see what next race weekend holds!
IN CONCLUSION
Whelp, that's another round of trip report coverage in the can. Also now I'm hungry. So I guess what I'm trying to say is: I'm overdue for another Disney trip. Anyone up to meet me for a snack and a drink?
Don't forget, you can follow FRoA on Twitter @fairestrunofall and on Instagram @fairestrunofall. If you have any questions or thoughts, leave a comment or email fairestrunofall@gmail.com. See ya real soon!